Maximising cancer screening during COVID-19: a QI project for general practice
The COVID-19 pandemic has delayed patients' screening and diagnostic appointments, contributing to a 30 per cent reduction in cancer notifications since restrictions were applied in Victoria.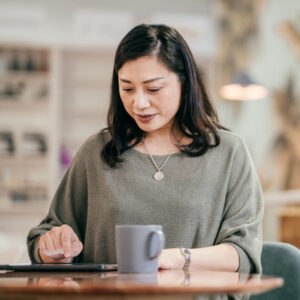 There has also been a 32 per cent decrease in hepatitis B and C serology tests and a 17 per cent decrease in hepatitis B monitoring tests.
These decreases have significant public health implications for vulnerable population groups and the general community. As we know, an early diagnosis can lead to a better prognosis.
General practice is central to increasing cancer screening participation rates. Research has found that use of GP-endorsed letters, recall and reminder systems, and enhancement of clinical information systems are key drivers to increasing cancer participation rates.
NWMPHN and our partners are offering the opportunity for the whole-of-practice team to be involved in a quality improvement project with the goal of increasing rates in our catchment. Throughout the project, practices will be participating in activities and building skills to proactively encourage patients to participate in screening.
About the project
North Western Melbourne Primary Health Network (NWMPHN) is partnering with Cancer Council Victoria, VCS Foundation and the Victorian Department of Health to offer practices in our catchment an opportunity to participate in a fully supported quality improvement activity.
Practices will build skills and implement activities that aim to increase cancer screening participation rates in their practice in response to declining rates during COVID-19. This project will focus on general practices proactively contacting patients to encourage screening participation for bowel, cervical and liver cancer.
The objectives of the project are to:
increase the proportion of GP-ordered National Bowel Cancer Screening Program (NBCSP) kits
increase the number of HPV self-collection tests completed for eligible patients
increase the proportion of patients with risk factors screened for hepatitis B or C
increase the proportion of Aboriginal and Torres Strait Islander and culturally and linguistically diverse (CALD) identification on cervical screening pathology request forms.
All practices will be required to participate in increasing Aboriginal and Torres Strait Islander and CALD identification on cervical screening pathology forms throughout the project. Practices will be able to choose the other objective they wish to focus on.
What's involved?
One 2-hour education session delivering:

a general update on the three national cancer screening programs, and liver cancer delivered by VCS Foundation and partners
'Asking the question' training to assist with identifying Aboriginal and Torres Strait Islander and CALD patients.

Learning workshops hosted by Cancer Council Victoria and VCS Foundation provide an understanding of quality improvement methodology and to support sustainability of practice improvements. These will be conducted with other practices who are working on your chosen program area.
Scheduled support from a NWMPHN project officer to support your practice's selected quality improvement activities for the duration of the project.
You will be supported throughout the project by a dedicated NWMPHN project officer.
Benefits for general practices
An incentive payment of $10,000 (+GST) for participating practices that complete the program.
Access to GoShare and 200 SMS credits for selected screening programs.
RACGP CPD points.
Facilitated learning workshops with Cancer Council Victoria, VCS Foundation and other subject matter experts.
Dedicated support from a NWMPHN project officer.
Opportunities to share, network and connect with other practices involved in the project.
Participation in this facilitated quality improvement project will contribute to meeting the requirements for the Practice Incentives Program Quality Improvement Incentive
Project status
Applications for this project have now closed. More information will be provided as the project develops.