Topbar
We provide all accredited general practices in our region with fully funded access to Topbar as part of the Pen CS suite of digital tools for quality improvement.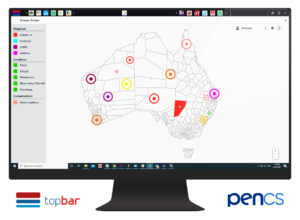 Topbar is a clinical decision support system. It's designed to assist medical practitioners at the point of care – when they're seeing a patient. Using both their own knowledge and Topbar, physicians can make better decisions based on data.
Topbar integrates with Best Practice, MedicalDirector and ZedMed (v26 and higher). It sits discretely at the top of your computer screen and provides real time prompts for clinical and non-clinical indicators.
Topbar notifies you when it detects gaps in a patient's record. It also suggests opportunities to improve patient care. Topbar does not obscure your screen or interrupt your workflow, and it won't slow down your system.
At reception
When patients are admitted to the waiting room, Topbar highlights gaps in demographic data. One click will take you to the correct place in your medical software to correct the highlighted issue.
This is useful for improving records of important data such as ethnicity, contact information, next of kin and emergency contacts.
In the clinical consult
When opening the patient's clinical file, Topbar detects and highlights gaps in clinical care, observations and more. GPs may find it useful to check which additional tests are due when they are completing a pathology request.
In the nursing room, Topbar can be used to prompt observations, alcohol and smoking assessments, and preventative health discussions. Topbar highlights when observations are due to be repeated and flags opportunities for care. It can alert the clinicians about MBS items the patient is currently eligible for.
Watch the video below for a short introduction to the functions available in Topbar.
https://vimeo.com/276795698
An overview of Topbar's functions.
Benefits of Topbar
General practice teams can greatly improve the quality of their clinical data by using Topbar regularly.
In a modern general practice, it is vital to have accurate, comprehensive and up-to-date patient information recorded correctly in your clinical software. Having this data readily accessible will assist you to provide the best possible care and can assist in the prevention and management of chronic disease.
Better clinical data also helps practices reach accreditation standards for patient records and improve your reporting for the PIP QI Incentive.
Topbar is part of the Pen CS suite of products, which means CAT4 and Topbar can be used together to set up prompts related to your practice's improvement activities and projects. Topbar settings can also be changed according to individual users' needs and preferences.
Get started with Topbar
Follow the following steps to get started with Topbar in your practice.
Call Pen CS on 1800 762 993 to request installation, which is free and included in the existing CAT4 licence for all accredited practices in our region. The Pen CS team can help you get set up. If your practice is not accredited, please contact your quality improvement officer at North Western Melbourne Primary Health Network for support.
Watch the helpful

30-minute webinar

below to get you started using Topbar. You could watch it with your team to help the whole practice get the most out of the system.
https://vimeo.com/470797840
Topbar for general practice.