​Family violence
In Victoria, intimate partner violence is the leading contributor to death, disability and illness in women aged 15 to 44.
While some men experience family violence, it is women and children who are most affected. Often people in a violent or abusive relationship want to talk about the issue but are unsure who to tell, what to say or how to bring it up.
Starting the conversation can be challenging, but health professionals are well-placed to identify and respond to family violence. With the right tools and supports, you can help empower women to break the silence and seek safety.
https://www.youtube.com/watch?v=IloMFmHz9Wg
Starting the conversation about family violence
How GPs and health professionals can start the conversation about family violence
Asking is the first step.
Let your patient know that they can speak openly to you about their concerns, and that they are in a safe and confidential environment.
Questions could include:
Is there anything else going on in your life that you'd like to talk about?
Are your friends and family aware of what's going on?
Are you feeling frightened?
Are you worried about your children's safety?
Take any available opportunity to raise the subject and ask the question. Try to ensure that patients feel comfortable and safe talking to you. They might also feel comfortable talking to another staff member.
Family Violence Quality Improvement (QI) Project 2021
Now more than ever, general practice plays a vital role in caring for people experiencing family violence.
International researchers have estimated that a full-time GP sees up to five women per week experiencing underlying intimate partner violence. This may or may not be identified by the GP.
Research has also found that there is a spike in family violence during major crises and disasters. Annual crime statistics suggest Victoria's COVID-19 stay-at-home restrictions may have driven record-high family violence rates.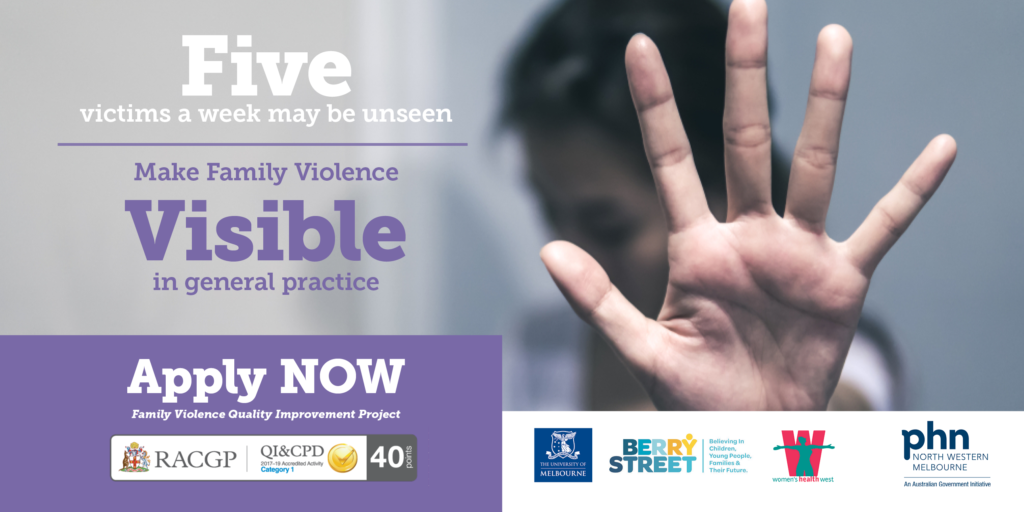 General practices are encouraged to apply now to join the Family Violence QI project with Professor Kelsey Hegarty's team from the University of Melbourne's Safer Families Centre.
Practices that complete the project will receive a $3000 incentive payment.
WEAVE
WEAVE provides targeted family violence education to general practice. It's the outcome of a world-first trial, led by GP Professor Kelsey Hegarty, on the effectiveness of GP intervention in improving health outcomes for women and children experiencing family violence.
We're working with the University of Melbourne to provide this program to general practices in the region. The below video captures why identifying family violence needs to be embedded into best practice when working with children and families.
https://www.youtube.com/watch?v=Sz1OH0BJZf8
Rosie Batty's story
Education and training
Several organisations offer education and training on identifying and responding to family violence. Subscribe to our fortnightly newsletter for information about upcoming sessions.
Online training
Visit the RACGP website to access online training modules.
1800RESPECT has a number of free webinars, with topics ranging from improving cultural understanding in Aboriginal and Torres Strait Islander communities, to violence against women and children, and understanding LGBTIQ domestic and family violence.
Resources
Resources for health professionals