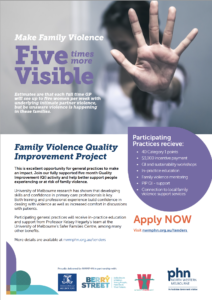 "What do you do when the client does open up and it's the end of your 15-minute appointment?… How to make them feel safe and also listened to and validated and get them back in another day?"
North Western Melbourne Primary Health Network (NWMPHN) is partnering with Professor Kelsey Hegarty from the University of Melbourne Safer Families Centre to offer practices an opportunity to participate in a fully supported five-month quality improvement activity.
The approach is to build and sustain greater internal capacity within primary care providers to respond to the high prevalence of family violence-related presentations in primary care. The project team will deliver a comprehensive, practice-based education program tailored to overcome challenges affecting your capacity to respond to family violence.
This opportunity is open to the whole NWMPHN catchment. Project waves will continue to commence throughout 2021 and 2022.
Please note: we are now considering non-accredited practices to participate in this project.
 Watch our webinar on the shadow pandemic of family violence for more information.
What's involved?
Support throughout the project from the NWMPHN project lead and a family violence support worker from a local service.
Three in-practice education sessions delivered by clinical GPs from the Safer Families Centre and a family violence support worker from Northern Specialist Family Violence Services.
Two virtual workshops with other participating practices to provide an understanding of quality improvement methodology, and to support sustainability of practice improvements.
Secondary consult/mentoring support from the Safer Families Centre's family violence support worker.
Monthly visits from the NWMPHN project lead to support your practice's selected quality improvement activities.
Benefits for your practice
Incentive payment of $3,000 (+GST) for participating practices that complete the program.
RACGP-accredited CPD activity opportunity (previously 40 Category 1 points).
Facilitated learning workshops with subject matter experts.
Dedicated support from the NWMPHN project lead and a local family violence support worker to help you complete this quality improvement activity.
Opportunity to share, network and connect with other practices involved in the project.
Participation in this facilitated quality improvement project will help to meet the requirements for the Practice Incentives Program Quality Improvement Incentive.
How to apply
Please complete the below application form and email to primarycare@nwmphn.org.au
If successful, our project lead will work with you to determine when your practice would like to start the project.
Please direct all queries to:
Irina Basanko
IQI Project Lead – Family Violence
North Western Melbourne Primary Health Network
Phone: (03) 9347 1188
Email: Irina.Basanko@nwmphn.org.au