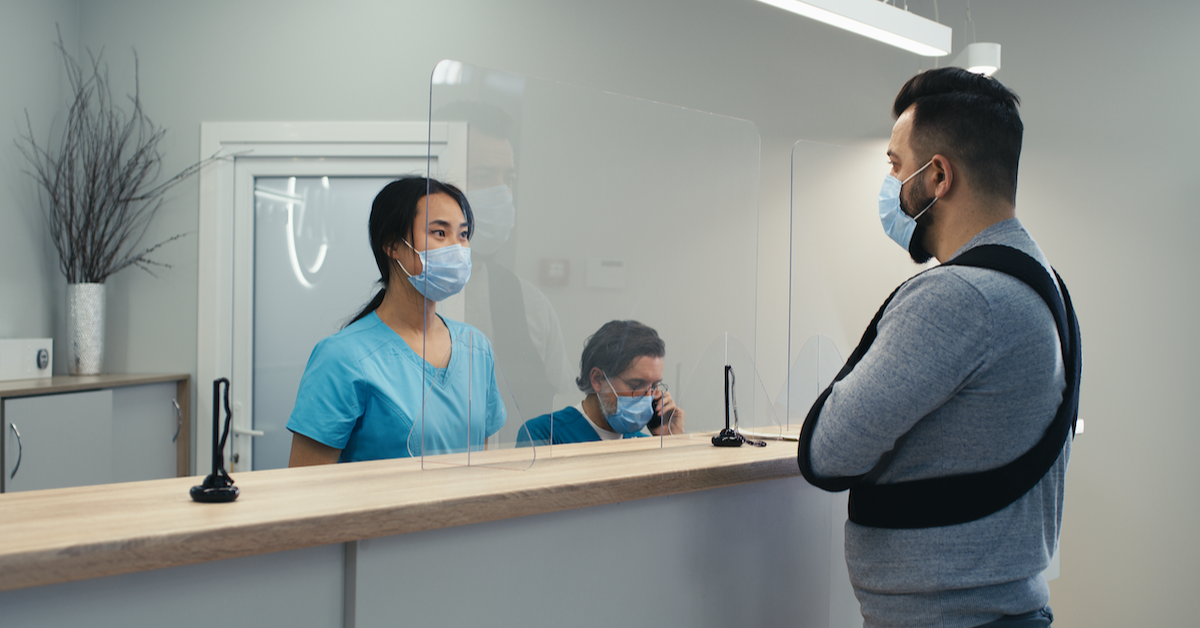 General practice respiratory clinics (GPRCs) and priority primary care centres (PPCCs) are designed to ease pressure on busy hospitals and primary care services.
They provide more ways for patients to enter the health care system and get the help they need when they need it.
So, if a patient cannot get the care they need from their usual GP or a pharmacist, but they're not sick enough to require emergency admission to hospital, which is a better option – a GPRC or a PPCC?
Key messages
If a patient has mild respiratory symptoms (including confirmed COVID-19) and needs to see a GP or nurse, a GPRC is the best place to go. They provide face-to-face and telehealth assessment, full respiratory panel testing, immediate support for anyone with respiratory illness (including babies), and COVID-19 antiviral prescriptions for eligible patients.
If a patient has a serious but non-life-threatening injury, illness or other condition requiring same-day care, they can visit a PPCC instead of waiting in an emergency department. The clinics have GPs and nurses who specialise in urgent primary care and provide x-rays, pathology, and other tests on site or nearby.

Many GPRCs and PPCCs are open after-hours and on weekends. It's best to book ahead, but you can walk in. Care is free for patients, even without a Medicare card. (Some patients at PPCCs may be charged a fee for diagnostics, depending on local provider partnerships.)
GPRCs operate at nearly 50 Victorian locations, including more than 15 in our region. Visit our website to find your nearest.
PPCCs operate at 5 Victorian locations, including 2 in our region (Sunshine and Moonee Ponds). 20 more will open statewide by early 2023, including several more in our region. Visit our website for more information.
If referring to a PPCC, health professionals should ensure patients are directed to the exact location – not a nearby general practice (where they may be charged a fee). Use the links above to book. You may also consider providing the patient with a referral letter. Visit HealthPathways Melbourne for clinical and referral information.

For more information refer to the comparison table below (also available as a .pdf​​​​​​​).
GP respiratory clinics
Priority primary care centres
Are for people who are unwell with mild respiratory symptoms such as:

coughs
runny nose
fever
sore throat
other COVID-19 symptoms including nausea, vomiting or diarrhoea.

Are for people with urgent but non-life-threatening conditions such as:

mild to moderate infections
fever
pain when urinating
suspected fractures and sprains
back and muscle pain
minor cuts, burns, and insect or animal bites
heartburn, vomiting, nausea
headaches, migraines and brief fainting or fitting
constipation, diarrhoea, abdominal pain
allergies and rashes
light bleeding in the first trimester of pregnancy
mild to moderate asthma attacks

.

Offer face-to-face assessments (including full respiratory panel testing), telehealth appointments and immediate support for respiratory illnesses, such as influenza, COVID-19, asthma and hay fever.

Offer face-to-face treatment and telehealth appointments for conditions that are suitable for management in a primary care setting.

Can prescribe COVID-19 antiviral medications for eligible patients.

Can prescribe medications if necessary for urgent management of a condition. Patients requiring routine or repeat prescriptions should see their usual GP.
Are staffed by GPs and nurses.
Are staffed by GPs and nurses and have pathology and imaging services on site or nearby.
Operate at 47 Victorian locations. 30 are funded by the Victorian Government and commissioned by primary health networks until at least mid-2023. 17 are funded and commissioned by the Australian Government until 31 December 2022.
Operate at 5 Victorian locations, with a further 20 to open by early 2023. All are funded by the Victorian Government and commissioned by primary health networks.
Victorian Virtual Emergency Department also available
The Victorian Virtual Emergency Department (VVED) is now operating statewide and has supported more than 70,000 patients. Staffed by a team of emergency physicians, paediatric emergency physicians, GPs and nurses, this free public service exists to treat all non-life-threatening emergencies.
In addition to advising appropriate patients to contact the VVED, GPs can access a co-consultation directly with an emergency physician or paediatrician.
Please read our summary of the VVED for primary care. Visit vved.org.au to access it.