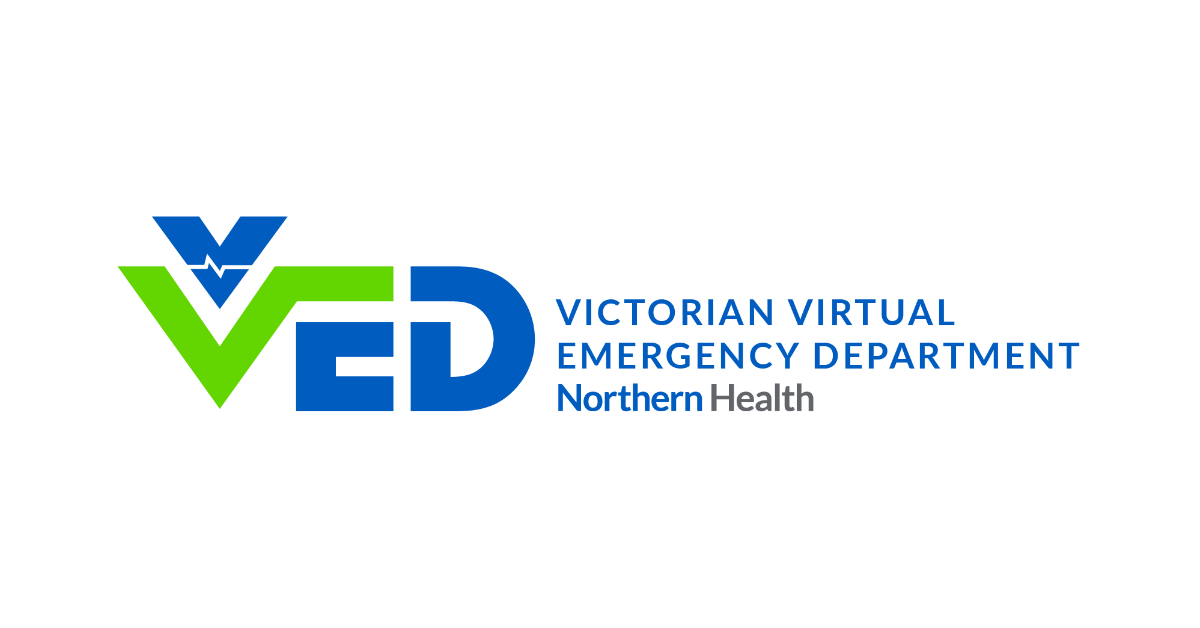 The Victorian Virtual Emergency Department (VVED) is now available free to anyone from anywhere in Victoria, 24 hours a day, 7 days a week.
The VVED opened in October 2020, initially supporting patients and health care providers in Melbourne's northern suburbs.
It successfully partnered with Ambulance Victoria paramedics, aged care facilities, COVID-19 teams and urgent care centres. Consequently, it was funded to roll out statewide.
By November 2022 VVED physicians had supported more than 70,000 patients. Staffed by a team of emergency and paediatric emergency physicians, GPs, and nurses, the service exists to treat all non-life-threatening emergencies.
Northern Health operates the VVED in partnership with Austin Health, St Vincent's Hospital Melbourne, Ambulance Victoria and the Victorian Government.
North Western Melbourne Primary Health Network (NWMPHN) played a significant role in supporting the development of the VVED paediatric model of care in collaboration with Murdoch Children's Research Institute. NWMPHN consults regularly with its General Practice Expert Advisory Group, which informs the organisation's support to Northern Health and its partners to refine the overall VVED model to better support primary care.
How to access the VVED
Visit vved.org.au and select the category which best represents you: patient, paramedic, GP or heath care professional. You will need a device that can receive SMS text messages and enables video and audio telehealth consultations.

For patients 
The patient registration form is available in 20 languages. After entering their name, date of birth and phone number, patients will be asked a set of screening questions. They can access an interpreter if required. They should have their Medicare card handy, if they have one – but people without can still access the service.
Patients will be placed in a virtual triage queue, then connected with a nurse or emergency physician as required. This patient flyer (.pdf) has more information.
For GPs and other primary care providers
GPs have 2 options for accessing the VVED. They can:
advise patients to contact the VVED through the patient registration pathway
access a co-consultation directly with an emergency physician or paediatrician.
Advising patients to contact the VVED
If a patient is experiencing a non-life-threatening emergency, a GP or other health professional can advise them to contact the VVED. The patient can register using the process outlined above – from their home or the GP clinic if appropriate equipment and space are available.
GPs may feel comfortable recommending the service to patients to use as a safety-net option, providing an alternative to attending the ED. Reception staff also have the VVED as an option when advising patients who are unable to see a clinician at the practice but who feel they need to be seen on the day. (New priority primary care centres provide another option.)
Patients can visit the VVED website for examples of when to contact it and when to call 000. Common presentations include COVID-19 and mild respiratory illness, headache or other pain, non-time-critical injuries, nausea and vomiting, urinary infection, palpitations, dizziness, mild allergies and insect bites.
Co-consultation service
This service is available for GPs and patients who are in the same room using a single telehealth device. It enables fast and appropriate referrals and can improve the capacity of GPs to manage similar presentations in future.
Using this process, patients are automatically streamed to the appropriately qualified specialist emergency physician.
GPs must enter patient and device information through vved.org.au and then wait in a priority queue. The wait time may be up to 15 minutes in busy periods.
An ED physician will consult and assess whether the patient needs to attend a physical ED or can be managed in the community with coordinated follow up.
What support can the VVED provide?
For patients
Many patients who contact the VVED can receive self-care advice, prescriptions, or referrals for tests, scans or other services at facilities close to their home. Some will be asked to attend their nearest ED.
The VVED does not prescribe routine, repeat or Schedule 8 medications.
For GPs and other primary care providers
The VVED identifies patients who would traditionally be referred to an ED but may be suitable for management outside a hospital, including through new priority primary care centres, GP respiratory clinics, primary care and allied health.
It also identifies patients who can bypass ED and be fast-tracked to suitable hospital pathways for ongoing investigation and management. This includes referrals to short stay units, hospital-in-the-home services, and acute review specialist clinics.
The VVED also provides referrals back to primary care providers for patients who require follow-up after their emergency telehealth consultation.
If patients consent, the VVED will provide GPs with discharge summaries and other relevant information.
Refer to the VVED flyer for health care professionals (.pdf) for more information.
Resources and more information
Medical community virtual consults
The newly established Northern Heath Medical Community Virtual Consult service provides GPs access to hospital-based specialist expertise to discuss complex patient management in the community.
The virtual service offers pre-booked appointments to GPs to attend solo, with patients, family or allied health in conversation.
For more information or to book an appointment, visit mcvc.nh.org.au