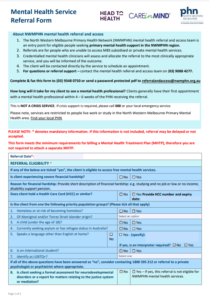 GPs and other health professionals can use this form to refer anyone experiencing mental ill health to our mental health referral and access team.
Our clinicians review referrals and allocate them to the most clinically appropriate service – no matter who funds or provides it. Referrals are primarily for people who cannot access Medicare-funded or private mental health services. However, we can help anyone find the most appropriate service for them.
Use of this form requires clinical decision making. If you are not a health professional but are seeking mental health support for yourself or a client, family member, friend, colleague or other person, please call Head to Health Victoria on 1800 595 212.
This form meets the minimum requirements for billing a Mental Health Treatment Plan (MHTP), therefore GPs are not required to attach a separate MHTP.
Download our referral form (Best Practice) below or call us directly on (03) 9088 4277*. Please note:
From August 2023, this form is embedded within Best Practice software. We encourage general practices to update their software to the latest version.
This page contains instructions on how to upload forms into Best Practice software.
*This phone number is for clinicians only. Community members seeking mental health support can call Head to Health Victoria on 1800 595 212.