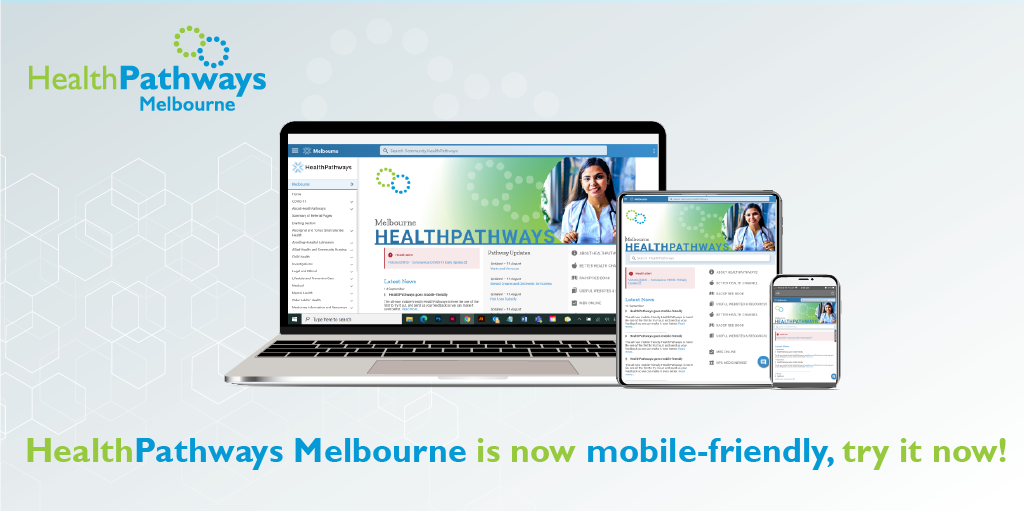 The HealthPathways Melbourne team would appreciate your feedback on the new mobile-friendly version of HealthPathways.
Try it out now on your desktop computer, laptop, tablet, or mobile device, and tell us how we can make it even better (use the new circular feedback button at the bottom-right of the screen):
The new mobile-friendly platform will soon replace the classic version of HealthPathways that you are used to. We're keen to hear from you so we can keep improving the experience.
Although the look is new, the information is exactly the same as on the existing HealthPathways Melbourne site.
Access to HealthPathways Melbourne
During the soft-launch phase (from 14 September 2021), if you have automatic login to HealthPathways Melbourne, there is no change to how you access the website. If logging in for the first time on a tablet or mobile device, you may be prompted to enter a username and password.
After the full launch of the mobile-friendly website, all users who access the website using a login will be prompted to re-enter the username and password. Anyone with automatic access using either a registered IP address or a unique URL will not be affected.
To avoid disruption to your HealthPathways Melbourne access, please contact the team to retrieve your practice's unique URL and gain automatic access to HealthPathways Melbourne.
Read more about what's been improved.
What if someone is using an older browser or device? Can they still access HealthPathways?
The classic and mobile-friendly sites will operate in parallel. Any general practices using an older browser will be automatically be redirected to the classic site to ensure continued access to the HealthPathways site.
New domain name and automatic re-direct
The mobile-friendly site will have a new domain name, Community HealthPathways: melbourne.communityhealthpathways.org
During this soft launch phase, all users are directed to the classic site first, and then have the option to visit the new mobile-friendly site and set it as their default.
After the full launch, a user's normal method of accessing the website will continue to work and the current domain name will redirect to the new domain name. We will email you again closer to the date of the full launch.
Supported devices
This page provides details of supported devices. Unsupported devices are automatically redirected to the classic site.
Feedback
We are keen to hear about any issues with the new platform.
If you need assistance with the new site, please contact info@healthpathwaysmelbourne.org.au