People aged 18 to 64 are being urged to register now to receive a free flu shot at the Melbourne Town Hall on Friday, 29 April 2022.
Bookings are now available for the Immunisation Coalition's famous annual free flu vaccination day, with support from the City of Melbourne and Wellness Here for Life. Hurry – places are limited and bookings are essential.
Getting the flu vaccine is crucial this year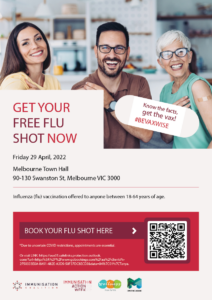 During the COVID-19 pandemic to date, there hasn't been many flu infections because many people were staying home and not moving around their suburbs, the country or travelling overseas. With the reopening of borders, and more people moving around, health experts predict there will be much more flu virus spreading in 2022.
A yearly vaccination is the most important measure to prevent flu. It is recommended for all people older than 6 months of age.
A flu vaccine will not protect you from being infected with COVID-19, nor will a COVID-19 vaccine protect you from being infected with the flu.
When should you get vaccinated?
The Australian Technical Advisory Group on Immunisation (ATAGI) advises that the flu vaccine can be administered before or after, or at the same time as a COVID-19 vaccine.
Influenza can infect a person at any time of the year but is more likely in Australia between June and September. It is recommended to get the flu vaccine as soon as it is available to you.
The highest level of protection against both COVID-19 and flu occur in the first 3 to 4 months after vaccination.
If a person received the 2021 flu vaccine in late 2021 or early 2022, they should still get the 2022 flu vaccine when it becomes available (from April 2022).
It is safe for pregnant women to receive an influenza vaccine at any stage of their pregnancy.
It is vital to keep your COVID-19 and flu vaccinations up to date
COVID-19 third doses (boosters) are important to prevent COVID-19 and are available to anyone aged 16 and over who received their second COVID-19 vaccination 3 or more months ago.
Having both a COVID-19 booster and flu vaccination provides an extra level of protection against being infected and helps reduce the spread of infection of both viruses. This also helps protect the more vulnerable individuals who may experience severe illness or complications from these viruses.
A third COVID-19 vaccine dose provides specific benefits against the Omicron variant. A third dose increases protection against death to 95 per cent, up from 60 per cent at 2 doses. A third dose increases protection against hospitalisation by 90 per cent, up from over 55 per cent at 2 doses. A third dose also boosts protection against infection and transmission, with protection increased by 50 per cent, compared to 25 per cent at 2 doses.