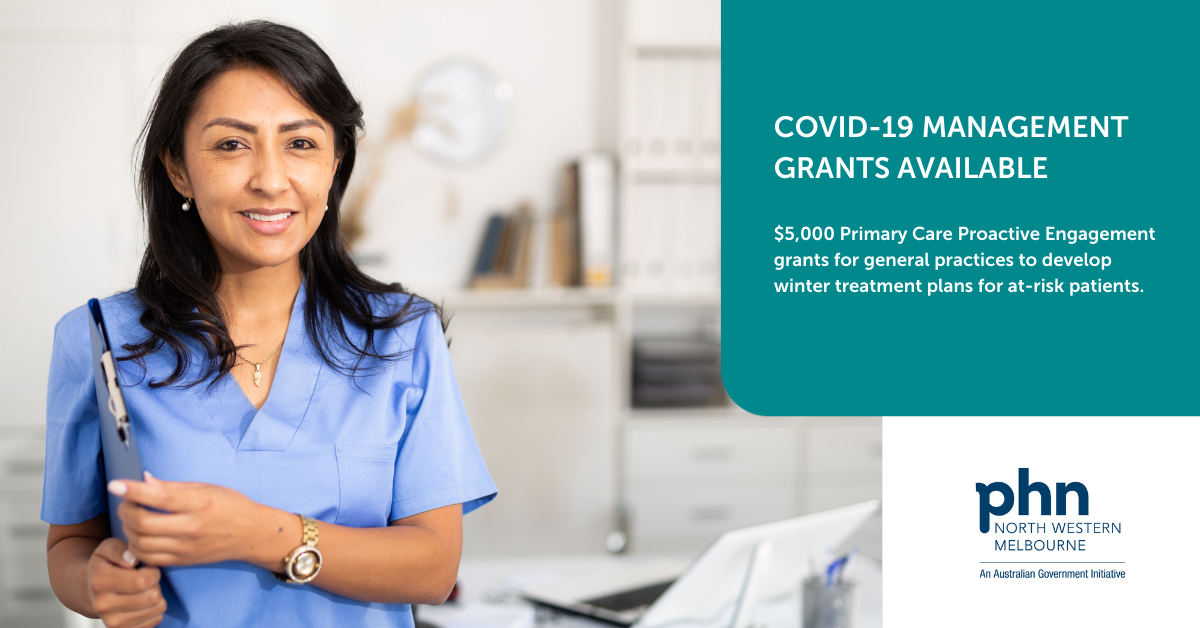 Update 12pm Wednesday, 3 August 2022: registration for these grants has now closed.
North Western Melbourne Primary Health Network (NWMPHN) is providing funding to support general practices to participate in proactive engagement and activities that promote:
uptake of COVID-19 and influenza vaccinations
early assessment and treatment for COVID-19.
The funding is in the form of Primary Care Proactive Engagement grants – an initiative of the Australian Government under its Vulnerable Population program. It seeks to provide short-term local solutions to supplement existing arrangements for the delivery of vaccinations to at-risk populations.
COVID-19 cases are surging in the NWMPHN region, further waves are expected and there is a high prevalence of other respiratory conditions. It is vital for general practices to plan for early assessment and treatment of at-risk patients to prevent severe symptoms, poor outcomes and hospitalisation.
What is involved?
Participating practices will be required to complete the following activities.
Conduct database searches to identify vulnerable patients at risk of poor outcomes if they contract COVID-19.
Reach out to the vulnerable patient cohort – contact a minimum of 150 individuals but aim for 200 plus.
Conduct an initial phone call and progress to screening if patient consents.
Organise a follow-up appointment for those who require:

a COVID-19 or influenza vaccination or

a GP consultation

to

assess and plan for early antiviral prescription (consultation may be face-to-face, or by telehealth if the patient meets the MBS criteria).

Develop winter treatment plans for consenting individuals.
Submit data to NWMPHN (using an online Microsoft Form) within 3 weeks of completing the activity period.
The activity needs to be undertaken within a maximum timeframe of 8-weeks from approval of the registration.
NWMPHN will fund $5,000 (ex. GST) per practice for this activity. A payment of 50 per cent is payable at the start, with the remainder provided following submission of activity data.
NWMPHN will provide resources to assist the practice to undertake this activity. It is not mandatory to use them, but they comprise:
an activity description guide
winter treatment plan templates
instructions on how to conduct a database search
a daily tracking template for data collection
other resources available on the NWMPHN website: COVID-19 Treatment Planning in General Practice.
Eligibility criteria
The practice must be located in the NWMPHN catchment.
It must be a current licensed Commonwealth COVID-19 vaccine provider.
It must have current insurances for:

public liability: minimum $20 million per claim
professional or medical indemnity: minimum $10 million per claim
workers compensation.

Providers are not permitted to charge co-payments for COVID-19 vaccine administration, consistent with the Australian Government's commitment that the vaccine will be free.
How to apply
Registration for these grants is now closed.
There are a limited number of grants available. The registration date may be extended if they are not all allocated in the first tranche.
Associated documents
Registration form (link removed as registrations have now closed)
Activity guide (.pdf) – can be used as a checklist for participating practices
Notifications
Practices will receive a confirmation that their registration has been received.
Within 5 days of registering, practices will receive email notification that registration and approval of the grant amount is successful.
Ineligible practices will also be notified by email.
Practices will receive a copy of the previously accepted Terms of Agreement by email within 10 business days of registering. This is for record-keeping only.
A copy of this registration information is available to download (.pdf).