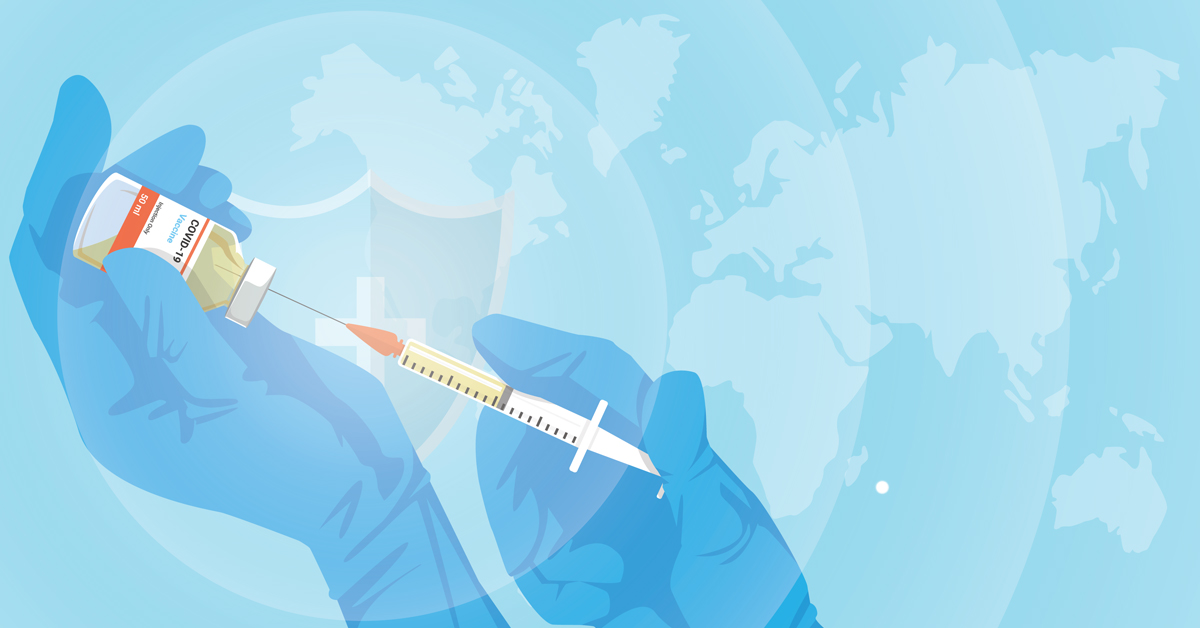 The Therapeutic Goods Administration (TGA) has granted provisional approval to AstraZeneca Pty Ltd for its COVID-19 vaccine, making it the second COVID-19 vaccine to receive regulatory approval in Australia.
The vaccine is provisionally approved for the active immunisation of individuals 18 years and older for the prevention of coronavirus disease 2019 (COVID-19) caused by SARS-CoV-2. The use of this vaccine should be in accordance with official recommendations and given in two separate doses.
TGA's regulatory approval allows the second dose to be administered from 4 to 12 weeks after the first. The Australian Technical Advisory Group on Immunisation has recommended that the interval between first and second dose is 12 weeks. However if this interval is not possible, for example because of imminent travel, cancer chemotherapy, major elective surgery, a minimum interval of 4 weeks between doses can be used.
Below is our summary of COVID-19 vaccine information for general practices as it stands on Tuesday, 16 February 2021.
Update on the expression of interest process for general practices wishing to distribute COVID-19 vaccines
North Western Melbourne Primary Health Network (NWMPHN) received 352 expressions of interest (EOI) from general practices applying to be part of phase 1b of the vaccine rollout. More than 5000 were received nationally.
The Australian Department of Health is currently in the process of assessing the EOI applications to identify general practices that can participate in the early stages of Phase 1b. Phase 1b is scheduled to begin in March 2021 (pending vaccine approval and availability).
General practices will be on-boarded in a staggered approach, over a number of tranches, based on general practice preparedness, vaccine availability, geographical reach/spread and other logistical considerations.
Accredited practices who did not submit an EOI are encouraged to please contact primarycare@nwmphn.org.au to discuss participation in future phases of the rollout.
More information is available in the 12 February update from Deputy Chief Medical Officer Professor Michael Kidd AM.
Pfizer hub distribution sites are yet to be confirmed
Staged distribution of the Pfizer vaccine for phase 1a of the rollout in our region will be through centralised hospital hubs managed by Western Health, Monash Health and Austin Health.
Western Health have published a COVID-19 vaccination website hub and confirmed that vaccine sites – or "sub-hubs" – will soon be established in Sunshine, Parkville, Werribee and at Melbourne Airport. The Parkville sub-hub will enable easier access to the vaccine for hospital staff within the Parkville precinct.
Other vaccination sites in our region will be confirmed soon.
Who will receive the first vaccines?
The priority groups for phase 1a of vaccines are:
quarantine and border workers
frontline health care workers
aged care and disability care staff
aged care and disability care residents.
Quarantine and medical hotel staff are expected to receive the first vaccines in the staged rollout, followed by border workers.
We are yet to receive confirmation about which frontline health care workers will be prioritised next. However, we expect this group will include staff in GP respiratory clinics and COVID-19 testing facilities, paramedics and ambulance workers, staff in hospital intensive care units and emergency departments, and clinical and ancillary support staff.
Please note: at the time of writing we are yet to receive confirmation on the exact definition of 'frontline health care workers' and the timeline of who will receive vaccines first.
Vaccinations in residential aged care and disability care facilities
The Australian Government has secured an additional vaccine workforce and is working to deliver essential training to everyone who will administer the vaccinations to aged care and disability care residents and staff.
The Australian Department of Health provided an update on the delivery of COVID-19 vaccines for residential aged care facilities on 11 February 2021.
At the time of writing we are waiting on an update on the delivery of COVID-19 vaccines in disability care facilities, along with more details for both aged and disability care.
COVID-19 vaccine training is available – but modules for general practice are not yet
National COVID-19 vaccine training for clinical and non-clinical staff involved in the administration of COVID-19 vaccines is now available on the Australian Department of Health website.
However, at this stage, the training is predominantly for health professionals in hospitals who will be administering the Pfizer vaccine.
Authorised immunisation providers in our region can complete the available training modules now; however, they will be required to update their training once modules for the Oxford University/AstraZeneca, Novavax and potentially other vaccines are added.
For more information on COVID-19 vaccine training, read our update for immunisation providers.
Medicare funding for vaccine administration
Please always refer to MBS Online for detailed information on billing.
GPs in MMM1 areas will be able to claim a Level A attendance and a double bulk-billing incentive item (totalling $30.75) for delivering the first dose of the AstraZeneca/Oxford vaccine, along with a Level A and standard bulk-billing incentive for the second ($24.25).
Those in MMM2–7 areas will receive $37.35 for the first dose and $27.55 for the second.
All practices are eligible to receive an additional $10 Practice Incentive Payment (PIP) for patients who receive both doses at the same clinic
According to the RACGP, "newsGP understands that practice nurses will also be able to administer the vaccines and bill the new Medicare items without GPs being present, though GPs will need to oversee the process."
We will provide more information once it is confirmed by the Australian Department of Health.
How will the national booking system work?
Details of the national booking system are still to be confirmed. What we do know is that this system will provide a single point of entry for people who require vaccination. It will consist of a digital directory of available vaccination sites that integrates with practice's booking software.
Avoid co-administration of the COVID-19 and influenza vaccines
Routine scheduling and giving of an influenza vaccine with a COVID-19 vaccine on the same day is not recommended. The preferred minimum interval between vaccines is 14 days. More information is available from the Australian Technical Advisory Group on Immunisation.
Education session on 23 February 2021
NWMPHN and Eastern Melbourne PHN are hosting a webinar update for vaccine providers on Tuesday, 23 February 2021, from 6:00pm to 8:00pm.
This session is in high demand and is capped at 500 attendees. At the time of writing the session is fully booked, but you can register to be placed on a waitlist should places become available.
This webinar will be recorded and made available on our website for two weeks after the event.
HealthPathways Melbourne
The COVID-19 Vaccination Information pathway provides GPs with initial information on the planned vaccines, the different phases for the planned vaccination roll-out, and clinical and patient resources. This page will be updated as more information becomes available. Don't have access? Request access online or contact info@healthpathwaysmelbourne.org.au
National website hub for COVID-19 vaccine providers
The Australian Department of Health has published a new COVID-19 vaccine website hub containing information for general practices, GP-led Respiratory Clinics and Aboriginal and Community Controlled Health Services and community pharmacies. It includes a number of fact sheets, guides and posters.
Disclaimer: NWMPHN provides Medicare information as a guide only and recommends general practitioners familiarise themselves with the detailed descriptions contained in the MBS, available at mbsonline.gov.au. Under the Health Insurance Act 1973 practitioners are legally responsible for services billed to Medicare under their Medicare provider number or in their name.