Speaking Up Speaks Volumes
Completed
Duration:
11 May 2020 to 31 July 2021
Overview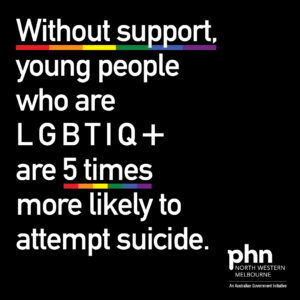 The Shannon Company was engaged to design and deliver a community awareness campaign to meet these 2 objectives:
Improve understanding, awareness and compassion for LGBTIQ+ people to promote supportive and responsive communities
Improve health and wellbeing of LGBTIQ+ people, families and communities.
A co-design approach was used, starting with in-depth interviews from a range of people, from health professionals, people with lived experience, parents, local council members, and task force members. LGBTIQ+ people were invited through a range of networks to share their stories as part of the campaign.
A survey of attitudes and 3 campaign concepts were tested with over 1000 people including LGBTIQ+ people. Community leaders were also engaged to share the campaign online and through their organisations. This included faith leaders, teachers, police, health providers, and sporting clubs.
https://www.youtube.com/watch?v=G5NU8t7CAxw
Outcomes
Development of a behaviour change campaign called #SpeakingUpSpeaksVolumes to address discrimination towards LGBTIQ+ communities by non-LGBTIQ+ individuals. Such discrimination contributes to poor mental health outcomes. The primary output of the campaign was social and outdoor media advertising delivered over 2 months, and the creation of an ongoing microsite to host campaign materials.
The campaign achieved more than:
1.5 million Facebook views
413,000 YouTube views
7,950 media mentions.
 speakingupspeaksvolumes.org.au
Read the evaluation report for this project below and learn more about how this project was evaluated.