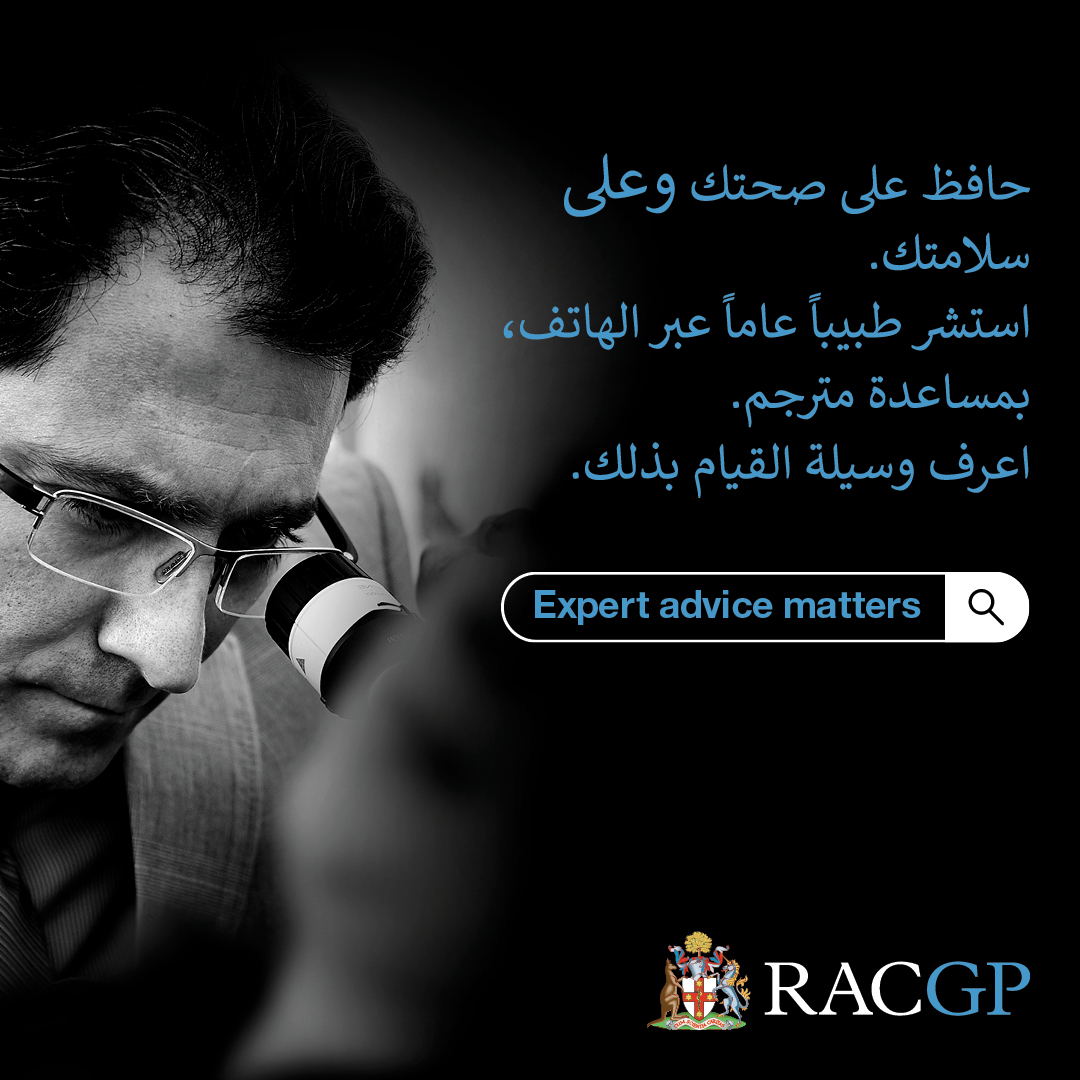 The Royal Australian College of General Practitioners (RACGP) is launching translated websites to help culturally and linguistically diverse (CALD) patients access care from a GP during the COVID-19 pandemic.
It comes following GP concerns about CALD patients avoiding medical care due to fear of the COVID-19 virus, while also bearing the brunt of the pandemic, including increased mental health symptoms, isolation and loneliness.
The new translated websites are part of the RACGP's Expert Advice Matters campaign, which is encouraging patients to keep looking after their heath during the COVID-19 pandemic and consult their GP for any health concerns.
GPs are helping to spread the message by sharing videos of themselves speaking in various languages, urging patients not to delay routine health care and explaining how they can safely consult with their GP. You can find the videos on YouTube here.
The websites have been translated into the most commonly spoken languages other than English, including Arabic, Simplified Chinese, Hindi and Vietnamese. They include practical information for patients on how they can safely access care from a GP, including telehealth and telephone consultations featuring free interpreters.
RACGP spokesperson Dr Lara Roeske said more needed to be done to reach CALD patients missing out on health care.
"Before the COVID-19 pandemic, CALD communities in Australia already faced health inequalities and barriers to accessing health care including language and health literacy issues."
Evidence suggests migrants, particularly those newly arrived, use health services less. The National Health Survey found that of those arriving in Australia between 2009 and 2015, 74%had visited a GP in the last 12 months, compared to the Australian-born population total of 86 per cent.
Dr Roeske said the pandemic had magnified the problems.
"The pandemic has only made matters worse – many patients are avoiding seeing their GP because they're afraid of the virus and don't know about or feel comfortable using telehealth.
"With all the rapidly changing health information and changes to the way patients can access care, it's not surprising that some don't know how they can safely access health care and are putting off important appointments. We need to fix this now.
"I'm very concerned that patients delaying care could face worse problems down the track. Particularly given some CALD communities have higher rates of chronic disease and need regular routine health checks to stay well.
"This is why it's so important that we get the message to CALD communities that you need to keep taking care of your health during the pandemic, and there are safe ways to get the expert care you need.
"We need to do better to communicate to CALD patients, and provide information that's translated and culturally appropriate. The extension of the RACGP's Expert Advice Matter's campaign to CALD communities aims to do just that.
"My advice for patients is this: if you've delayed an appointment or have a new health concern, don't wait any longer – your GP is here to help, book an appointment today."
7 tips for safer health care
don't delay health care, call your GP for any concerns
you can consult your GP on the phone or via video technology. Telehealth appointments are bulk billed for concession card holders, under 16s and vulnerable patients.
if you need an interpreter, call the Australian Government's FREE Translation and Interpreting Service (TIS)

Ph 131450

.
you can get a prescription from your GP on the phone or video and collect the medicine from a pharmacy
it's safe to visit your GP in person if you need to – clinics have made changes to protect you from COVID-19 including physical distancing and regular sanitisation.
patients in Victoria must wear a face mask or covering when visiting their GP. Patients living in other areas with community transmission are also advised to wear a mask when visiting the GP
if you have COVID-19 symptoms (cough, sore throat, shortness of breath, runny nose, fever or chills or loss of smell or taste) get tested right away and self-isolate until you get the results.
With the Royal Australian College of General Practitioners.
Disclaimer: This article was provided by RACGP. While every effort has been made to ensure the information is accurate, North Western Melbourne Primary Health Network does not warrant or represent the accuracy, currency and completeness of any information or material included within.