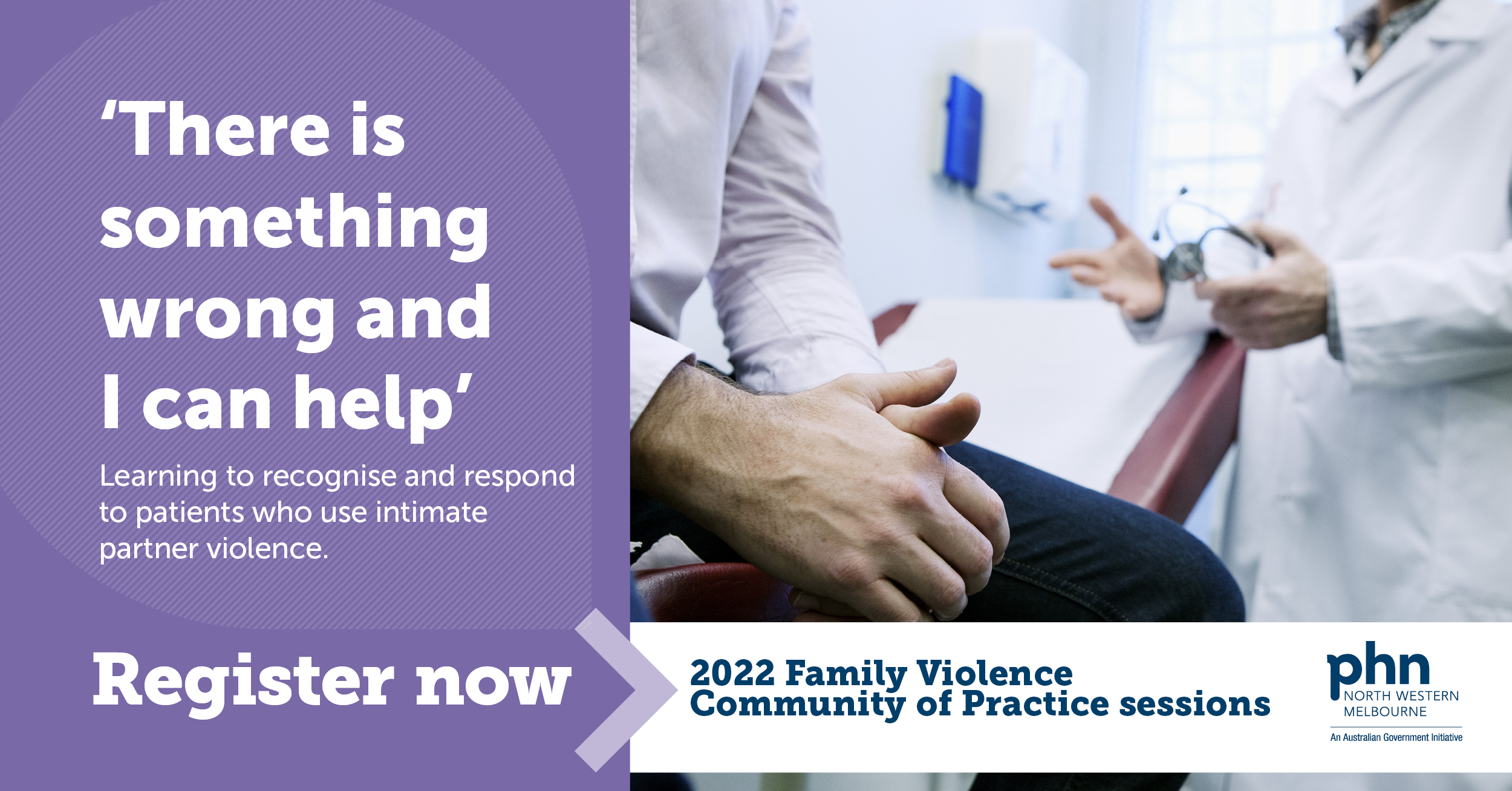 Join forces with professionals from general practice, mental health and drug and alcohol services, hospitals and the family violence sector at the 2022 Community of Practice: Family Violence sessions.  
Based on the feedback and barriers identified at last year events, this year's Community of Practice sessions will focus on common perpetrator profiles, presentations, and comorbidities, clarification of general practice role and resources, to increase participants' capacity to identify, respond and provide pathways to safety. 

The first series of events held in 2021 was attended by 47 health professionals from a variety of disciplines, and 15 presenters/facilitators from range of health and sector organisations, as well as people with lived experience. Read more about the first sessions on our website. 
This year's sessions will include:  
education to identify and manage perpetrators, on the topic

There is something wrong and I can help: Learning to recognise and respond to patients who use intimate partner violence

.

 

an expert panel case discussion and Q&A

 

facilitated networking with local general practices, hospitals, mental health, behaviour change programs, drug and alcohol and family and domestic violence services.

 
This year's expert panel will include: 
Kaye Frankcom, Clinical and Counselling Psychologist, MAPS

 

Zanetta Hartley, Specialist Family Violence Advisor at North Western Mental Health

 

Jac Dwyer, Family Violence Practice and Development Officer, Berry Street

 

Denise McAloon, Services Team Leader at No to Violence (NTV), Men's Referral Service

 

Dani Gold,

Specialist Family Violence Advisor, Mental Health & Senior Social Worker, RCH Family Violence Initiative at Royal Children's Hospital

 

Dave Kwame Arthur – Senior Clinician from Odyssey House Victoria and AOD system representative

 
About the facilitator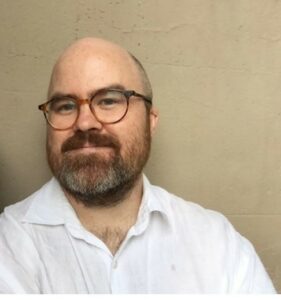 Matt Addison has extensive practice, policy, and research experience working with people who have used domestic and family violence. For the last 10 years, Matt has worked as a counsellor, supervisor and researcher in the field of domestic and family violence. Matt is passionate about strengths-based and relational approaches to supporting people to change their harmful behaviours.   
Matt has worked as a counsellor and supervisor at Men's Referral Service, which is a multi-state counselling service for men who have used violence in their relationships. Additionally, as a policy professional, Matt has been involved in developing key pieces of Victorian Government policy and practice concerning perpetrators of family violence. These include the development of the Multi-Agency Risk Assessment and Management framework practice guidance, and the redevelopment of the Perpetrator Outcomes framework.    
Education session summary
Every year, police respond to 75,000 cases of Intimate Partner Violence (IPV) across Victoria. Prevalence studies, however, indicate that this number is just the tip of the iceberg, and hundreds of incidents of IPV are occurring across our communities each day undetected. Whether you recognise it or not, every day in your practice you are engaging with patients using or at risk of using IPV.  
IPV is a serious public health and social issue that every sector across our communities has a role in stopping. Many studies indicate that GPs are the first professionals that people experiencing and using IPV disclose to. Because of the often-close relationships between doctors and patients, GPs are in a unique position to engage with patients using IPV and to support them to seek help to change their behaviour.   
In this module you will learn:  
Your role and responsibilities in identifying and responding to patients using IPV 

 

The common presentations of patients using IPV 

 

Principles of safe engagement with patients using IPV 

 

Referral pathways for patients using IPV.
For more details – download the event flyer here.
Event registration
While you are welcome to attend any of the events, we encourage you to attend the one most relevant to the geographic area of your work to optimise your learning and networking outcomes. 
This year we will run 2 online sessions, 6.30-8pm via Zoom  
Tuesday, 17 May 2022 (western region):
Areas:  Brimbank, Hobsons Bay, Maribyrnong, Melton, Moorabool and Wyndham  
Tuesday, 24 May 2022 (northern and central regions):
Areas: Darebin, Hume, Macedon Ranges Melbourne, Moonee Valley, Moreland and Yarra.  
The Community of Practice: Family Violence has been established to foster interdisciplinary and cross-sector learning and pathway development; to better integrate primary care services with the broader community and social care services sector and improve referral pathways. 
To learn more about the role of primary care professionals and how to respond to family violence, visit the family violence for primary care page. This page includes family violence services and other resources including a short video Starting Conversation About Family Violence by Professor Kelsey Hegarty of the University of Melbourne.