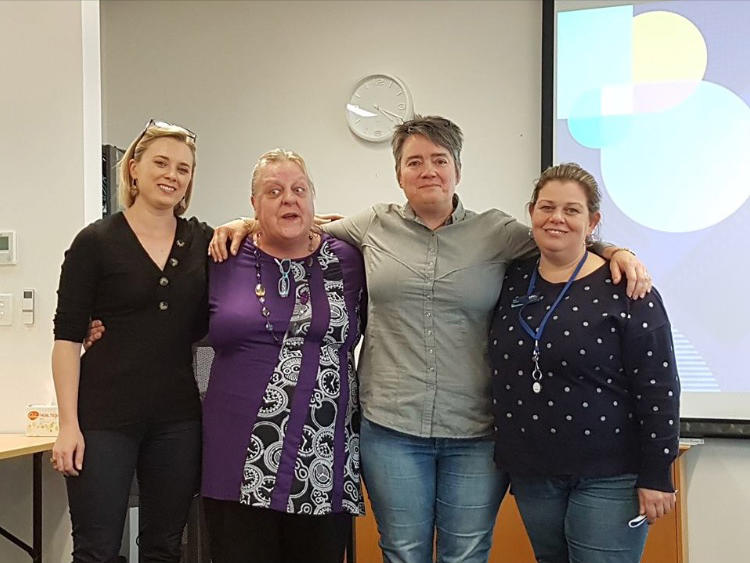 Health care professionals came together to share views and shift perspectives at a team-based care workshop held at North Western Melbourne Primary Health Network (NWMPHN) on 11 August.
The session was the fourth in a series of workshops for the Person-Centred Medical Home (PCMH) leaders group. Team-based care is a key component of the PCMH model. It is all about providers working to the top of their scope with patients seeing the most appropriate provider for their care. This can lead to improved patient outcomes but also higher job satisfaction for providers. 
Dr Jeannie Knapp (GP), Lisa Taliana (practice nurse), Michaela Lodewyckx (NWMPHN) and experienced facilitator Ros Rolleston ran the session. Ms Rolleston is well-known in the general practice nursing field. She has been an active member of the Australian Primary Health Care Nurses Association (APNA) Board, a senior lecturer at Wollongong University and has developed and supported nurse-run clinics across the country. Her knowledge and expertise was invaluable when it came to discussing teamwork and collaboration.
Dr Knapp talked about team-based care in the context of GP and nurse burnout. She discussed avoiding burnout by delegating tasks to other members of the practice team and empowering them to make decisions and take control of their work.  
Ms Rolleston explained the independent and complimentary roles of GPs and nurses. The role of the practice nurse was highlighted by Ros who tested the group with some activities to name which practice team member was responsible. A great eye opener was the video clip "Just a Routine Operation" that demonstrated how not working as a team can be harmful to a patient's health.  
Group leaders also challenged some of the thoughts and processes that exist in current general practices, for example the fact that nurses need to restock treatment rooms and only GPs can decide when and what routine bloods are required for patients with diabetes. This was a great exercise to see how thinking can evolve around the roles of the practice team.    
If you would like to know more about the PCMH model and how you can adopt it in your practice, please contact Michaela Lodewyckx (Coordinator, Primary Care Improvement) by email: michaela.lodewyckx@nwmphn.org.au.