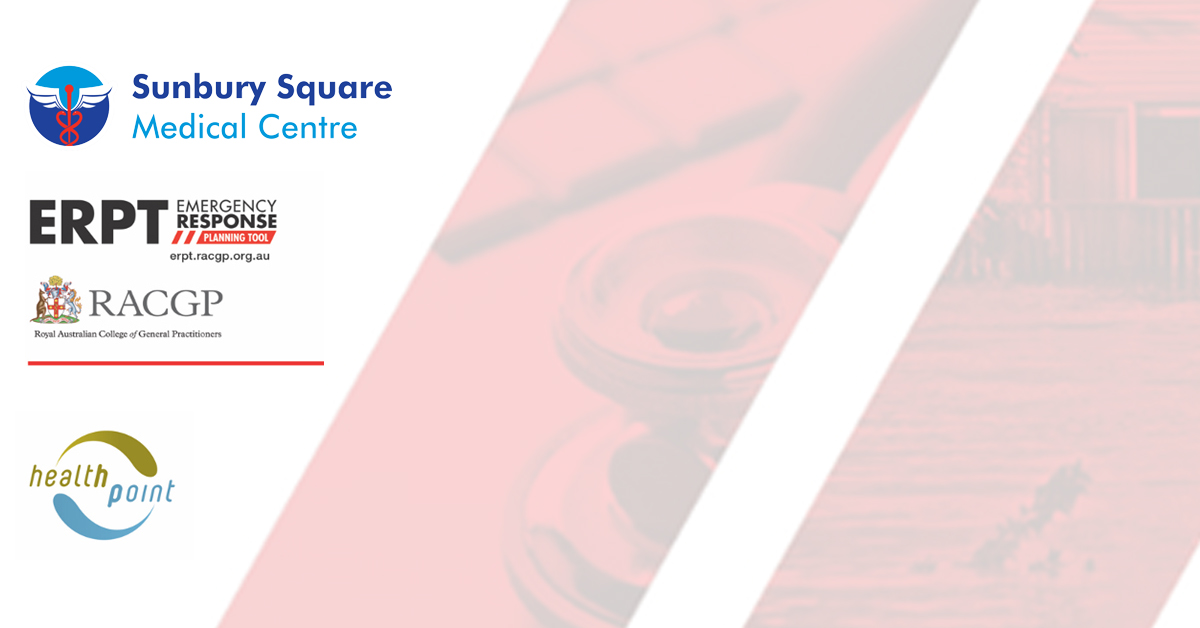 Has your practice got an up-to-date plan in place to help you respond to and recover from an emergency or disaster?
The popular Emergency Response Planning Tool (ERPT) assists general practices to better prepare for, respond to and recover from the effects of emergencies and pandemics.
The tool is endorsed by the RACGP and funded by the Victorian Department of Health. It is highly recommended for all general practices in the North Western Melbourne Primary Health Network (NWMPHN) region.
Case study: emergency response planning at Sunbury Square Medical Centre
The ERPT guides users through a series of planning templates where critical information about the practice can be entered and saved. The information is used to create an emergency response plan, which is individually tailored to the general practice.
Sunbury Square Medical Centre is a new general practice in our region. It opened in October 2019 and has physiotherapy, podiatry and a dietician on site. The practice is looking to recruit a psychologist.
NWMPHN's Quality Improvement Program Officer Yvonne Bese encouraged Dr Neveen Hanna and the team at Sunbury Square Medical Centre to register for the ERPT. We then connected Dr Hanna with the Healthpoint ANZ team, who provide free training and support for the tool.
"The Healthpoint staff are always willing to assist and break modules down for you so that it is not too much. I value and really appreciate their assistance," said Dr Hanna.
Dr Hanna suggested that other practices should have a look through the modules in the ERPT and gather the required data before getting started. Once her team had all the information they needed, Dr Hanna allocated one hour to complete each module.
"I structured the template in different sections and filled out sections in order and in various stages," said Dr Hanna.
Her practice team now has a source of truth that they can turn to in any emergency – from a power outage, to an IT hack or a pandemic. Team members including company directors have been impressed with the ERPT, which is also helpful for bringing new staff up to speed.
"It is a complete document that staff have and can refer to in any situation. It contains all necessary information that may be required by staff at any given time," said Dr Hanna.
"Everyone has found it to be a succinct document with very helpful information."
New COVID Safety Plan module now available 
The COVID Safety Plan module has been developed in collaboration with the RACGP and helps a practice build their own COVID safety plan.
Completing this module helps protect the safety and wellbeing of all team members, patients, contractors and visitors. It recognises the need for specific precautions during the COVID-19 pandemic – these are outlined in detail in the COVID safety plan for your practice.
Dr Hanna and her team are confident that they can turn to the ERPT and quickly swing into action if needed.
"If we have a staff member test positive, or a patient, the information in the ERPT will help in the different measures we will need to implement in our practice."
More information
Now is the perfect time to take advantage of a free licence and update your emergency response plan. Make sure all staff are informed and prepared in the case of an emergency.
The ERPT registration form is available on our website, along with samples and more information. You can also visit the RACGP website and watch the video below to learn more.
If you have any questions about the ERPT please contact us on 03 9347 1188 or email: primarycare@nwmphn.org.au