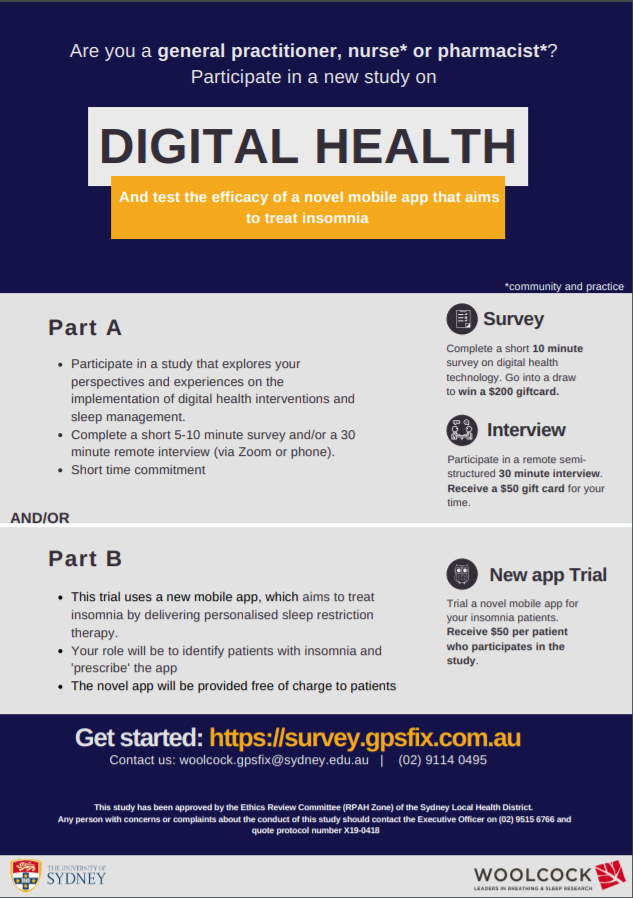 You are invited to participate in a study that aims to explore the perspectives and experiences of primary care professionals (GPs, nurses and pharmacists) on the implementation of digital health interventions and sleep management. Primary care professionals can provide valuable information on how digital health interventions can be implemented into their clinical practice to facilitate better health care for patients. 
This study involves an online survey which takes maximum 8 minutes to complete. As reimbursement you will be offered to enter into a draw to win a $200 Visa gift card.
You will also be invited to complete a remote semi-structured interview which will take 30-40 minutes and will be conducted over Zoom or Skype. This interview will further explore your experiences and perceptions regarding digital health interventions, and the barriers and enablers to its implementation. You will be reimbursed for your participation in the interview by way of a $50 gift card. 
If you are able to:
Complete the survey, please visit

survey.gpsfix.com.au

Participate in the semi-structured interview, please contact the research team on the details below.
In addition to Part A, you may also wish to participate in Part B to trial a novel mobile application for insomnia patients. If you are interested, we will be in touch with further details.
If you have any further questions, please contact us on our details below.
Contact details
SleepFix Research Team
The University of Sydney
T: +61 2 9114 0481
E: woolcock.sleepfix@sydney.edu.au
With the University of Sydney.
Disclaimer: This article was provided by University of Sydney. While every effort has been made to ensure the information is accurate, North Western Melbourne Primary Health Network does not warrant or represent the accuracy, currency and completeness of any information or material included within.