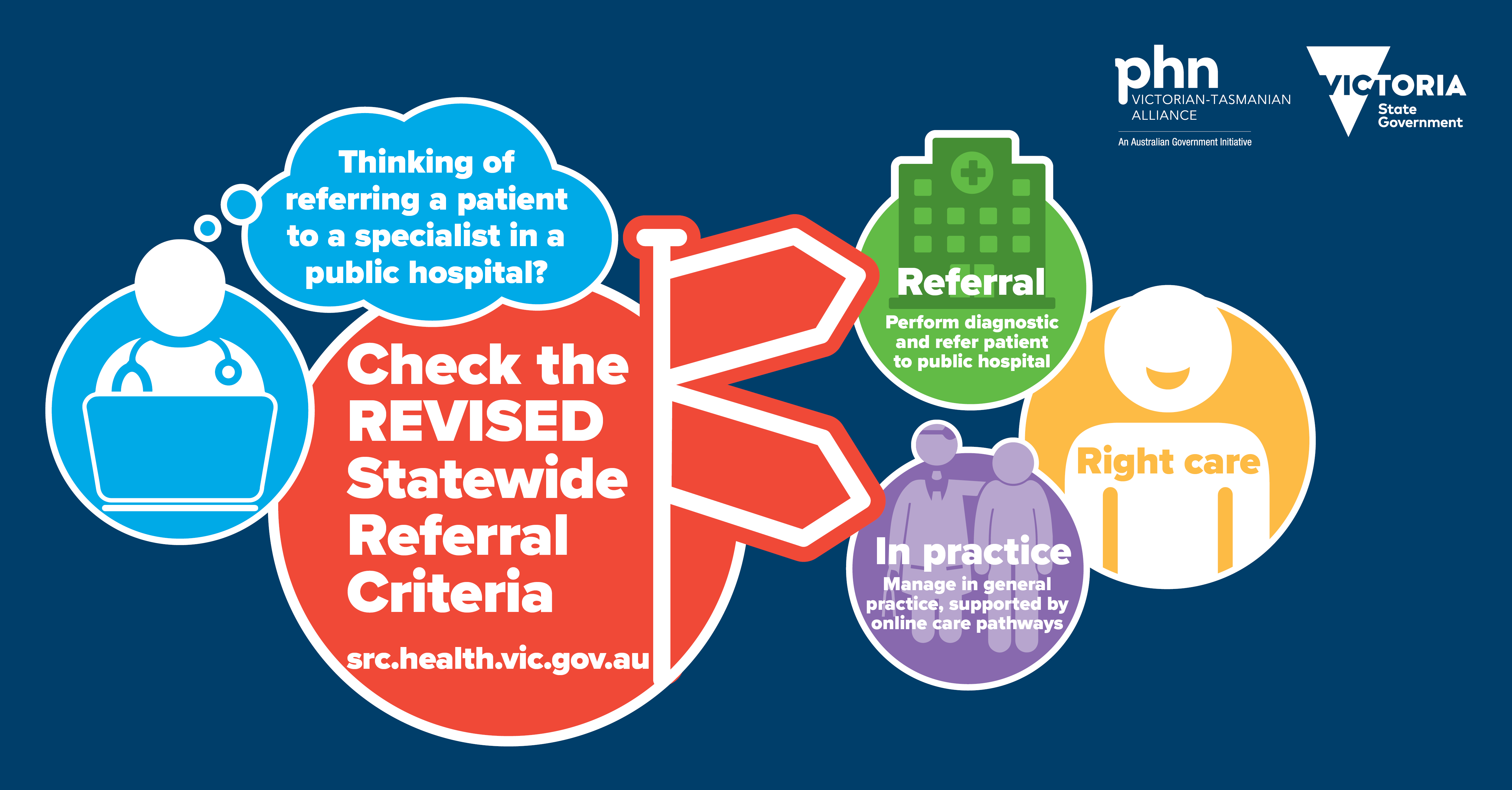 From 1 November 2022 Victorian public hospitals will begin to implement the revised suite of statewide referral criteria. These provide guidance to referring clinicians about which patients will be seen in specialist clinics and what investigations are required to support triage.  
A review, conducted by Clinical Review Panels, has been completed for the statewide referral criteria published between 2018 and 2020. This brings the full suite up to date with the latest advice and clinical guidelines. Several referral criteria now also include reference to ongoing symptoms post-COVID-19. 
What do referrers need to do? 
GPs and other referring clinicians are encouraged to check the updated statewide referral criteria through all Victorian HealthPathways websites, or equivalent care pathways. Find your HealthPathway or care pathways.  
A full list of revised criteria can be accessed on the Department of Health website: src.health.vic.gov.au 
What happens when a referral is incomplete or declined? 
Referrals that do not meet the statewide criteria are expected to be declined by all Victorian public hospitals. When this happens, referring clinicians should receive correspondence from the health service explaining why the referral has not been accepted. 

 

If a referral is declined due to being incomplete — that is, there is missing essential information — the referring clinician must resubmit in full. Patients will not receive an appointment or be placed on a waitlist until a complete specialist clinic referral has been received. 

 
For more information about the statewide referral criteria visit vtphna.org.au/statewide-specialist-clinic-referral-criteria
Communications toolkit
PHNs and other stakeholders can use the communications toolkit to raise awareness of the statewide referral criteria.