What is CAT4?
PEN Clinical Audit Tool, also known as CAT4 or PEN CAT, is the most widely used tool in Australian general practices for population health. 
CAT4 allows practices to examine their data to identify priorities, monitor changes in the health of their communities and perform quality improvement activities. It also enables practices to capitalise on business opportunities.
CAT4 works alongside practice management and billing software and is compatible with MedicalDirector, Pracsoft, Best Practice, Zedmed, Genie, Medtech, practiX, Communicare, MMEX, PCIS and others. A full list is available on the Pen CS website.
We provide free CAT4 software and training to practices
North Western Melbourne Primary Health Network (NWMPHN) has purchased CAT4 licences so that practices in our region using compatible software can utilise the CAT4 suite of tools for free. This saves practices up to $2750 every 12 months.
As part of the CAT4 licence agreement, your practice will enter into an agreement with NWMPHN to share de-identified data for population health analysis and reforms, research programs and other opportunities.
NWMPHN provides training for people at all levels, from beginners to experts, who want to learn more. Ongoing support from NWMPHN also includes working with you to analyse your practice data and provide guidance on quality Improvement activities.
How can CAT4 improve my practice?
CAT4 provides you with a complete overview of your practice profile in real time. It can show you a wide range of data to help you understand patient demographics and identify groups at risk of chronic disease. It can also provide specific data to assist practice staff to work on quality improvement activities.
CAT4 also helps with accreditation by quickly displaying where the gaps are in data fields that need to be collected for accreditation, such as allergies and smoking status. It can also identify missing demographic and clinical data. The cleansing CAT feature generates the following six reports:
Missing demographic data
Missing clinical/accreditation data
Indicated chronic kidney disease (CKD) patients where no diagnosis is recorded
Indicated diabetes patients where no diagnosis is recorded
Indicated mental health

condition

where no diagnosis is recorded
Indicated chronic obstructive pulmonary disease (COPD) patients where no diagnosis is recorded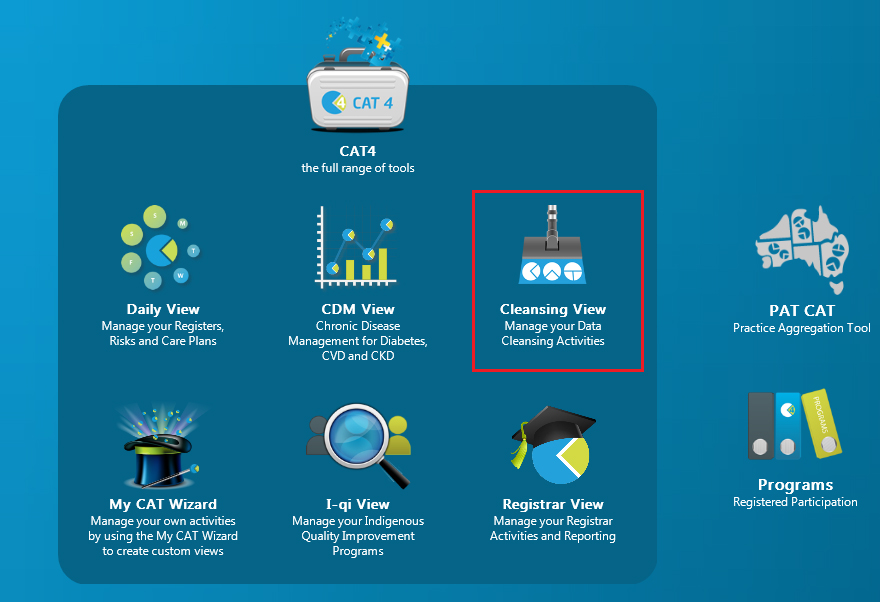 More information on Cleansing CAT is available on the Pen CS website.
CAT4 is an essential tool for quality improvement. It assists your team to identify priority areas, set realistic goals and accurately monitor and measure QI activities within your practice. It empowers practices to make data driven decisions about current and future health initiatives and services relevant to the practice's demographic profile.
Areas that can be targeted using CAT4 include:
Chronic disease management
Cancer screening
Immunisations
Medication reviews
Sexual health
eHealth
Preventative health initiatives
Business modelling and financial opportunities
It is important to note that the quality of the data in CAT4 is only as good as the quality of the data in your practice software. CAT4 relies on correctly coded diagnoses and up-to-date medications for reporting. Therefore, it is important to make sure that all members of your practice team are coding data accurately and not using free text as this will not be picked up by CAT4.
How do I use CAT4 in my practice?
CAT4 is simple to use. Follow this example to give you an idea of how you might use CAT4 in practice.
CAT4 is required for the new Practice Incentives Program Quality Improvement Incentive (PIP QI)
From 1 August 2019, PIP QI comes into effect. PIP QI is a payment for general practice to support continuous quality improvement.
In order to be eligible for PIP QI, practices need to have CAT4 installed and be submitting de-identified data to NWMPHN. If you do not have CAT4 installed or are not sure if you are submitting data to NMWPNH please contact primarycare@nwmphn.org.au.
Where can I get more information?
Disclaimer: This article was provided by NWMPHN. While every effort has been made to ensure the information is accurate, North Western Melbourne Primary Health Network does not warrant or represent the accuracy, currency and completeness of any information or material included within.