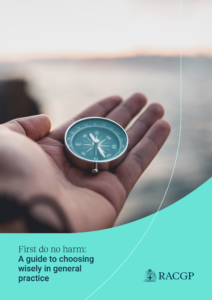 The RACGP has released new topics as part of First do no harm: a guide to choosing wisely in general practice.
This living guide helps GPs and patients to make shared decisions on evidence-based health care, with QR codes for patients to access information during the consultation.
The new topics provide information for both GPs and patients on:
Coronary artery calcium scoring in asymptomatic people
Excluding allergenic foods in maternal and infant diets
Disclaimer: This article was provided by Lynelle Cogan, RACGP. While every effort has been made to ensure the information is accurate, North Western Melbourne Primary Health Network does not warrant or represent the accuracy, currency and completeness of any information or material included within.