The COVID-19 Positive Care Pathways program is the Victorian statewide program for assessment and management of COVID-19 patients.
Public hospitals, primary and community health care providers, Primary Health Networks and GPs offer pathways that are relevant and responsive to each local service system and population.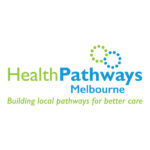 Clinicians can refer to our COVID-19 Care Pathways page and HealthPathways Melbourne for the latest clinical and referral advice for their patients in these pathways.
 Visit our COVID-19 Page for primary health care providers for further key information for clinicians.