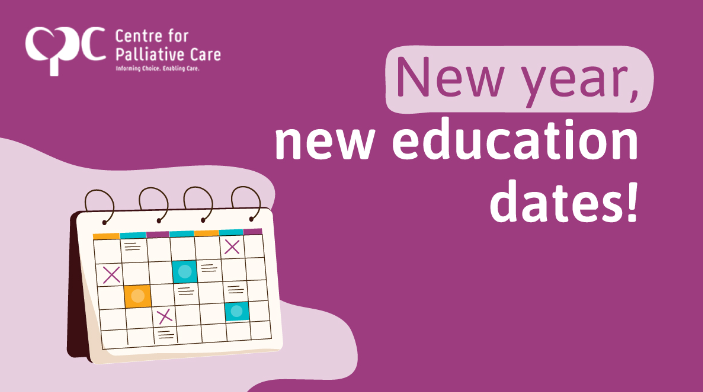 The Centre for Palliative Care (CPC) is thrilled to launch the 2023 education calendar of events including dates for highly sought after masterclasses and clinical skills update sessions.
Masterclasses
March 7  – End of Life Care for palliative patients
May 9 – Clinical Ethics
July 4,18 – Advanced Communication
September 5 – Pain Assessment for Palliative Patients
November 14 – Physical Assessment of the Palliative Patient
Clinical skills update sessions
February 1,2 – Cultural Awareness in Palliative care
March 1,2 – Actively Dying- the Terminal Phase and Beyond
April 5,6 – Refractory Pain
May 3,4 – Refractory Dyspnoea
June 7,8 – Pain Management
July 5,6 – Neurological Overview
August 2,3 – What is the Difference between Delirium and Existential Distress?
September 6,7 – Respiratory Distress
October 4,5 – Oncological Emergencies Part 1
November 1,2 – Oncological Emergencies Part 2
To find out more and to book a session, click here.
Disclaimer: This article was provided by Centre for Palliative Care Education and Training. While every effort has been made to ensure the information is accurate, North Western Melbourne Primary Health Network does not warrant or represent the accuracy, currency and completeness of any information or material included within.