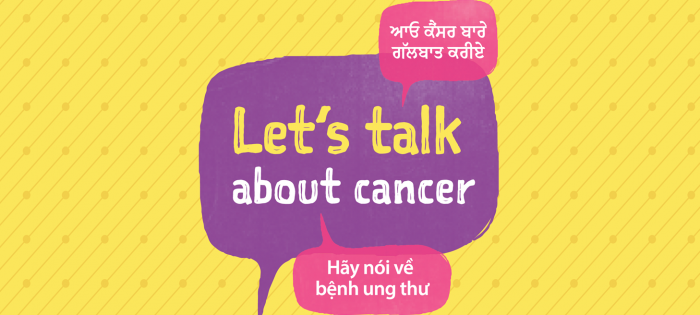 North Western Melbourne Primary Health Network (NWMPHN) is pleased to announce a new initiative aiming to get local people talking about cancer with their friends, family and health professionals.
The Let's Talk about Cancer pop-up shop provides a welcoming space for people to come in and talk to one of our friendly, trained staff about how to prevent and detect cancer.
People will be able to discuss:
Lifestyle changes that can help to prevent cancers
Their family history
Screening services available
Symptoms and signs to talk to their doctor about
Where: Shop 33, Sunshine Plaza, 324/328 Hampshire Rd, Sunshine
Time: 10:00am to 4:00pm
When: Tuesday 6 February to Saturday 3 March
This program is a partnership between North Western Melbourne Primary Health Network, Western Health, and the State Government of Victoria, to help reduce the incidence of cancer in our community and increase early detection rates.
For more information, or to order promotional material for your practice, contact George Darroch, Project Manager at george.darroch@nwmphn.org.au or phone (03) 9347 1188.
Resources:
Download a poster to help promote the cancer pop-up shop.