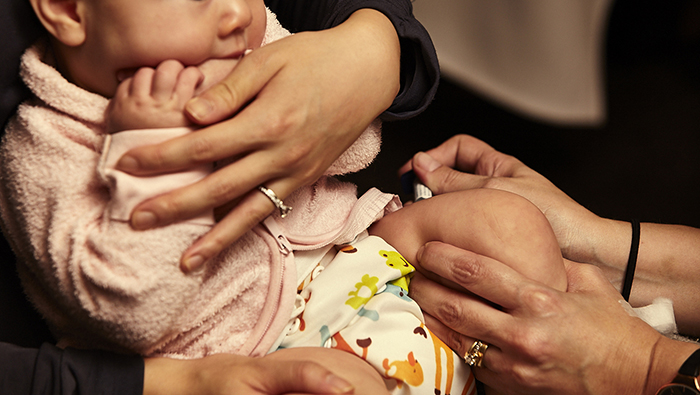 Fully immunised rates for five year olds in North Western Melbourne Primary Health Network increased to 93.5 per cent in 2016/17, matching the national average and providing a good level of community protection against infectious diseases.
However the overall figure fell short of the 95 per cent target to provide comprehensive 'herd immunity' against the most infectious vaccine preventable diseases like measles. Herd immunity is where the spread of a disease is stopped by enough people in a community being immunised against a disease.
The headline figure also masks large variation within different parts of NWMPHN, with rates as high as 95.7 per cent in the Sunbury statistical area and as low 84.8 per cent in the Melbourne City statistical area.
NWMPHN Acting CEO Julie Borninkhof said while the Australian Institute of Health and Welfare (AIHW) report shows overall trend is positive, there is still work to do to provide the best level of protection to our children.
"Overall immunisation rates have been increasing steadily over the last few years, which means thousands more Australian children, and their families, are getting protected from potentially very serious diseases like whooping cough, measles, chicken pox and polio," Ms Borninkhof said.
"But there are still areas and age groups where immunisation rates are far too low. For example, just over 90 per cent of two year olds in our region are fully immunised, which is barely enough to provide some level of herd immunity."
NWMPHN's Immunise Melbourne campaign is working to raise awareness of the importance of childhood immunisation, and will increase focus on boosting two year old immunisation rates this year.
The campaign will also expand to cover immunisation for people at all ages and stages, including specific information and vaccine programs for teenagers, older adults and more.
"Immunisation isn't just for kids – it's something that needs to be updated to protect you and your family throughout life."
The full AIHW report is available here. Selected further rates for the NWMPHN region are below.
NWMPHN and Statistical Area 3 level rates
NWMPHN 2016/17 levels – 1yr = 93.0 (up from 92.5), 2yr = 90.2 (down from 90.4), 5yr = 93.5 (up from 93.2)
SA3 levels (definition of SA3 here) – 1yr, 2yr, 5yr – 2016/17
Brunswick – Coburg:  93.8, 91.5, 93.4
Darebin – South: 95.9, 90.4, 94.6
Essendon: 93.9, 89.8, 92.8
Melbourne City: 88.0, 84.3, 84.8
Yarra: 93.5, 91.8, 91.8
Darebin – North: 92.9, 90.1, 93.7
Keilor: 96.3, 90.8, 94.5
Macedon Ranges: 96.1, 90.8, 93.8
Moreland – North: 92.3, 88.9, 94.3
Sunbury: 95.3, 93.8, 95.7
Tullamarine – Broadmeadows: 92.3, 88.4, 93.7
Brimbank: 92.9, 89.0, 94.4
Hobsons Bay: 93.2, 91.9, 93.3
Maribyrnong: 93.1, 91.2, 93.3
Melton – Bacchus Marsh: 93.1, 91.2, 93.3
Wyndham: 92.7, 90.9, 93.0