By Dr Jeannie Knapp.
Children across Victoria aged 0–4 years account for more paediatric hospital emergency department admissions than any other age group. However, in many cases, they can be effectively cared for in general practice.
The statewide paediatric HealthPathways, written by GPs and for GPs, are now live and free to access. The pathways provide clear and concise best practice statewide and local referral pathways for paediatric consultations
HealthPathways in action: Using the pathways to improve patient care – otitis media (OME) with effusion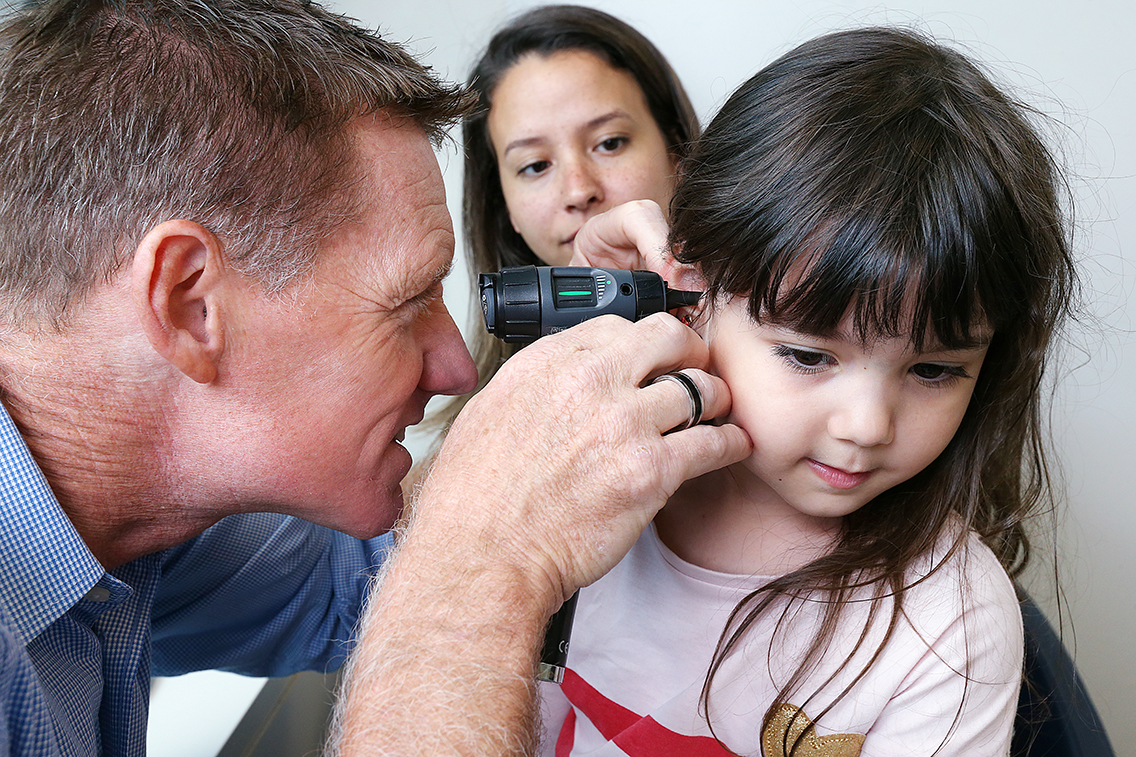 Polly, aged three, presents with her parents with an audiology report showing reduced hearing and type B tympanograms after an episode of bilateral otitis media six weeks ago.
When discussing grommets, I often say to parents: "If we put an ear, nose and throat (ENT) surgeon and a paediatrician in a room and asked them to debate grommets, they wouldn't be able to agree." The evidence for grommet effectiveness is for short term improvement but, in the long term, outcomes of a watch and wait approach are the same (link).
So, this is a controversial area, with lots of opportunity for clinician variation in referrals. How to find a middle ground and some consistency?
The Otitis Media with Effusion HealthPathway is an evidence-based pathway developed for the statewide paediatric pathways. This pathway was developed by GPs, with input from ENT specialists.  
The Pathway tells us to look out for complications and refer immediately if they occur, to allow for spontaneous recovery, and to refer if there are recurrent acute otitis media (AOM) episodes without effusion resolution, history of grommets, comorbid ENT symptoms suggestive of adenotonsillar hypertrophy, persisting OME into summer or autumn, or two audiology reports three months apart showing > 30 dB hearing loss.
Polly's examination is essentially normal, apart from slight dullness of the tympanic membranes. There are no complications, and she has not had further episodes of AOM, and no significant past history. 
This gives you the confidence to advocate a watch and wait approach with parents, with review after audiology in three months.  You print out a patient information factsheet from within HealthPathways to give to Polly's parents, so that they have written information about Polly's condition and the basis behind your decision-making. When Polly returns in three months, the audiogram and examination are now normal, and you can reassure her parents that the effusion has resolved. 
Other pathways
There are numerous other pathways that have been developed as part of the Statewide Paediatric Pathways project. The most popular pathways are:
Education
A series of interactive case-based education sessions were recently completed in 10 practices across the North Western Melbourne Primary Health Network catchment. These sessions focused on putting HealthPathways into practice, by working through a series of hypothetical cases and using the Pathways to solve clinical and referral problems.
Conditions covered in the sessions included:
You can work through these examples yourself using this questionnaire.
All of the answers can be found by working through the appropriate HealthPathway.
Where can I find more information?
 HealthPathways Melbourne is a free, web-based tool with relevant, local and evidence-based information on the assessment and management of common clinical conditions, including referral guidance, clinical and patient resources.
If you do not have access to HealthPathways please email info@healthpathwaysmelbourne.org.au.
 More information about the Statewide Paediatric HealthPathways Project is available on the Victorian and Tasmanian Primary Health Network Alliance website.
Disclaimer: This article was provided by Dr Jeannie Knapp. While every effort has been made to ensure the information is accurate, North Western Melbourne Primary Health Network does not warrant or represent the accuracy, currency and completeness of any information or material included within.