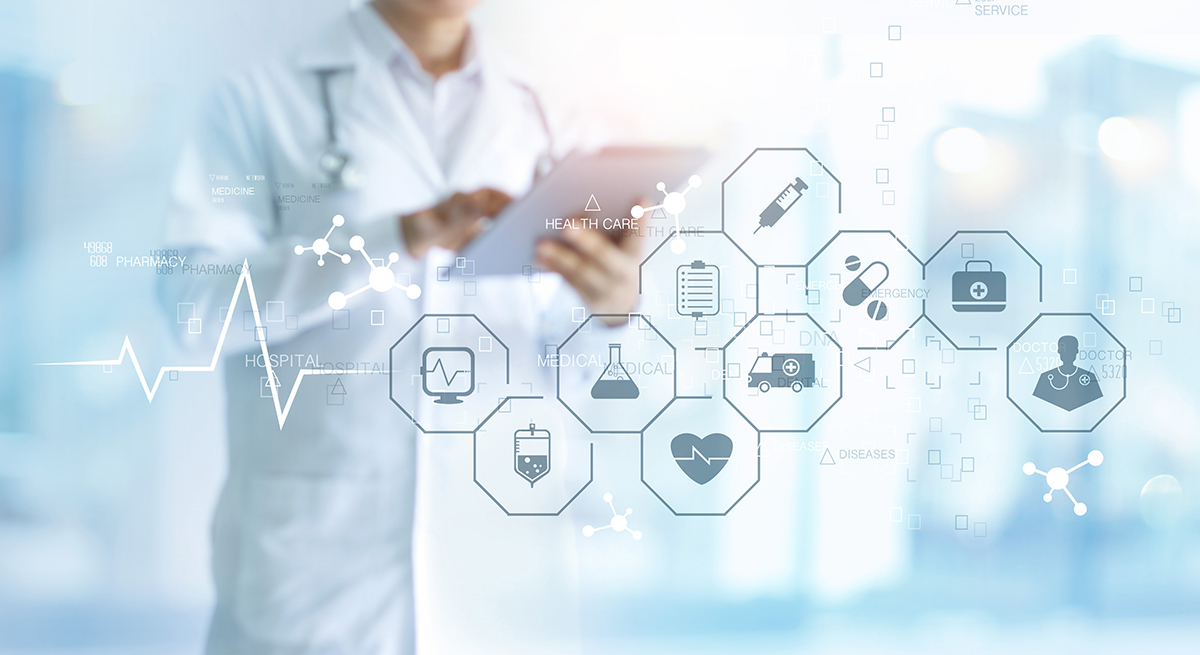 By the Primary Health Care Improvement Team, North Western Melbourne Primary Health Network.
The Community-led Cancer Screening Project (CLCSP) is a three-year project (to November 2020), being led by North Western Melbourne Primary Health Network (NWMPHN) and funded by the Victorian Department Health and Human Services (DHHS).
Participating general practices use a quality improvement approach to enhance knowledge and strengthen systems to increase cancer screening in under-screened communities.
We asked Lee-Anne Beamish, Practice Manager at Hampstead Drive Medical Centre to tell us about their practice's involvement in the project.
Tell us a little about the bowel cancer screening work you have been doing in your practice?
"Throughout the past 12 months, by participating in the NWMPHN bowel screening cancer quality improvement project we have targeted patients in the 50-74 age group to try and increase screening rates."
What strategies have you put in place to increase bowel cancer screening in your practice?
Patient education – face to face
Pamphlets
Posters in the waiting room, clinical rooms and bathrooms
Invitation letters, inviting patients to participate
How did you assign responsibilities amongst your practice team?
"We are a small clinic, so we only had a practice nurse, practice manager and principal doctor assigned to the project. We regularly kept all staff up to date with progress and education and held team meetings to share ideas."
How did your GPs incorporate screening into the routine care?
"We offered screening and education in health assessments where it was appropriate to do so. We also gathered information from new patients during their first appointment."
What kind of work did you do on your database, and did you encounter any challenges with this?
We went about using PenCAT to extract patients within the ages of 50-74, once this data was extracted we realised our data/stats were quite low – once we took a closer look we quickly realised when patients are doing a FOBT test through Melbourne Pathology the results were coming back as a "virtual fob" therefore the system not picking this up due to incorrect data coding. We called Melbourne Pathology and unfortunately, they were unable and unwilling to change their wording to reflect the correct coding for medical software systems.
We then went about the long process of manually changing these results to reflect the correct coding. We contacted our medical software Best Practice who created a search "query" to run to extract the correct patient list to make this process a little easier to work through.
This was done over a few months all whilst working hard to screen all our eligible patients.
We also inactivated 1,200 old records to ensure we were working with a current and accurate patient list.
What has been the outcomes of the changes you have made in your practice?
Through increased screening efforts and by improving our existing records, we increased the number of patient records with an FOBT recorded by 25.7 per cent between May 2019 – May 2020 (as shown in the graph below).
Increased patient awareness
Increased education of all staff on the importance of screening
Better systems in place to create opportunities to offer screening
Data cleansing and coding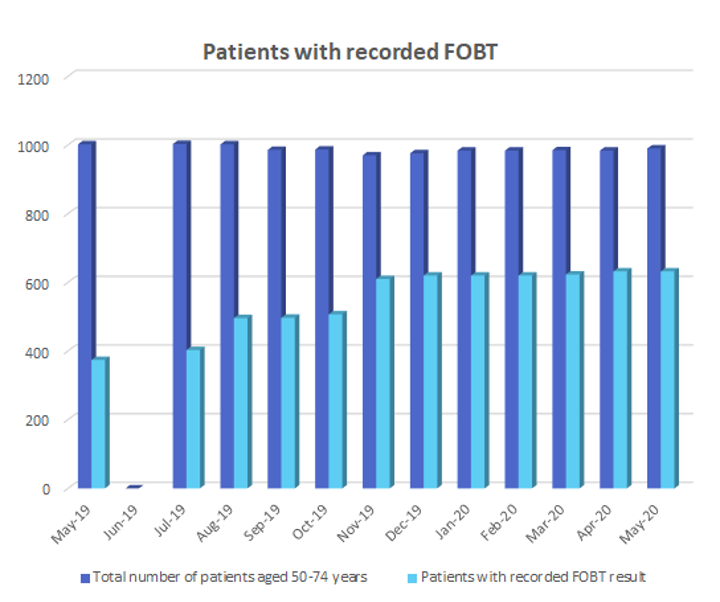 What did you learn from the changes you have made in your practice? What would you have done differently in hindsight?
"Even though we thought we have good processes in place, through further education and meetings we have created better strategies to increase screening and results.
"If we had our time again, we would have included all staff to work on the coding and patient education."
What has been the feedback from patients?
"Patients have been very receptive, positive and appreciative when receiving a reminder about the importance to screen regularly.
"Patients feel reassured when receiving a positive result that it will be followed up promptly."
What has been the feedback from your clinical team?
"Our clinical team has realised that simpler explanation and discussions are better received by patients when in consultation. This means that there isn't much information overload and patient are allowed time to take in the information and to ask questions."
What tips would you give other practices wanting to increase their bowel cancer screening rates?
It's a slow process so don't rush
Set achievable deadlines and targets – start small
Dedicate/allocate time
Use simple language with patients
Provide educational information to support conversations
Make it humorous – use a light-hearted approach
Would you recommend to other practice that they participate in a quality improvement activity with NWMPHN?
"Yes, it was a very positive experience. Juliet was amazing – approachable and always there for support!"
Is your practice looking for its next quality improvement activity?
Would you like to improve patient care and strengthen your processes and systems?
Would you like to increase the skills and confidence of your GPs and practice team?
Are you looking for a Continuous Quality Improvement activity for the Practice Incentives Program Quality Improvement (PIP QI) Incentive?
Our quality improvement programs are designed to support general practices by building on their skills, improving their systems and enhancing their capacity. Our programs are designed by subject matter experts and include evidence-based resources and tools to support the implementation of your activities and goals.
If you would like to be involved in a quality improvement program with NWMPHN please email us: primarycare@nwmphn.org.au
Disclaimer: This article was provided by NWMPHN. While every effort has been made to ensure the information is accurate, North Western Melbourne Primary Health Network does not warrant or represent the accuracy, currency and completeness of any information or material included within.