Have you heard about the ADEA NDSS Aboriginal and Torres Strait Islander Health Worker and Practitioner Mentor Program?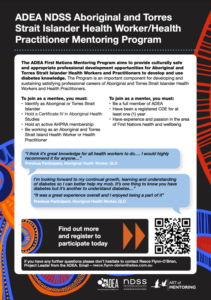 The program is run by the Australian Diabetes Educators Association (ADEA) in partnership with the National Diabetes Services Scheme (NDSS). It provides guidance to Aboriginal and Torres Strait Islander health workers interested in diabetes education or wanting to know more about diabetes and the possible pathways for careers in the field.
The program aims to boost the skills of health workers and practitioners and reduce the burden that diabetes places on Aboriginal communities. It provides culturally safe and appropriate professional development opportunities and is an important component for developing and sustaining satisfying professional careers.
To learn more visit adeafirstnationsprogram.aomapp.net
Disclaimer: This article was provided by Australian Diabetes Educators Association. While every effort has been made to ensure the information is accurate, North Western Melbourne Primary Health Network does not warrant or represent the accuracy, currency and completeness of any information or material included within.