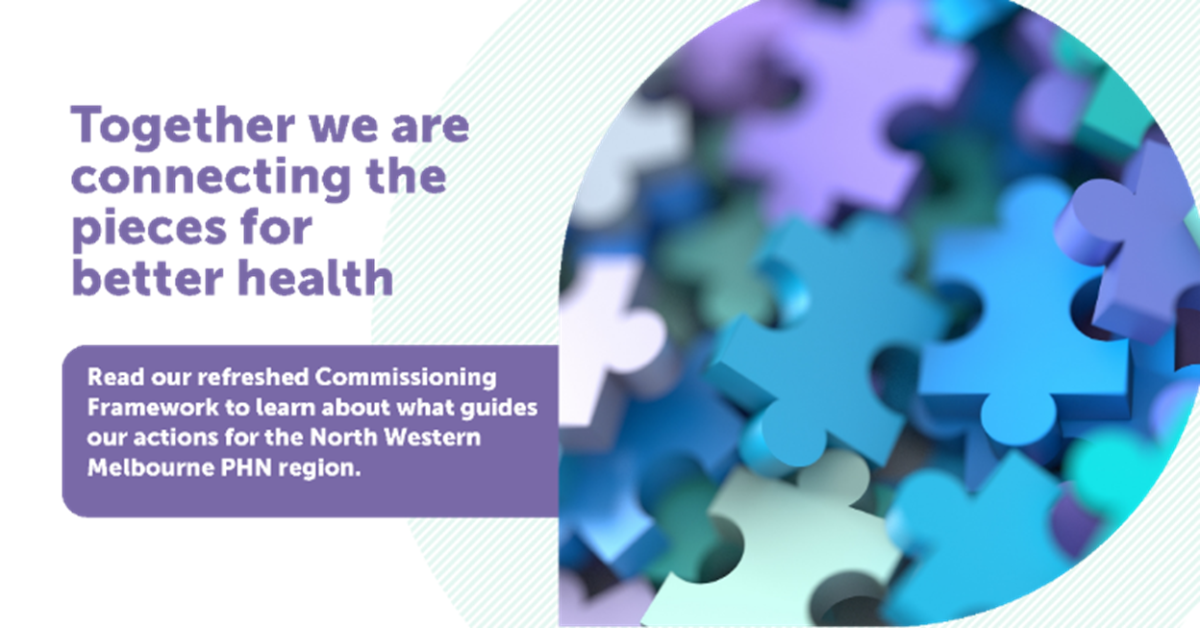 North Western Primary Health Network (NWMPHN) has launched a revamped commissioning framework to ensure the health services it funds best meet the changing needs of the 1.9 million people who live in its catchment.
In 2021–22 the organisation contributed more than $59 million to commissioning in our region.
Commissioning is a complex process, with many activities working in alignment to achieve a common goal. It involves working with people in our region, with lived experience, who use or provide health services to identify, understand, define and meet the health and wellbeing needs across our region.
Globally, in diverse environments, commissioning is evolving to meet the emerging needs of local populations. NWMPHN incorporates contemporary approaches, that we adopt to best suit our region's needs and achieve our objective: to support the development of a strong and durable health system.
Our relationships are key to successful commissioning, by developing trust, and building on collective strengths we enable more effective, responsive, and sustainable outcomes.
"We engage and actively listen to people who use health services in our region. We ensure the voice, expertise and experience of consumers, communities and clinicians and other providers are at the centre of our commissioning approach. Our approach is used across many health settings – general practice, aged care, alcohol and other drugs, allied health, pharmacy, paediatric care and mental health," NWMPHN Chief Executive, Christopher Carter.
"Our Commissioning Framework has been updated to better reflect our current environment, strategy and vision, and serves to guide us and our commissioning partners."
"This refreshed approach sets the agenda for building on valuable collaborations with health organisations, providers, consumers and communities across our region."
To read more about our commissioning work and to download the Commissioning Framework visit: nwmphn.org.au/our-work/commissioning
For more information
Contact Jag Dhaliwal, Executive Director, Service Development and Reform Jagjit.Dhaliwal@nwmphn.org.au