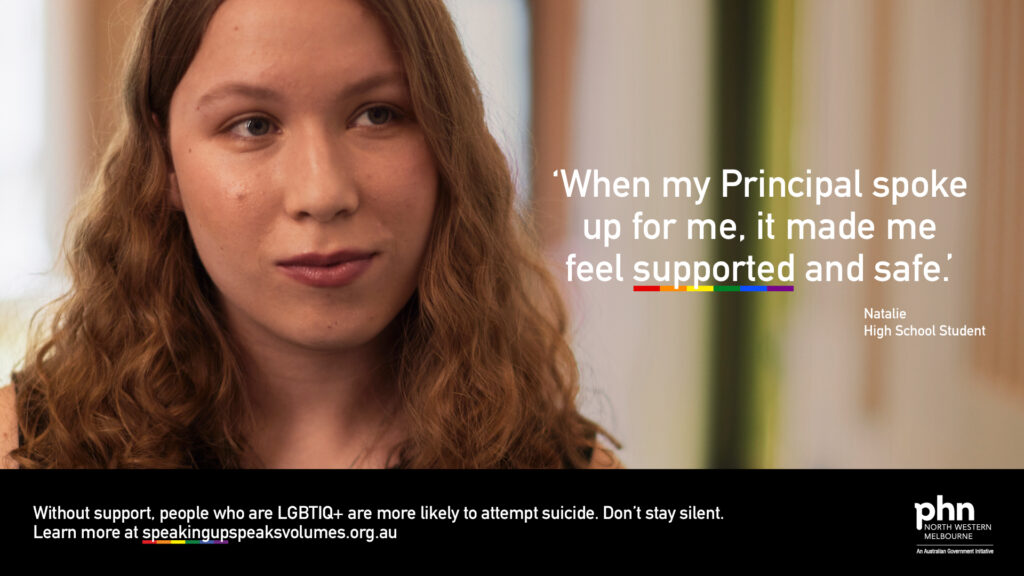 The 'Speaking Up Speaks Volumes' campaign aims to raise awareness and activate silent supporters in the wider community to change behaviour that excludes, discriminates or isolates people who are LGBTIQ+.
The campaign draws from a strength-based approach to suicide prevention and community awareness of LGBTIQ+ health and wellbeing. It was informed by the LGBTIQ+ Taskforce Framework, which the taskforce developed by reviewing literature and research, and engaging with many stakeholders.
Through this campaign the Taskforce set out to:
improve understanding and awareness of, and compassion for, the LGBTIQ+ community's poorer mental health and higher risk of suicide
promote supportive and responsive communities
improve the health and wellbeing of LGBTIQ people, families and communities
Feedback on the campaign's concepts was sought from more than 1000 people in the wider community. The campaign strength is in the real stories of support from people in the community, leading the way for others to share.
The campaign promotion is lead by grass roots support from a network of community champions across the NWMPHN region.  Promotion is targeted to the whole community in the north and western of Melbourne. Channels include social platforms such as Facebook, Instagram and YouTube, and digital display advertising will be located in shopping malls, gyms and petrol stations.
The campaign will be formally evaluated so it can be shared, used and improved to support other communities.
We sincerely thank the participants who volunteered to share their stories and be part of the campaign.
The Speaking Up Speaks Volumes campaign has been developed by The Shannon Company, with support from Benedictus Media, BehaviourWorks Australia and The Producers.
If you would like to know more about us, the trial or how to get involved, please contact suicide.prevention@nwmphn.org.au