Mental health care
Mental ill health can affect anyone at any time in their life.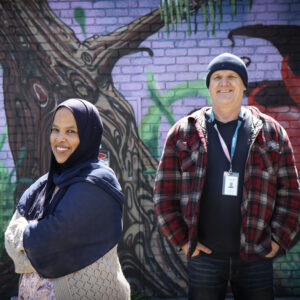 The type, intensity and duration of symptoms of mental health conditions varies widely, from low-intensity anxiety or depression, to high-intensity schizophrenia or bipolar disorders. Symptoms do not always follow a regular pattern: mental health episodes can be 'one-offs' or recur over many years.
Mental health conditions are prevalent across the North Western Melbourne Primary Health Network region. There are high rates of psychological distress in the local government areas of Brimbank, Darebin, Hume and Melbourne, and very high rates in Maribyrnong, Hobsons Bay and Moorabool. Poor mental health can lead to lost income and productivity, and increase the risk of homelessness and disadvantage.
Supporting mental health
We have shown a longstanding commitment to mental health through the delivery of CAREinMIND™, a targeted psychological support service, and more recently through management of the Intensive Support Service and proposed stepped model of care.
We continue this commitment by building on the existing efforts and capacity of health and community agencies and individual mental health practitioners.
In 2019–20, we've improved access to lower-intensity mental health supports through the Integrated Team Care program and peer-based support programs.
We've commissioned a psychosocial support trial for people experiencing homelessness, perinatal mental health services and mental health services for older adults. And we've also commissioned Integrated Chronic Care services that recognise the close relationship between physical and mental health, to support people with severe, persistent mental illness and one or more chronic health condition.
As always, we've focused on collaborative mental health care, with providers from different specialties, disciplines and sectors working together to offer complementary services and mutual support to those experiencing mental health issues.
We work closely with consumers, carers, health professionals, hospitals and community mental health providers to develop creative and practical responses. These are designed to address weaknesses and gaps in the service system in the region.
Search our System of Care to find an appropriate, local mental health service.
Also see our Blueprint for Better Health, the first step towards better mental health care in the region, including better services for alcohol and other drugs (AOD) and suicide prevention. Community consultation will continue in 2021 with the development of a detailed planned for better, integrated services based on the blueprint's recommendations.