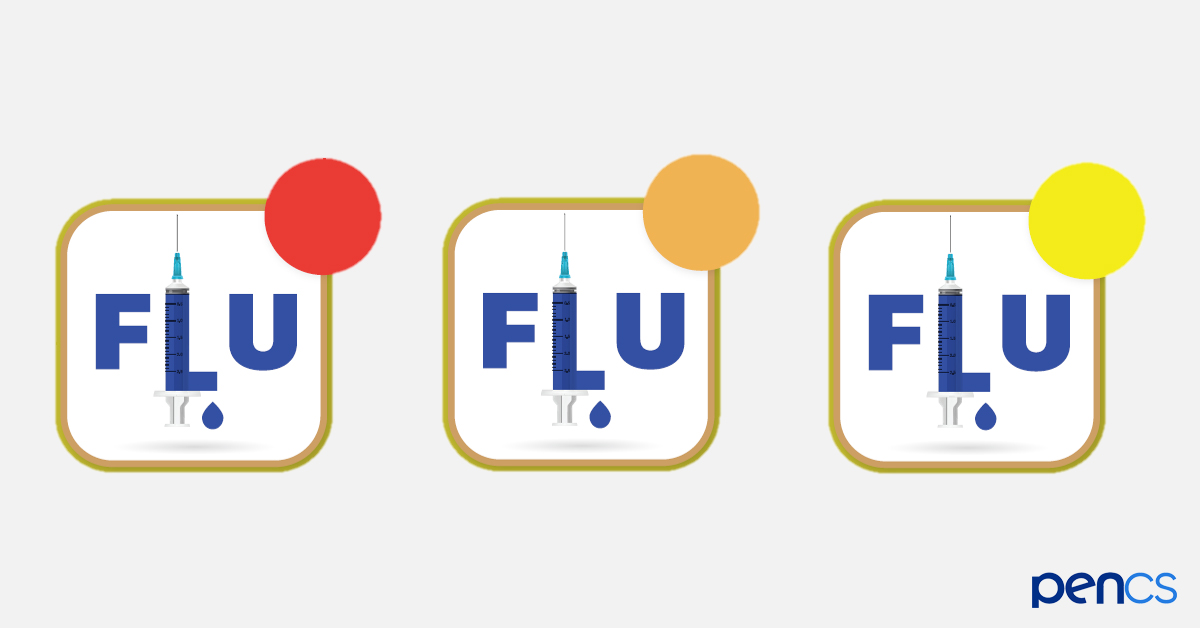 The 'FLU' app is now available on Topbar for Pen CS users.
The app is designed to help practices quickly identify patients who are recommended to receive the influenza vaccination this season.
When a patient record is open in a practice's clinical system, the FLU app will check the details (age, ethnicity, measurements and clinical history) against the National Immunisation Program (NIP) criteria. The app will instantly display the patient's eligibility status for the vaccine.
There are 3 possible recommendations:
RED: NIP patient eligible for free vaccine
ORANGE: Strongly recommended but not NIP eligible
YELLOW: Recommended but not NIP eligible
FLU app features
The app will help clinicians:
quickly identify required or missed vaccinations with colour-coded notifications
reduce the risk of vaccination double-dosing
have conversations with patients about the need for vaccination
track and achieve their practice's vaccination targets.
Pen CS recipes for influenza vaccinations
Pen CS also has a range of recipes to assist practices to filter and find particular groups of patients eligible for the flu vaccine.
How to find the FLU app
The FLU app is pre-installed for all practices who already using Topbar. You will find it in the 'New Apps' section.
Not using Topbar?
Topbar is a clinical decision support system. It's designed to assist GPs at the point of care – when they're seeing a patient. Using both their own knowledge and Topbar, GPs can make better decisions based on data.
Topbar users can access a wide range of apps, allowing them to customise the information they receive about each patient. Apps give fast access to information about patients in a clinic's waiting room, relevant MBS items and other important details.
North Western Melbourne Primary Health Network (NWMPHN) provides all accredited general practices in our region with free access to Topbar as part of the Pen CS suite of digital tools for quality improvement.
For help installing Topbar, log in to topbar.pencs.com.au or contact Pen CS Support on 1800 762 993.
Visit the NWMPHN website for information on compatibility with your medical software, user guides and more. If you have questions or need support with Pen CS tools, contact NWMPHN on (03) 9347 1188 or email primarycare@nwmphn.org.au
Resources