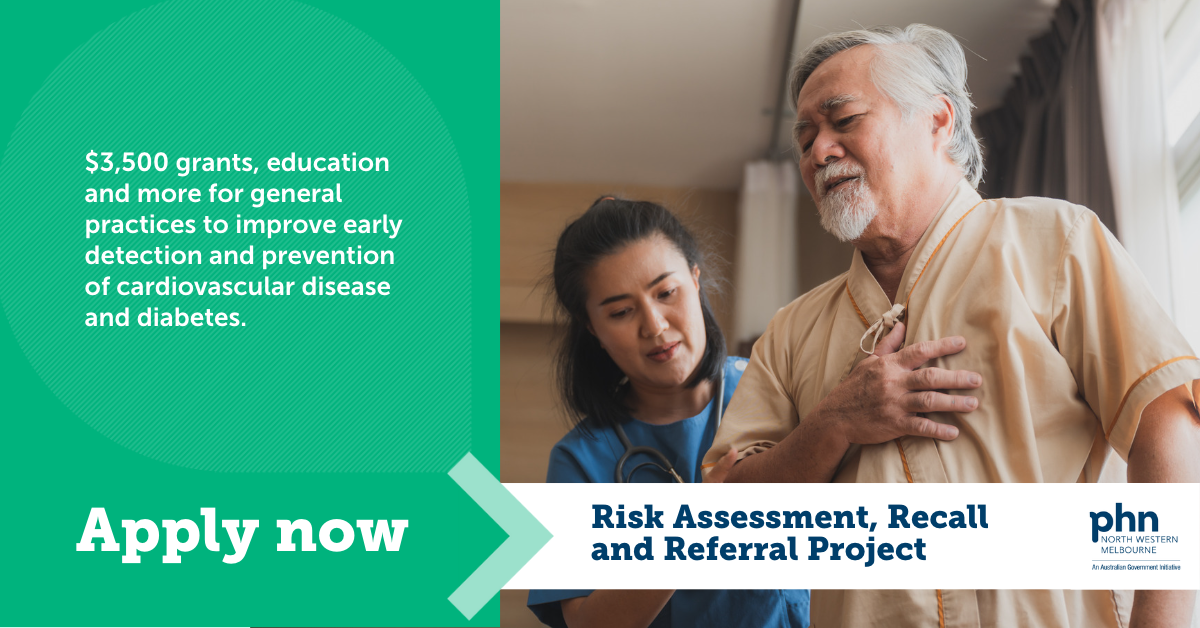 North Western Melbourne Primary Health Network (NWMPHN) is recruiting general practices and Aboriginal Community Controlled Health Organisations (ACCHO) to improve early detection and prevention of cardiovascular disease and diabetes.
Funding of $3,500, excluding GST, is available for each participating practice.
Expressions of interest will close at 3pm on Tuesday, 21 March 2023.
Background
Chronic conditions such as cardiovascular disease (CVD) and type 2 diabetes mellitus (T2DM) are largely preventable. An estimated 90 per cent of CVD risk and 60 per cent of diabetes risk are due to modifiable risk factors including smoking, alcohol consumption, unhealthy eating, low levels of physical activity, unhealthy weight, high cholesterol levels and high blood pressure.
Primary health care has an important role in supporting CVD and T2DM prevention, with activities aimed at risk assessment and early management of identified risks, including referral to lifestyle modification services.
The Victorian Department of Health has partnered with NWMPHN to implement a pilot quality improvement (QI) project in general practice to improve patient health outcomes by focusing on CVD risk and T2DM risk​. It will include education, data-driven quality improvement using clinical audit tools (PEN CS) and resources to support decision-making and referrals and in-practice support.
NWMPHN is providing grant funding for up to 9 general practices and an ACCHO in its catchment area.
Funding of $3,500 (excluding GST) will be provided to accredited practices that complete all aspects of the QI program, including reporting and evaluation requirements.
How to apply
For more information and to apply, please download the application form (.docx).
Applications close at 3pm on Tuesday, 21 March 2023.
Please direct all queries to primarycare@nwmphn.org.au
FAQs
Answers to frequently asked questions (.pdf) received so far are also available. These FAQs were updated at 3pm on Wednesday, 8 March 2023.