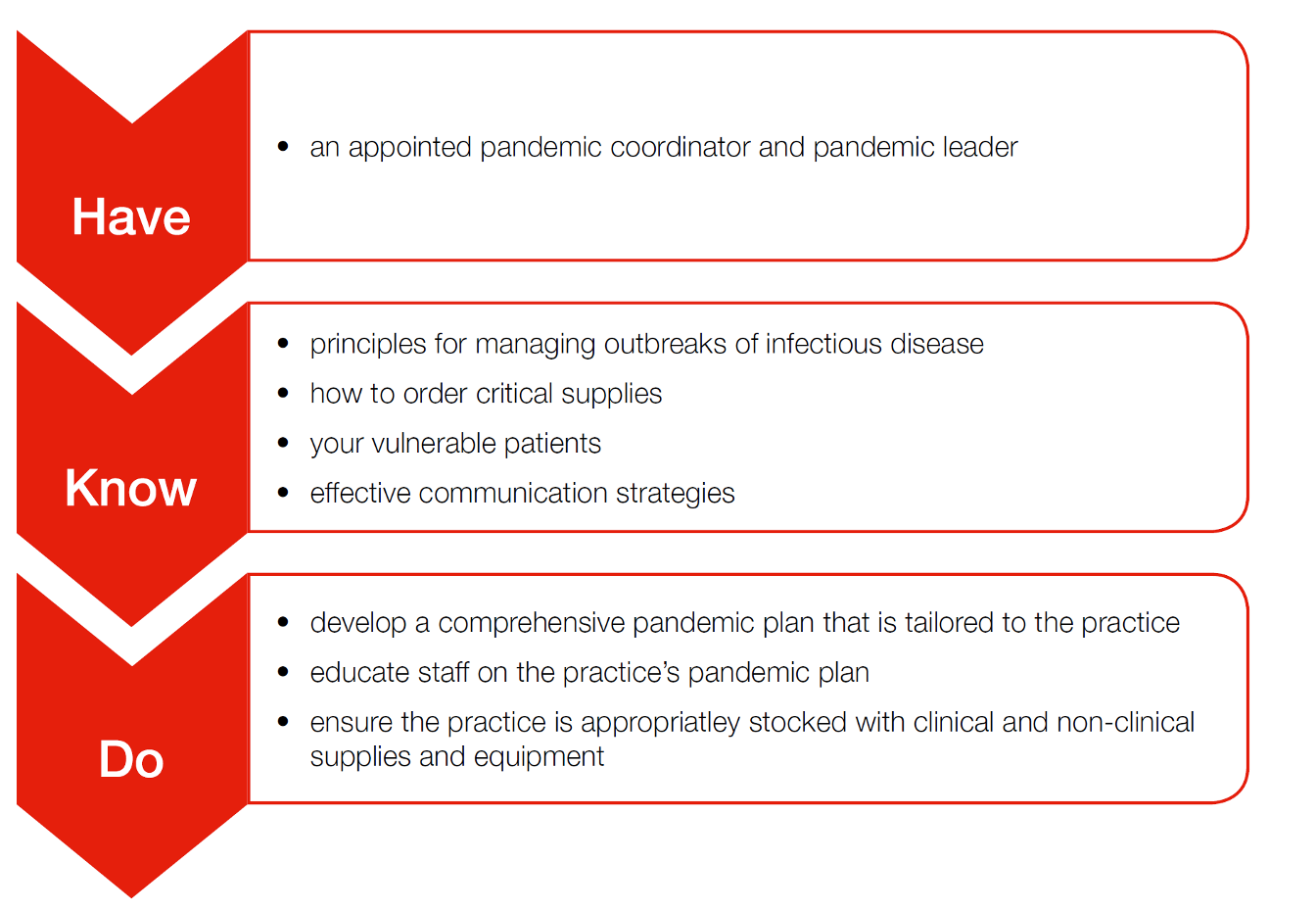 When faced with a disease outbreak like the COVID-19 pandemic, many people in the community look to general practice for public health leadership. To ensure the continuation of high-quality clinical care, it is vital that practices continue to ensure their pandemic plan is up to date. This will mean practices are prepared, well stocked and ready to respond to whatever comes next – whether it is related to the pandemic or another emergency.
The Emergency Response Planning Tool (ERPT) contains content from the RACGP on managing pandemics in general practice. Section 16 of the ERPT guides a practice through building their plan and preparing for a pandemic.
These resources align with our national health sector plan, the Australian Health Management Plan for Pandemic Influenza, and are based on the principles of an all-hazards approach to emergency risk management for health. The pandemic resources also build on the lessons learned from the 2009 influenza A (H1N1) pandemic as well as the early stages of the COVID-19 pandemic.
Recent updates 
The pandemic section of the ERPT was updated on 26 March 2020 to better reflect preparation and planning for COVID-19.
These practical updates include:
Update on communication required for key roles within the practice
Staff rostering and willingness to work
Updates to the immunisation register
Equipment and supplies required
Infection prevention and control; changes
Cleaning policy changes
Waste management policy changes
The pandemic plan follows the principles below:
The pandemic section contains and guides the practice through the following processes and procedures
Human resources – roles and responsibilities
Staff rostering
Staff training
Staff immunisation
Equipment and supplies
Infection prevention and control
Waste policy
Managing the facility during a pandemic
Risk identification within the practice
Once the plan has been developed, it is crucial that staff are aware of the plan and receive appropriate education and training.
Screenshots of the pandemic section
How to apply for the ERPT
Download the application form in Word (.docx, 600 KB) or PDF (246 KB) format. Return the application form to primarycare@nwmphn.org.au
Applications are open until further notice.
For enquiries please contact the Primary Health Care Improvement Team on (03) 9347 1188.
Emergency Response Planning Tool – Overview video