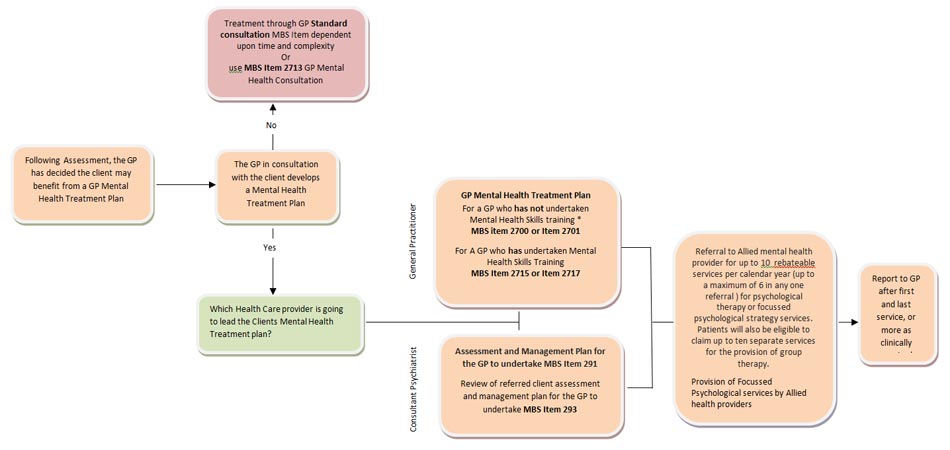 General Practitioner Mental Health Treatment Plan (GPMHTP) Medicare Benefits Schedule items provide rebates for GP mental health treatments.
Patient entitlements
Under a GPMHTP patients may receive:
Up to a maximum of 10 individual allied mental health services per calendar year; and
Up to a maximum of 10 group therapy services per calendar year – these services are separate and do not count towards the maximum individual services.
When to complete a GP Mental Health Treatment Plan
GPMHTP items are reserved for patients with a mental disorder who would benefit from a structured approach to the management of their treatment needs. There are no age restrictions for patients and private inpatients (including private inpatients who are residents of aged care facilities). Patients being discharged from hospital are also eligible for these services.
Patients eligible for the GPMHTP item numbers need to have been assessed by a GP as having a mental disorder. For the purposes of the GPMHTP, a mental disorder is a clinically diagnosable disorder that significantly interferes with an individual's cognitive, emotional or social abilities. Dementia, delirium, tobacco use disorder and mental retardation are not regarded as mental disorders for the purposes of GPMHTP items.
Government-funded aged care residents are not eligible (privately-funded residents are). However, GPs are also able to contribute to Treatment Plans for patients using MBS item 729 (Contribution to a Multidisciplinary Care Plan) and to care plans for residents of aged care facilities using MBS item 731.
[accordions_pickplguins id="13409″]
Mental health training for GPs
The General Practice Mental Health Standards Collaboration (GPMHSC) sets and monitors the training standards for GPs that correspond to mental health MBS item numbers for GP consultations.
The GPMHSC has two levels of accredited training:
Mental Health Skills Training – Level 1
Focused Psychological Strategies Skills Training – Level 2
GPMHSC-accredited Continuing Professional Development (CPD) points are attached to both levels.
GPs who complete Mental Health Skills Training are eligible to claim different item numbers that attract a higher MBS rebate for the preparation of a GPMHTP.
More information can be found in the GPMHSC Mental health training standards 2017–19.
How does this help my business?
GPMHTP items are an opportunity to provide high quality care to our patients with mental health disorders, while also maximising income by legitimately claiming MBS items. Here are some tips to ensure you have good policies and processes around claiming these items:
Are all of your GPs eligible to claim the higher rebates by completing Mental Health Skills Training?
Does your practice have processes in place to ensure the items are claimed correctly? This might include further training for your GPs.
Does someone in your practice follow up rejected claims and liaise with the GP to reclaim – either by correctly annotating the original claim or changing the claim?
Do your GPs know which items they can legitimately co-claim?
Do you use a recall system for GPMHTP reviews?
Do you have links with local psychologists to promote cross-referrals?
Information on claiming MBS items
You can co-claim as an unrelated claim GPMHTP item numbers with chronic care item numbers. For example: 721/723 and standard consult item numbers, such as item 23 – make sure your records indicate the time spent and unrelated nature of each consult to meet each item's descriptor.
Evidence shows people experiencing mental illness are more likely to develop chronic physical conditions than the general population. This can lead to shorter life expectancy, higher levels of disability and a greater likelihood of welfare dependency and poverty. Where a patient has a mental disorder as well as significant co-morbidities and complex needs requiring team-based care, the GP is able use both the GPMHTP items and Chronic Disease Management (CDM) items (for team-based care) for referrals.
You can claim a review, such as item 2712, without needing to make another referral
The Review of a GP Mental Health Treatment Plan item can also be used for a patient where a psychiatrist has prepared a referred assessment and management plan (MBS item 291), as if that patient had a GP Mental Health Treatment Plan.
There are no restrictions on how often a mental health consult item (item 2713) can be claimed.
Where can I find more information?
HealthPathways Melbourne has links to pages on assessment and management of depression and anxiety in adults. These pages also include links to a number of patient assessment tools and resources for patients.
HealthPathways Melbourne also has a page that outlines the process to assess mental health conditions in young people. Please note: this page is not yet adapted for Melbourne, therefore the referral links will not be local.
If you do not have access to HealthPathways please contact info@healthpathwaysmelbourne.org.au
NWMPHN mental health services 

The North Western Melbourne Primary Health Network (NWMPHN) mental health system of care allows you to search by age-group for PHN-funded services in the north west region. Information on referral guidelines (if required) is included for each service. The system of care promotes a person-centred approach, matching available supports to the individual according to their specific needs.
Search the NWMPHN system of care for a full list of services and referral information.
Education
The RACGP has a list of accredited mental health courses on its website. You can search using the 'specific requirement filter' to find courses accredited for the following:
Mental Health Skills Training
Focused Psychological Strategies Skills Training
Mental Health CPD
Focused Psychological Strategies CPD

You can also find courses accredited by the GPMHSC on its website.
Advice on the MBS items
Other resources for general practice
Templates for GP Mental Health Treatment Plans (Note: it is not mandatory to use any particular form when preparing and claiming for a GPMHTP)
Outcome measurement tools are available to assess your patients including:
The GPMHSC has a number of other resources for general practice available on its website.
Do you have an interest in mental health?
NWMPHN is seeking GPs, nurses and practice managers who have an interest in mental health to help us develop and deliver education, HealthPathways and quality improvement resources for general practice. If you have an interest in mental health please contact primarycare@nwmphn.org.au
Disclaimer: This article was provided by Dr Jeeannie Knapp. While every effort has been made to ensure the information is accurate, North Western Melbourne Primary Health Network does not warrant or represent the accuracy, currency and completeness of any information or material included within.