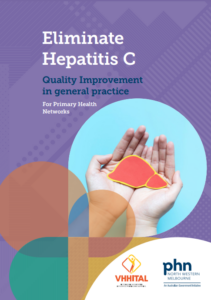 NWMPHN and VHHITAL developed this toolkit to assist primary health networks (PHNs) to support general practice in a structured and facilitated QI project on hepatitis C screening and treatment for at-risk patients.
It is a guide to the steps required to support general practices to participate in the project, and is based on previous hepatitis C QI projects implemented by NWMPHN in 2019-2020 and SEMPHN in 2021-2022.
It can be used wholly or in part, or modified, to develop a program that suits each PHN's broader organisational goals and objectives. It can be customised and localised to meet the needs of targeted priority populations, such as Aboriginal and Torres Strait Islander people or culturally and linguistically diverse groups.