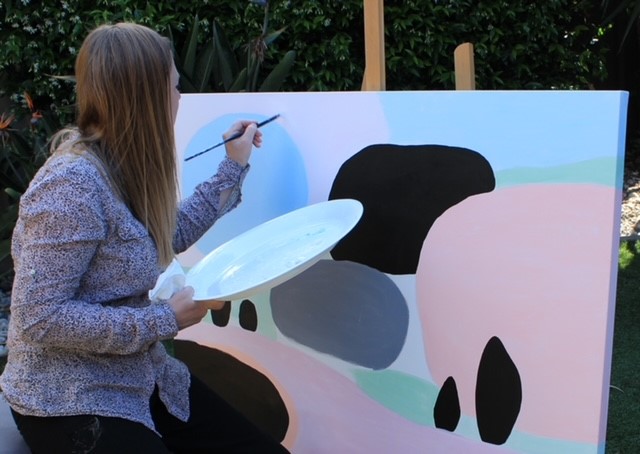 For all artists, finding inspiration is at the heart of the creative process. 
Melton visual artist Lisa Fitzpatrick finds hers by immersing herself in the sights and sounds of the wild. 
"I find inspiration for paintings by going on daily nature walks," she explains. 
That process has paid huge dividends for her latest work, an acrylic painting on 120cm-square stretched canvas, called, appropriately enough, 'Nature's Beauty'. 
The artwork was commissioned by the North Western Melbourne Primary Health Network (NWMPHN) as part of its Art Bomb Project – a series of exhibitions and installations geared to raising awareness of mental health services and suicide prevention strategies. 
The project highlights the work of artists from Melton and Brimbank, all of whom have lived experience of mental health trauma and recovery. The art is exhibited and promoted accompanied by QR code panels that link to extensive resources for people concerned about their own mental health or that of a loved one. 
Lisa, who does drawing and photography as well as painting, started doing art at a young age. She has exhibited her work several times, including in shows set up to mark Harmony Day and Children's Week. 
Her quest in life is to inspire others to find ways to express themselves through art. One of the ways she turns that desire into reality is through teaching art classes for children and adults through the City of Melton. 
Lisa's 'Nature's Beauty' will go on display at the Melton Central Community Centre (239 Station Rd, Melton) on Tuesday 14 December 2021. It will remain there for several weeks. 
Find out more about the Art Bomb Project here. 
More details about NWMPHN's suicide prevention programs here.