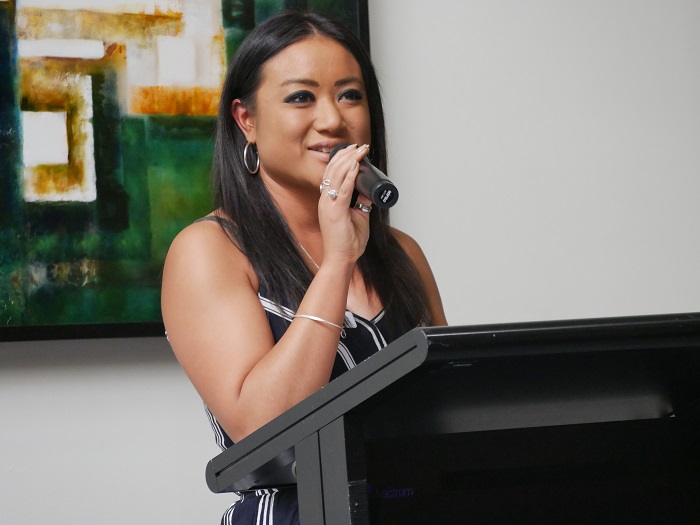 Roses in the Ocean volunteer Melissa Yu speaking at the launch of the suicide prevention trial.
North Western Melbourne Primary Health Network (NWMPHN) is looking for people with a lived experience of suicide to be part of its work to reduce the impact of suicide in Brimbank, Melton and Macedon Ranges.
Register your interest (link removed as applications have now closed)

Brimbank-Melton and Macedon Ranges are two of the 12 communities around Victoria being supported to develop locally relevant responses to suicide, as part of the Victorian Government's place-based suicide prevention trials.
NWMPHN CEO Adj/Associate Professor Christopher Carter said many people within our communities have a lived experience of suicide, whether through having experienced suicidal thoughts, survived a suicide attempt, cared for someone through a suicidal crisis, or being bereaved through suicide.
"The voices, insight and wisdom of people with a lived experience is vital in guiding our suicide prevention work, and we really value their input as we work to reduce the number of suicides and suicide attempts in our community," A/Prof Carter said.
NWMPHN has contracted leading lived experience organisation Roses in the Ocean to recruit people with lived experience of suicide to assist with the trials.
Roses in the Ocean will support these people to advocate in their community and provide input and guidance to the development of local suicide prevention activities. Community members will also receiving mentoring support following the training.
Roses in the Ocean State Coordinator Celia Taylor said getting involved with Roses in the Ocean has given her a chance to make something positive out of her experience, by telling her own story in her own way.
"I think one of the main issues when you have a lived experience is actually being heard without being interrupted," Celia said. "You just need to be heard, you need to say what you need to say.
"There are lots of very learned people around, but what's absolutely critical is knowing what it's like to be at the centre of it, to be right in the middle of that storm and be able to say 'this is what I experienced'."