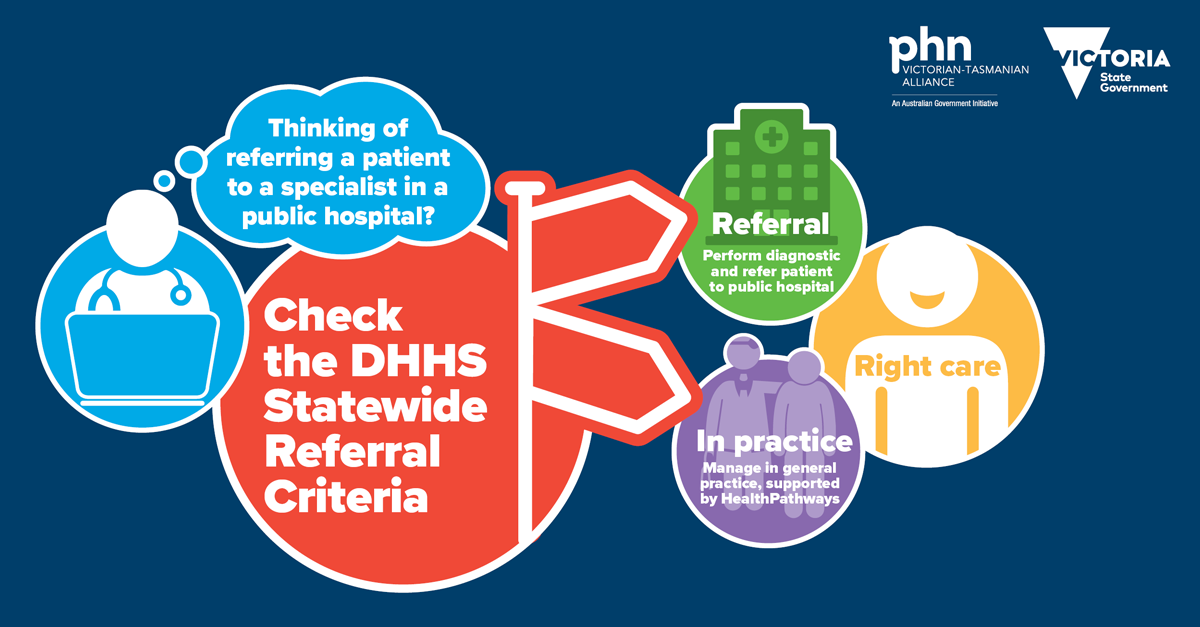 From 1 November 2019 all Victorian public hospitals will begin assessing new adult referrals for select core conditions against the statewide referral criteria for three specialties: ear, nose and throat (ENT), vascular and urology.
The Department of Health and Human Services (DHHS) has developed standardised referral criteria for six specialties in consultation with health services and Primary Health Networks (PHNs).
Implementation of the statewide referral criteria within Victorian hospitals will be gradual, with the first three specialties launching in November 2019 (ENT, vascular and urology), followed by neurology, gynaecology and gastroenterology from 1 February 2020.
DHHS are committed to the ongoing development of statewide referral criteria, with an additional five specialties expected to be released throughout 2020.
The statewide referral criteria provide guidance to referring clinicians about which patients will be seen in adult public specialist clinics and what investigations are required to support triage.
Referrals that do not meet the statewide referral criteria are expected to be declined by all Victorian public hospitals. When a referral is declined, referring clinicians should receive correspondence from the health service explaining why the referral has not been accepted.
If a referral is declined due to being incomplete, that is, there is missing essential information, the referring clinician must resubmit the entire referral again in full. Patients will not receive an appointment or be placed on an appropriate waitlist until a complete specialist clinic referral has been received.
The new statewide referral criteria will be available across all Victorian HealthPathways websites (or equivalent online care platform for South Eastern Melbourne Primary Health Network), alongside related clinical and referral pathways from October 2019. Alternatively, the statewide referral criteria can be viewed on the official DHHS website: src.health.vic.gov.au
GPs and other referring clinicians are encouraged to become familiar with the new statewide referral criteria and to contact their local PHN to gain access to HealthPathways.
Referring clinicians should also consider subscribing to their local PHN newsletter to be notified of new releases of statewide referral criteria.
For more information about the statewide referral criteria and the requirements for general practice, please visit the Victorian and Tasmanian PHN Alliance website.