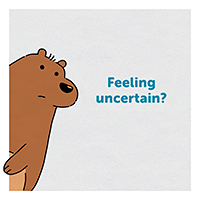 Victoria has some of the finest mental health services in the country, staffed by some of the most dedicated, caring and capable health professionals.
But, of course, that's not much comfort if you or a loved one is in desperate need and don't know where to start or where you need to go.
HeadtoHelp is a new service that helps people navigate the mental health system.
HeadtoHelp increases capacity with 15 physical mental health hubs across Victoria.
Critically, it is supported by a central intake – because you can't navigate someone to the best mental health support for them unless you first know what they need.
Anyone needing help can call the 1800 595 212 statewide number.
An experienced mental health professional will do an initial assessment, asking clinical and social questions, to work out what type of support is needed.
They will then connect the person to that support, which may be at a HeadtoHelp hub or another more suitable service.
The 15 HeadtoHelp hubs have multidisciplinary teams – including mental health professionals – to care for those with moderate to higher intensity needs.
Hub teams work closely with the person's regular GP or can assist with finding a doctor if someone doesn't have one.
Anyone can call HeadtoHelp.
This includes GPs, other professionals or family and friends of someone in need who want help navigating to the best support.
HeadtoHelp is different from other mental health services because:
It's for Victorians of all ages, from children and young people to older adults;
The central intake helps stitch together the fragmented system. The team has local knowledge of existing services that national or even state hotlines may not have;
An initial assesment and review decision support tool (IAR-DST) is used by all team members for consistency and quality. Whether you ring the 1800 number or turn up at a hub, everyone receives the same quality of support to understand their unique situation and needs.
The hubs have multidisciplinary teams that may include mental health nurses, social workers, peer workers, alcohol and other drug workers and other allied health professionals and psychologists who work together with GPs. The team approach provides better outcomes as mental wellbeing often depends on physical and social needs being addressed.
Victoria's six primary health networks set up the HeadtoHelp central intake and the 15 mental health hubs in less than a month.
Since opening in September, the intake service has responded to more than 1,500 calls and the hubs have treated hundreds of people even as they scale up their teams to full strength.
A statewide multimedia campaign is underway to promote the service both to consumers and to health professionals.
HeadtoHelp's campaign character, the bear, was chosen as a universal symbol of comfort.
To #SharetheBear visit the HeadtoHelp facebook or Instagram pages. For help, call 1800 595 212 or visit https://headtohelp.org.au/.
This story was first published in the December 2020 edition of the Victorian Government health department magazine "Health Victoria"