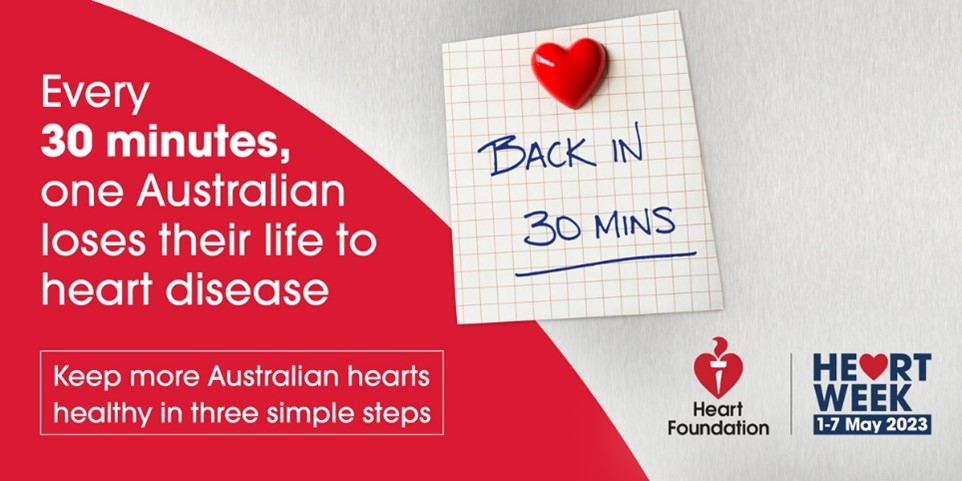 Heart Week, running 1 to 7 May, presents an opportunity for health professionals and the public to start conversations about heart health and take steps to reduce the risks of heart disease.
Every 30 minutes, an Australian loses their life to heart disease. It takes 30 minutes or less to conduct a heart health check.
We are encouraging GPs, nurses and general practice staff to deliver heart health checks for more eligible Australians.
You and your general practice networks to can get ready for Heart Week by:
Downloading or ordering your free Heart Week resource pack here
Using the Heart Health Check Toolkit to streamline CVD prevention
Registering for Heart Foundation's residual CVD risk webinar on Wednesday, 3 May 2023
Spread the word to your community and network.
For more information, see the Heart Foundation's Heart Week website page.
Using our Practice Incentives Program Quality Improvement reports and 45–49-year health checks to improve cardiovascular disease risk assessments
North Western Melbourne Primary Health Network (NWMPHN) continues to provide regular, customised Practice Incentives Program Quality Improvement (PIP QI) reports for any general practice in the region wanting to use data to drive improvement.
In this article we take a closer look at:
PIP QI measure 8: Proportion of patients with the necessary risk factors recorded to enable a cardiovascular disease (CVD) assessment
how to use 45–49-year health checks to improve this measure and health outcomes for your patients.
Support is available for general practices in our catchment, please email primarycare@nwmphn.org.au