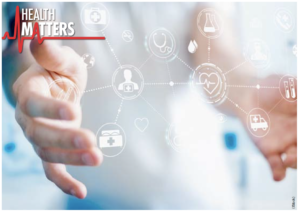 Written by Adjunct Associate Professor Christopher Carter, CEO of NWMPHN.
This article as first published in the Brimbank & North West and Sunbury & Macedon Ranges editions of the Star Weekly on 3 August 2021.
Make a difference to your community in just 10 minutes! Take our 2021 Community Health Needs Survey online.
Unlike most surveys that clog your inbox (usually with the subject line 'How did we do?') this is a questionnaire that really matters. It asks questions about your health. About your experience of health care. And about anything that might be preventing you from getting the care you need, when and where you need it.
In the time it takes to drink a cup of tea or a really good coffee you'll have helped improve local health services – and as a bonus you'll go into the draw to win one of three $100 gift vouchers.
Your de-identified responses will be used to help North Western Melbourne Primary Health Network (NWMPHN) plan and fund health services that our region needs.
Combined with other health data, hearing directly from our community helps not-for-profits like Primary Health Networks and governments to decide what the priorities and gaps are to help us design better services.
Recently, health data showed us a clear need for support to help children develop in parts of the Hume Local Government Area. In response, we funded the ASPIRE project that worked with parents and enabled children to see speech pathologists and occupational therapists and attend supported, culturally appropriate playgroups.
In 2019–20, we listened to more than 700 people to help create a 'Blueprint for better mental health'. The community is helping to further refine the plan this year, so services are better connected and 'see the person', not just their illness.
Our other data-driven programs include psychosocial supports (linking people with social groups and practical help, bolstering mental health), and 'dying well' initiatives, which draw on community feedback to improve end-of-life care.
Data, feedback and community connections are also vital to helping us reach groups who find it hard to access services – such as people experiencing homelessness, older people, or those from culturally diverse backgrounds.
In one recent example, we funded community members to design and deliver a program that successfully encouraged people to get their cancer screening checked off.
So get involved: health care is better and our community is healthier when a wide range of people take part in its planning.
The survey is at https://www.surveymonkey.com/r/NWMPHN_2021_Survey
Carers can also complete the survey on behalf of those who are unable to. The survey closes 15 August.
You could also sign up to be in our 'PeopleBank' – a register of people interested in taking part in activities to help direct our work, ranging from online activities to forums and group work – with payment available for some activities. Visit nwmphn.org.au/peoplebank