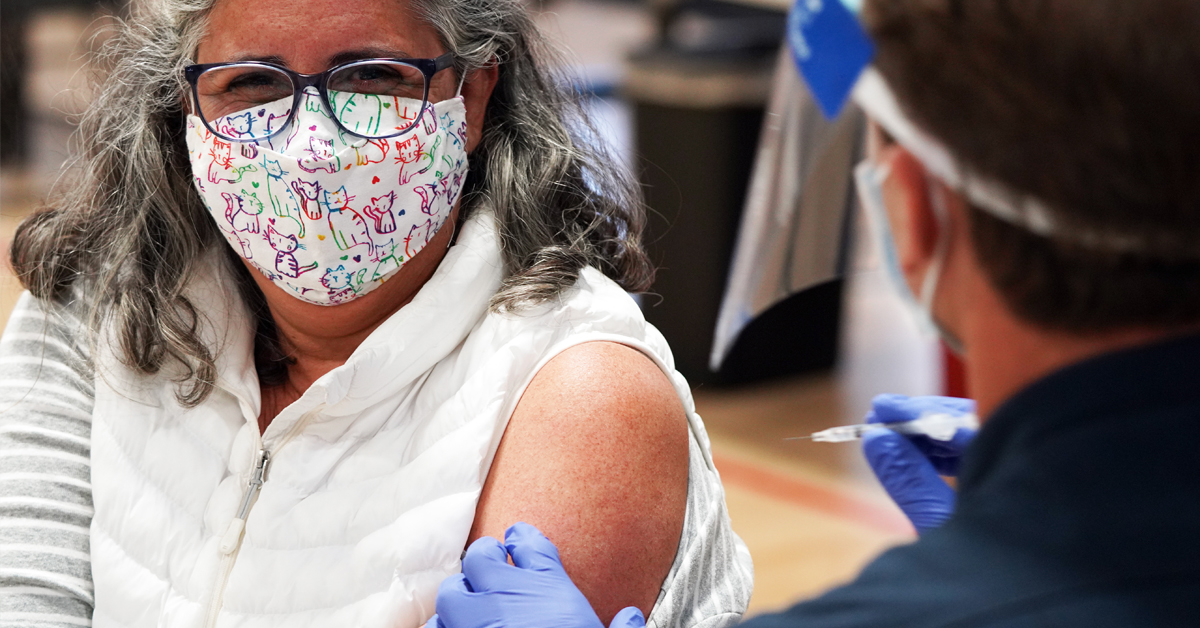 The COVID-19 pandemic is, hopefully, a once in a lifetime event for those of us working in general practice.
We are all juggling the demands of our usual day-to-day workload as well as addressing the concerns our patients have about the COVID-19 vaccines, especially the AstraZeneca vaccine.
Prior to the current outbreaks in Victoria, there was a lot of vaccine hesitancy out there. Estimates vary from 10 to 30 per cent of adults in Australia being hesitant to get a COVID-19 vaccine. It's complicated to calculate, but at least 70 per cent of the population need to be vaccinated to achieve herd immunity.
Primary care providers have administered well over half of the COVID-19 vaccine doses in Australia to date. We can expect primary care to do more of the heavy lifting as vaccine supplies increase and general practices begin to administer Pfizer in addition to AstraZeneca.
One of the biggest challenges of clinical practice is translating scientific evidence for the real humans sitting in front of us, as we do every day. The following FAQs will help you have these tricky conversations.
"But the vaccine was developed too quickly."
We now have centuries of experience with vaccinations, and yet vaccines seem to invite more public cynicism than any other aspect of medical care.
There are four main reasons that COVID-19 vaccines have been developed quicker than any other in history:
Funding and collaboration between vaccine developers and governments around the world occurred at levels never seen before.
Advancements in technology has allowed vaccines to be developed faster than in the past.
Clinical trials progressed faster because COVID-19 was widespread, so differences between vaccinated groups and unvaccinated groups could be detected sooner.
The stacking of trials using the pandemic protocol meant multiple trial phases were done concurrently.
The following images from the National Centre for Immunisation Research and Surveillance are used in our vaccine provider training. They show how vaccine development is sped up safely during a pandemic.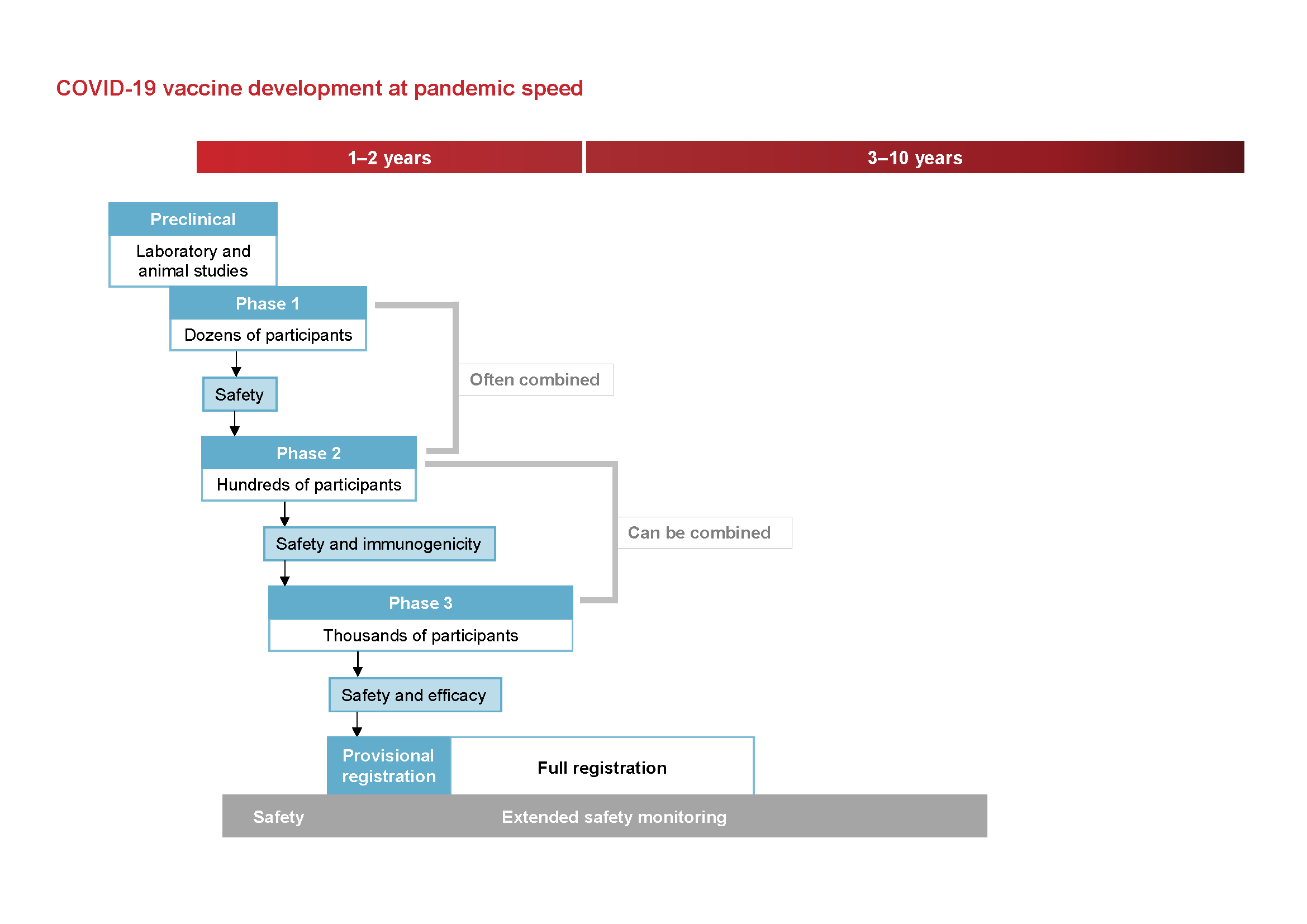 All new vaccines then have intensive monitoring after they enter the market. It is not unusual for extremely rare side effects to be subsequently identified, such as the extremely rare cases of blood clots associate with the AstraZeneca vaccine.
The bottom line? Rapid development of the COVID-19 vaccines has not compromised quality.
"I want the Pfizer vaccine as it is more effective."
Both vaccines are equally effective. While some initial study reports did seem to indicate higher efficacy for the Pfizer vaccine, it has subsequently been shown that different studies were measuring different endpoints. In other words, we weren't comparing apples with apples.
Subsequent analysis and now real-world data has shown that both vaccines are equally effective at preventing all measured endpoints. In fact, the AstraZeneca vaccine may be superior at reducing transmission.
"I'm over 60 and I don't want to get the AstraZeneca vaccine, so if you could just give me a letter to take to the hub so I can get the Pfizer vaccine please."
The vaccine hubs will not accept these letters, so it is a waste of time for both us and our patients to write them, and potentially delays people getting the correct vaccine.
For patients 60 and over, the only contraindications that will be considered for a Pfizer vaccine are:
past history of cerebral venous sinus thrombosis, heparin-induced thrombocytopenia, idiopathic splanchnic vein thrombosis and anti-phospholipid syndrome with thrombosis
anaphylaxis to a previous dose of AstraZeneca vaccine
thrombosis with thrombocytopenia syndrome (TTS) following the first dose of AstraZeneca vaccine
other serious adverse events attributed to the first dose of AstraZeneca vaccine.
"I want the Pfizer vaccine as I've had DVT in the past."
The mechanism for thrombosis with thrombocytopenia syndrome (TTS) is completely different to that of typical blood clotting disorders, so the current advice from the Australian Technical Advisory Group on Immunisation (ATAGI) states that none of the following are contraindications for the AstraZeneca vaccine.
History of blood clots in typical sites.
Increased clotting tendency that is not immune mediated.
Family history of blood clots.
History of ischaemic heart disease or stroke.
Current or past thrombocytopenia (low platelet count).
Those receiving anticoagulation therapy.
"I'll just wait and hopefully the Pfizer vaccine will be available to me later in the year."
To quote Victoria's Chief Health Officer Professor Brett Sutton, "the best vaccine is the one you can get today." Delaying vaccination is a potentially deadly strategy as it also delays protection against the COVID-19 infection. There is also no guarantee that Pfizer will be more widely available when your patients really need it.
Dr Jeannie Knapp on why the best COVID-19 vaccine is the one you can get today.
"People are dying from the AstraZeneca vaccine."
As of 10 June 2021, two people have died from TTS that is likely to be linked to the AstraZeneca vaccine in Australia.
Although estimates of risk based on small numbers of cases are imprecise, the current risk of TTS in Australia is estimated in the table below.
Age
Estimated risk of TTS per 100,000
AstraZeneca vaccine doses (first dose)
<50 years
3.1
50-59 years
2.7
60-69 years
1.4
70-79 years
1.8
80+ years
1.9
Source: ATAGI (17 June 2021).
Diagnosing and treating TTS has vastly vastly improved. The number of people successfully treated for this rare side effect has risen as critical care specialists and haematologists develop a better understanding of what is occurring at a microscopic level with TTS.
What motivates your patients to have the vaccine?
Every patient will have a different "hook" to encourage them to consider vaccination. The motivations for some patients will be quite different to others and it is worth trying to tap into the motivator for your patient. It might be:
the risk of dying from a COVID-19 infection (approximately 2–3 per cent in Australia)
the risk of significant morbidity from a COVID-19 infection including respiratory or cardiac complications, thrombosis or "long COVID" (up to 40 per cent)
the desire to protect family members, especially frail and elderly family members
the desire to travel in the future
doing the right thing for the community at large
occupational risk.
More information