Allied health services in residential aged care facilities: COVID-19 allied health package
1 July 2021 to 31 January 2022
Duration
Overview
North Western Melbourne Primary Health Network (NWMPHN) has commissioned a new program to deliver allied health services into residential aged care facilities (RACFs). This project is funded by the Australian Department of Health.
RACFs in our region were heavily impacted by COVID-19 outbreaks and stay at home restrictions in 2020. During this period, residents were largely restricted to their rooms. Access to the outside world and normal exercise was not possible.
The Australian Department of Health determined that RACFs with 2 or more cases of COVID-19 as of 23 October 2020 are eligible to participate in this program. 54 eligible RACFs were identified in the NWMPHN region.
NWMPHN has commissioned multiple allied health providers to deliver group therapy programs to these eligible RACFs, aiming to improve physical function of residents at risk of deconditioning due to COVID-19 restrictions.
The commissioned providers are:
Plena Healthcare

Vivir Healthcare
Greenlight Physiotherapy
United Physiotherapy
Healthcare Australia
These providers will deliver group therapy sessions based on the Sunbeam Program, which has been proven to be effective in preventing falls in older adults. Group therapy sessions will run twice a week for up to 6 months, and group sizes will be a maximum of 4 residents per session.
As this program will be evaluated, the Australian Department of Health and NWMPHN will encourage allied health providers to take baseline measurements at initial consultation and periodically throughout the program.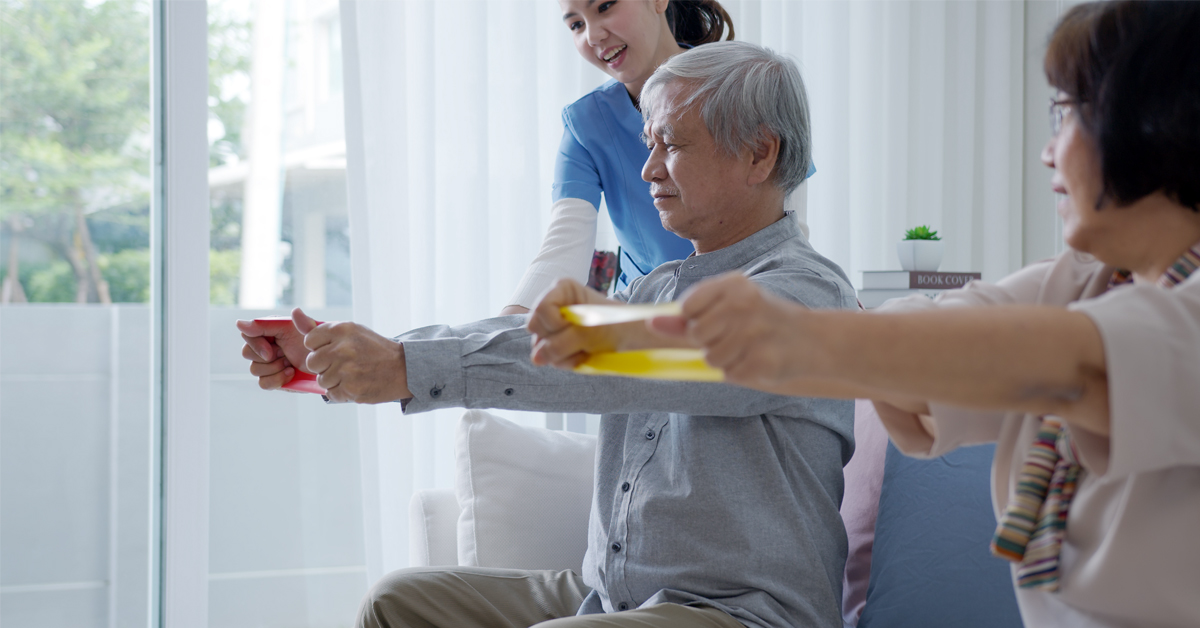 Outcomes
This commissioned activity is a temporary measure aimed at improving physical functioning of eligible RACF residents who are at risk of deconditioning due to COVID-19 restrictions in 2020. This will be achieved through the implementation of an intensive group therapy program delivered by allied health professionals and based on the Sunbeam Program.
There are additional expected outcomes for the many stakeholders involved, including:
Outcomes for RACF residents:
Increased access to allied health services
Improved overall health outcomes due to physical reconditioning.
More opportunities for social interaction and engagement.
Outcomes for RACFs:
Improved health outcomes and experiences for residents.
Access to group therapy for residents at no cost.
Increased awareness and access to allied health services within their facility.
Strengthened relationships with allied health providers.
Outcomes for allied health providers:
Increased capacity to deliver evidence-based group therapy programs to older adult populations.
Opportunity to lead group therapy and contribute towards better health outcomes for RACF residents.
Collection and contribution of robust data that can add to the evidence base and help inform future allied health funding models.
Strengthened relationships with RACFs.