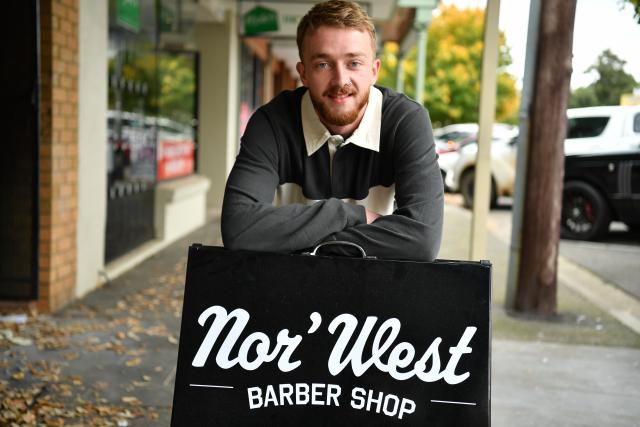 This article was first published in Star Weekly Sunbury & Macedon Ranges on 6 May 2022.
---
As the saying goes, a hairdresser is cheaper than a therapist.
A new local campaign, Cut the Silence, promotes barbershops as safe places for men to go and talk openly about their lives and feelings – driving that old saying home.
Launched by Macedon Ranges Suicide Prevention Action Group (MRSPAG) with funding from North Western Melbourne Primary Health Network (NWMPHN) the campaign will target the most vulnerable group at risk of suicide in the ranges leading up to Men's Health Week in June.
Nor'West Barbershop owner Kurtis Barry said it "feels great" to be involved in the initiative, which is on the hunt for more barbers to get involved.
"We've always been called psychologists, to get people talking and let their feelings out when they get comfortable," Mr Barry said.
The campaign was thought up by Gisborne resident and advertising creative Mat Garbutt, after he was asked by Ken Reither from MRSPAG for advice on how to engage men in personal conversations.
Fronted by actor and local resident Shane Jacobson, a series of conversations will be filmed in a barbershop between Mr Jacobson and other celebrities, exploring their own mental health experiences, available to stream next month.
Five barbershops across the Macedon Ranges are currently involved and each business has been offered mental health and suicide prevention training, carrying information on local mental health services.
Mr Barry said people trusting in him gives him "a bit of chills" to provide support, even over the long term.
"Depends on the client, maybe once a fortnight or once a week, or once a month, you get pretty close and you can really let it all out over time," Mr Barry said.
If you are a barbershop or hair salon in the Macedon Ranges and want to find out how you can support the campaign or access training please contact info@mrspag.com
If you or anyone you know needs mental health support, contact Lifeline on 131114 or text 0477 131 114.