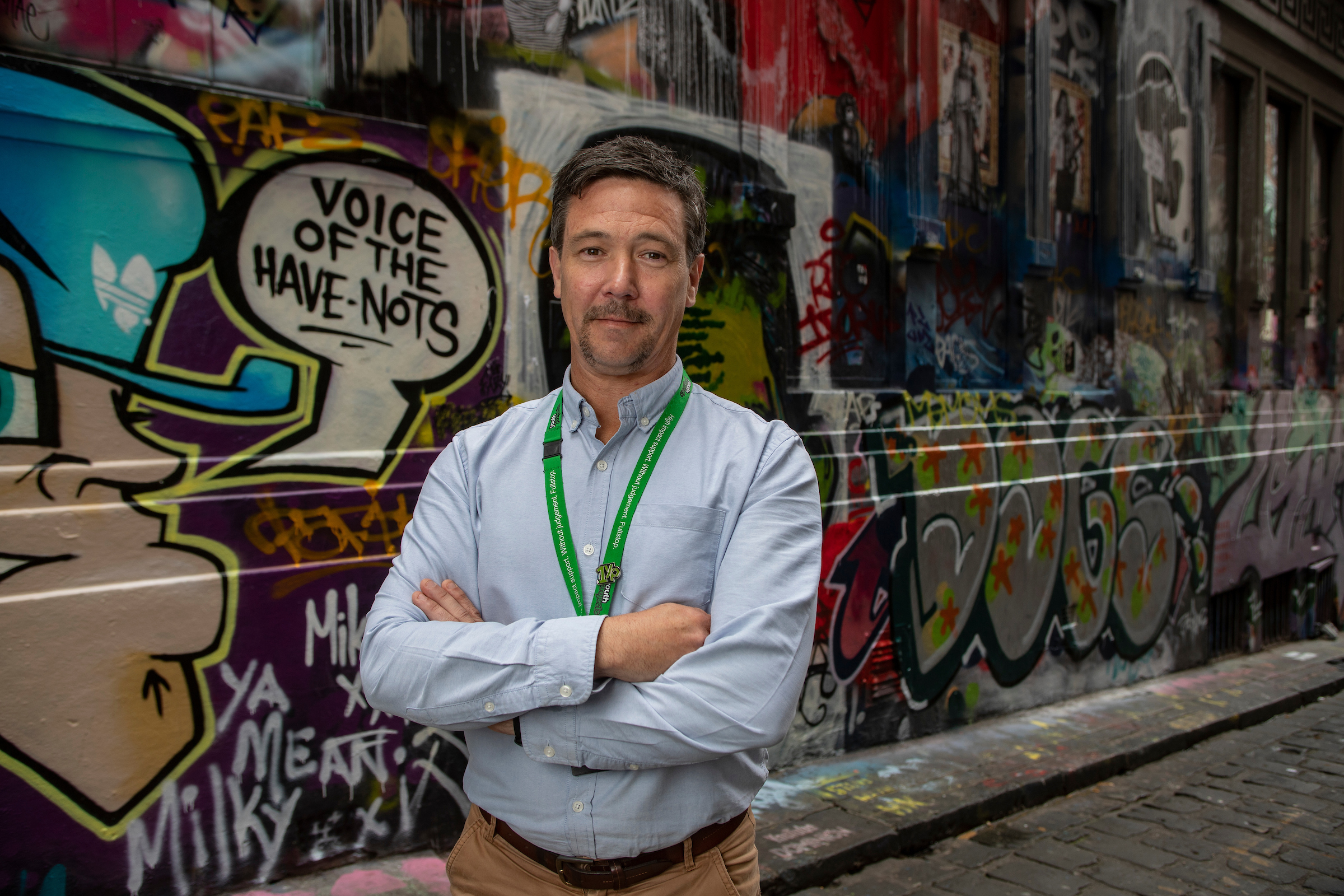 After years of sleeping rough in country Victoria with only his dog for company, William* decided it was time to seek a different life in the busy streets of Melbourne's CBD.
After jumping on a train and ending up at Flinders Street Station, William happened upon the Living Room clinic nestled within another Melbourne landmark, the iconic Hosier Lane.
Youth Project's Living Room clinic is a drop-in service for people aged over 18 experiencing homelessness. This free primary health service provides them with a safe and welcoming space to improve their wellbeing and connect with others in a safe and respectful environment.
There are showers, toilets, laundry facilities and internet available as well as spaces to rest and recover with food and drinks readily accessible.
Medical staff are onsite during all opening hours, to help with the immediate physical and mental health needs of clients.
Over the past five years those opening hours have been extended to include Saturdays, thanks to funding from North Western Melbourne Primary Health Network (NWMPHN).
Richie Goonan, Operations Manager of Community Health at Youth Projects, said having the clinic open on a Saturday was integral to the wellbeing of those experiencing homelessness.
"While there is a breadth of services Monday to Friday in the CBD, there are very few services after hours and on weekends," Mr Goonan said. "The ability to have a safe space to go to are few and far between.
"We provide a drop-in service so that people [who] are living out in the elements, out in the public gaze, are able to take a break and go to a safe space that they know they belong to and [where] they know people will treat them with dignity and respect."
The clinic was able to organise crisis accommodation for William and his dog after his first visit, and began the process of transferring his health care from country Victoria to Melbourne. Clinic staff were also able to help William with his application for permanent housing.
After six weeks of receiving support from the Living Room, William had all his mental and physical health care transferred to local services, with help from the clinic's mental health nurse, general practitioner and practice nurse.
He was also provided with counselling and treatment for his chronic health conditions, including diabetes and hepatitis C.
Mr Goonan said the clinic allows clients to have quick access to health care in a non-judgemental setting, as opposed to the difficulties faced accessing care through venues such as hospital emergency departments.
The Living Room's statement is 'No Judgement', as staff say they know many in society judge people that are disadvantaged, vulnerable and homeless, and blame the individual for their unfortunate circumstances.
"We at the Living Room know that it's structural and environmental factors that cause people to become homeless," Mr Goonan said, "Being homeless doesn't define who they are, it is just the circumstance they find themselves in at the moment."
*Name changed for privacy