Expressions of Interests and Tenders
North Western Melbourne PHN uses Tenderlink as its portal for all Request for Quote and Request for Tender applications.
Some Expressions of Interest do not use Tenderlink. These are noted below.
All communications and enquiries must only be directed in writing via our Tenderlink Portal and the email address specified below:
Website: https://www.tenderlink.com/mpcn/
Email: tenders@nwmphn.org.au
Current opportunities
Would you like to be better supported to discuss alcohol intake with your patients?
Does your practice want to participate in GP-led research with an academic partner?
Would you like to trial a new suite of tools for alcohol management, including delivering health information to patients?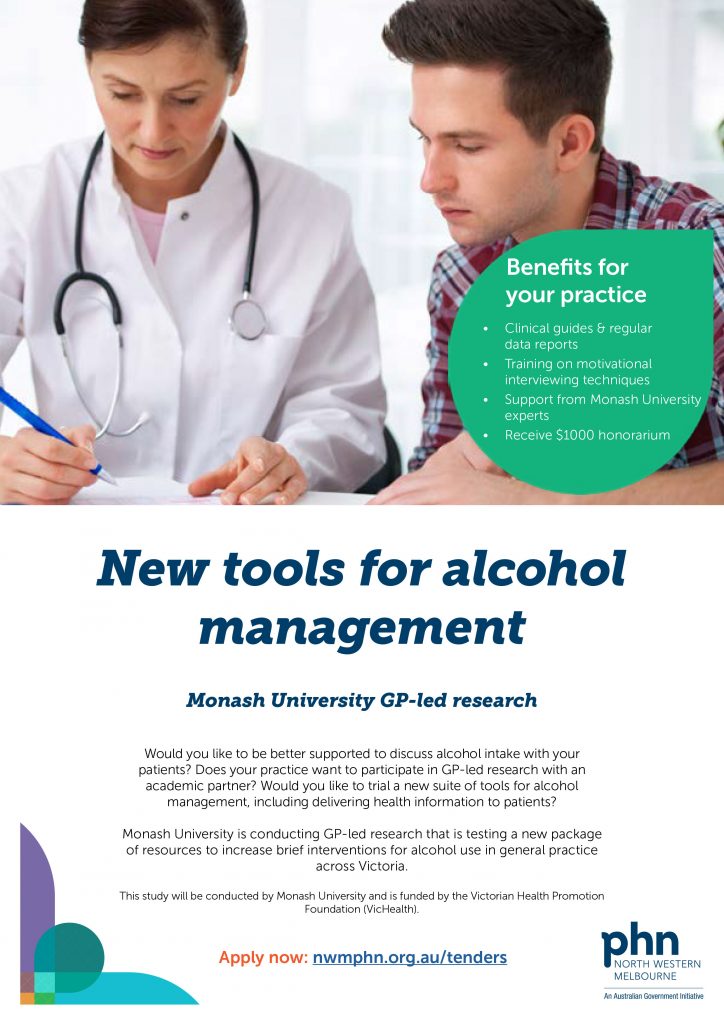 There has been quite a bit in the media lately about the impact of COVID-19 on alcohol consumption. A recent study found that people are drinking more frequently during the pandemic than in the three years prior. Rates of alcohol consumption increased slightly for men and substantially for women.
Monash University is conducting GP-led research that is testing a new package of resources to increase brief interventions for alcohol use in general practice across Victoria.
Your practice will receive
Support and resources to assist in the identification and management of patients with problematic alcohol use including;

Waiting room survey based on Smoking, Nutrition, Alcohol and Physical Activity (SNAP) guidelines and readiness to change
Clinical information guides focusing on motivational interviewing and practical strategies to help patient reduce alcohol intake
Podcasts with GPs with AOD expertise on how to apply brief interventions.
Supporting pamphlets and posters

Progress reports at three-month intervals (bar graphs and charts of % of alcohol status recorded).
$1000 honorarium in recognition of time (Monash funded)
Certificate of research participation to GPs involved
Benefits of your practice participating
Improve practice systems for managing patients with problematic alcohol use

Improve patient outcomes by

offering individualised advice to reduce health risks

Access better clinical resources for managing problematic alcohol use in general practice
For more information including eligibility criteria and to apply download the application form below.
Applications close at 5:00pm on Friday, 10 July 2020.
  Application form (.docx, 585 KB)
  Flyer (.pdf, 602 KB)
  About the REACH Project – fact sheet (.pdf, 3 MB)