Expressions of Interests and Tenders
North Western Melbourne PHN uses Tenderlink as its portal for all Expression of Interest, Request for Quote and Request for Tender applications.
All communications and enquiries must only be directed in writing via our Tenderlink Portal and the email address specified below:
Website: https://www.tenderlink.com/mpcn/
Email: tenders@nwmphn.org.au
Current opportunities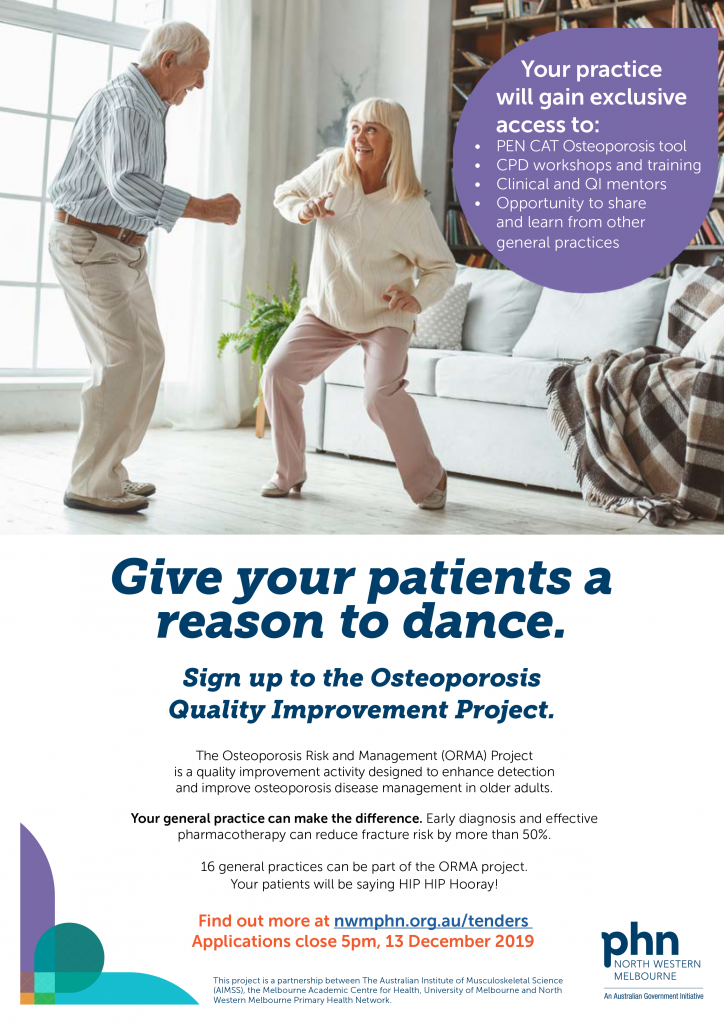 General practices: Would you like to enhance detection and improve management of osteoporosis in older adults? If so, this quality improvement activity commencing in February 2020 can help.
The Australian Institute of Musculoskeletal Science (AIMSS) in partnership with the Melbourne Academic Centre for Health, University of Melbourne and North Western Melbourne Primary Health Network (NWMPHN) invites general practices to be part of the Osteoporosis Risk and Management (ORMA) Project.
Successful applicants will engage in a continuous quality improvement activity that will assist practices to improve patient care and contribute to the requirements of the Practice Incentives Program Quality Improvement (PIP QI) Incentive.
More information
  Information sheet (.pdf, 696 KB)
  Application form (.docx, 1 MB)
Applications close Friday, 13 December 2019.