Expressions of Interests and Tenders
North Western Melbourne PHN uses Tenderlink as its portal for all Expression of Interest, Request for Quote and Request for Tender applications.
All communications and enquiries must only be directed in writing via our Tenderlink Portal and the email address specified below:
Website: https://www.tenderlink.com/mpcn/
Email: tenders@nwmphn.org.au
Current opportunities
Would your practice like to join the global fight to eliminate hepatitis C by 2030?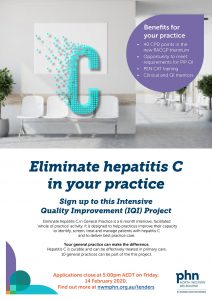 Are you looking for a Quality Improvement activity to help you meet the requirements for the new Practice Incentives Program Quality Improvement (PIP QI) Incentive?
We are offering 10 practices an opportunity to participate in a supported, whole of practice, six-month Intensive Quality Improvement (IQI) activity. The aim of the activity is to increase the capacity and confidence of general practice to screen, treat and manage patients with hepatitis C.
What will your practice receive?
RACGP-accredited CPD activity (previously 40 Category 1 points)
Facilitated learning workshops with subject matter experts
Project lead person to provide in-practice quality improvement support
Practice support toolkit
Opportunity to share, network and connect with other practices involved in the project
Develop relationships with integrated hepatitis C nurses who can provide ongoing guidance and support
Monthly PEN data reports
Structured QI activity to contribute to PIP QI requirements
Download the form below for more information and to apply.
  Application form (.docx, 2 MB)
Applications close at 5:00pm AEDT on Friday, 14 February 2020.