Expressions of Interests and Tenders
North Western Melbourne PHN uses Tenderlink as its portal for all Request for Quote and Request for Tender applications.
Some Expressions of Interest do not use Tenderlink. These are noted below.
All communications and enquiries must only be directed in writing via our Tenderlink Portal and the email address specified below:
Website: https://www.tenderlink.com/mpcn/
Email: tenders@nwmphn.org.au
Current opportunities
As part of the Macedon Ranges Place-Based Suicide Prevention Trial a three-phase project has been initiated to understand the role of masculinity, attitudes and behaviours, as well as place-based factors that contribute to harmful behaviours in boys and men in the Macedon Ranges area.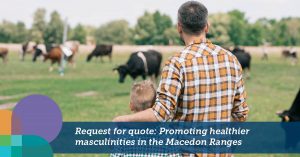 A request for quotation is now open for Phase 1 – Research into attitude and behaviours of men and boys. Phase 1 is an eight-month project.
This is a unique opportunity to engage in the local Macedon Ranges community and to identify healthier interventions for the local community.
Download the Request for Quote application information below:
Proposals must be submitted via email to quotations@nwmphn.org.au by no later than close of business, 5:00pm (AEST) on Thursday, 30 April 2020.
An exciting opportunity exists for a general practice in the outer western or north western suburbs to be mentored by the Melbourne Sexual Health Centre (MSHC). Through this partnership the practice will receive ongoing support from MSHC to provide STI testing and management in the clinic.
What education, training and support will your practice receive?
In practice education for the practice clinical team (GP and nurse) delivered by MSHC Sexual Health Physician and Sexual Health Nurse. Frequency and type of training based on practice need
Training and observation placement in the MSHC clinic

GPs to sit with sexual health physicians
Practice nurses to sit in with sexual health nurses and nurse practitioners

Expedited access to the MSHC 1800 GP Support phone line
Access to MSHC STI Toolkit, online resources, fact sheets, educational videos etc.
Optional additional training and support to access and provide treatment injections
Evaluation and reports on practice data around screening and diagnosis
If your practice is interested this exciting opportunity, please complete the application form below.
  Application form (.docx, 628 KB)
Applications close at 5:00pm on Friday, 17 April 2020.
Do you have an interest in building, collaborating and reducing fragmentation across the health service network?


Do you want to enhance clinical knowledge and promote best practice within primary care?
The HealthPathways Melbourne team is seeking expressions of interest from experienced general practitioners to join its clinical editor pool.
What is involved?
Join the HealthPathways Melbourne clinical editor pool as a contracted clinical editor on a two-year fixed-term casual contract.
Work as part of a team to review and develop clinical content for HealthPathways Melbourne.
Collaborate with clinicians, including specialists and subject matter experts, to empower health professionals with locally agreed information to make the best decisions, together with patients, at the point of care.
How will it work?
On a quarterly basis, the HealthPathways Melbourne team will release the suite of Pathways due for development or review to all GP clinical editors who are part of the HealthPathways Melbourne clinical editor pool;
GP clinical editors can put their name forward to be considered to complete the Pathways that interest them;
The HealthPathways Melbourne program team will review the submissions and allocate the suite of Pathways according to the interests, skills and availability of the GP clinical editors;
Once selected, GP clinical editors will commence Pathway development or review, within a specified period of time, with project management support from the HealthPathways Melbourne team.
What you will receive:
Flexible working conditions, including the opportunity to work from home or in an office environment, to fit around family and other professional or personal commitments.
A competitive hourly rate.
Training provided by an experienced clinical editor and support by program staff.
Opportunity to collaborate with other health professionals and to support integration across the health system.
Support to lead system change and promote best practice care for the community by:
Identifying service gaps and assisting health professionals to navigate the system.
Connecting primary and tertiary services, by guiding the practice of appropriate referral.
Supporting your peers, new and existing GPs, to use up-to-date, evidence-based information about the assessment and management of a range of health-related conditions.
How to apply
If you are interested in becoming a clinical editor for HealthPathways Melbourne please complete the below application form, attach your resume and send to the email address below.
  Application form (.docx, 693 KB)
Applications close Tuesday, 14 April 2020.
For more information or to apply contact:
Dawn Finlay
Manager, Care Pathways
North Western Melbourne Primary Health Network
Phone: (03) 9347 1188
Email: quotations@nwmphn.org.au