My Health Record – For Consumers
What is My Health Record?
My Health Record is an online summary of health information. You control what goes into your record, and who is allowed to access it. Share your health information with doctors, hospitals and other healthcare providers from anywhere, any time.   Having a My Health Record means your important health information including allergies, current conditions and treatments, medicine details, pathology reports or diagnostic imaging scan reports can be digitally stored in one place.  As more people and their healthcare providers use the My Health Record system, Australia's national health system will become better connected. This will result in faster and more efficient care for you and your family.  My Health Record is part of the evolution of healthcare towards the use of digital health systems to enable better continuity of care for patients.  
What

 can be included on a My Health Record

?
Healthcare providers, such as GPs, specialists and pharmacists can add  clinical documents about your health to your record. This includes: 
An overview of your health uploaded by your doctor, called a Shared Health Summary. This is a useful reference for new doctors or other healthcare providers that you visit;
Hospital discharge summaries;
Reports from test and scans, like blood tests;
Medications that have been prescribed and dispensed to you;
Referral letters from your doctors.
Everyone will 

be offered

 a My Health Record
The Federal Government announced in the 2017 Budget a commitment to continue to expand the My Health Record system. By February 2019, every Australian will have a My Health Record unless they choose not to have one. The opt out period runs through until 31 January 2019.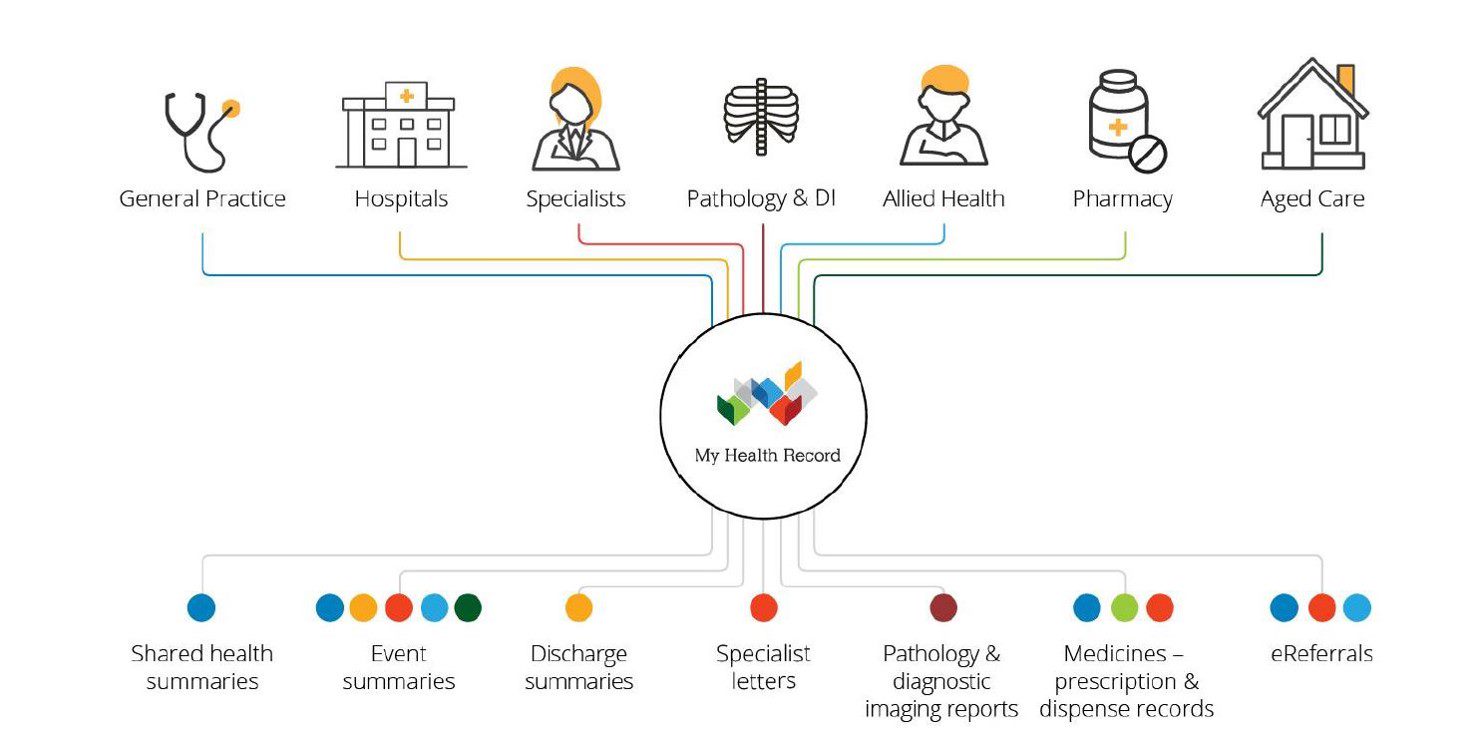 My Health Record – For Healthcare Providers
What are the benefits of using a My Health Record?
Through the My Health Record system you will access timely information about your patients such as shared health summaries, discharge summaries, prescription and dispense records, pathology reports and diagnostic imaging reports.    The key benefits of the My Health Record system are: 
Avoid adverse drug events;
Enhanced patient self-management;
Improvements in patient outcomes;
Reduce time gathering information;
Avoided duplication of services.

 
The My Health Record system does not replace a healthcare providers existing clinical files or medical record system. It is a summary only, designed to compliment existing files and will not hold all of the information held in a patient's record. 
Find out more at MyHealthRecord.gov.au
The My Health Record website has information for healthcare professionals on how to register and set-up your practice to the system, how to view and upload information, how to support consumers with questions and answers about privacy and security and a range of tools and training modules. Please visit myhealthrecord.gov.au to learn more.
Contact your NWMPHN 

My Health Record

 Program Officer
Our dedicated My Health Record program officers are available to assist you with any queries. Please contact us on (03) 9347 1188 or email MyHR@nwmphn.org.au.