28 July 2020
The number of people with type 2 diabetes is growing. This is most likely due to rising overweight and obesity rates, lifestyle and dietary changes, and an ageing population. Diabetes affected approximately 1.2 million Australians in 2017-2018 and contributed to 11 per cent of deaths in Australia in 2018.
Early identification and optimal management of people with type 2 diabetes can significantly reduce the risk of coronary artery disease, stroke, kidney failure, limb amputations and vision loss associated with the disease.
General practice has a critical role in managing type 2 diabetes, from identifying those at risk right through to caring for patients at the end of life.
RACGP handbook: Management of type 2 diabetes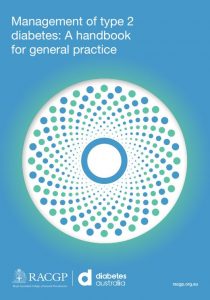 The 2020 edition of this handbook was recently released. These guidelines give up-to-date, evidence-based information tailored for general practice, to support GPs and their teams to provide high-quality management of type 2 diabetes.
This updated edition contains new sections on the following topics:
Early onset type 2 diabetes.
Mental health and type 2 diabetes.
Management of type 2 diabetes in older people and residential aged care facilities.
The use of technology in managing type 2 diabetes.
Significant updates to existing sections include:
Managing risks and other impacts of diabetes including a new recommendation regarding cessation of sodium glucose co-transporter 2 (SGLT2) inhibitors in people with type 2 diabetes who are undergoing surgery and endoscopic procedures.
Reproductive health including the removal of advice on management of polycystic ovary syndrome (PCOS). GPs can refer to management guidelines for PCOS.
Managing cardiovascular risk including a new recommendation for the use of SGLT2 inhibitors in people with type 2 diabetes associated with cardiovascular disease and suboptimal glucose control.
Managing risks and other impacts of diabetes including a new section on diabetes management for people fasting during Ramadan.
Related documents
Diabetes management and CAT Plus
There are a number of MBS items that can be used to provide diabetes care in general practice. Both the Diabetes Annual Cycle of Care (including Diabetes SIP) and GPMP and TCA can be claimed for the same patient during one visit. The PIP QI ten improvement measures also include three diabetes related items.
CAT Plus can enable your practice to better manage diabetes with their online resource: How To Better Manage Diabetes with CAT Plus.
Is your practice looking for its next quality improvement activity? 
If you would like to support with quality improvement activities within your general practice please contact your North Western Melbourne Primary Health Network (NWMPHN) relationship manager on 03 9347 1188 or email: primarycare@nwmphn.org.au
Diabetes quality improvement activity coming soon for practices in the Hume region
NWMPHN will soon offer general practices in the Hume region the opportunity to join a fully supported diabetes management quality improvement project. Further information and your opportunity to apply will be released soon.