Family Violence Quality Improvement Project 2021–22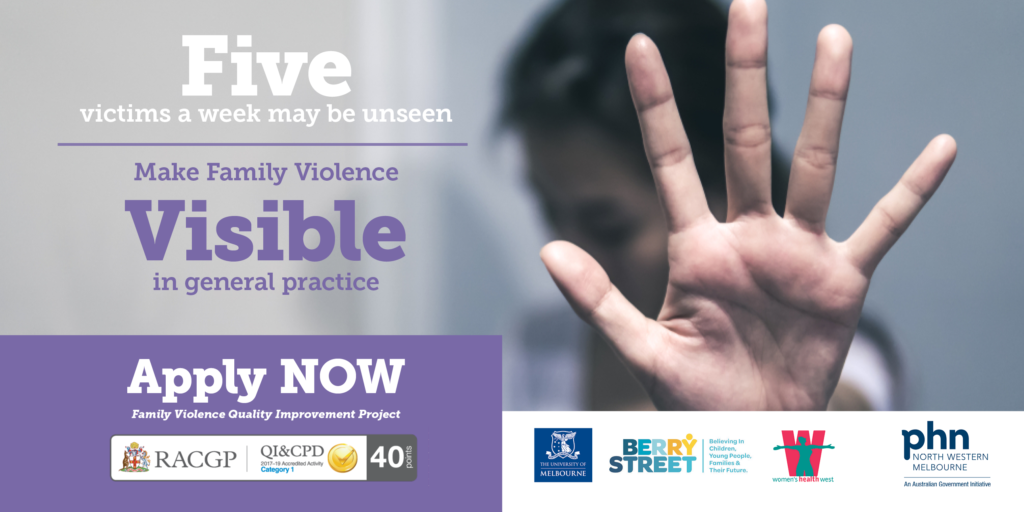 In Victoria, intimate partner violence is the leading contributor to death, disability and illness in women aged 15 to 44.
Family violence is the leading contributor to ill health for women under 50. Estimates are that each full time GP will see up to five women per week with underlying intimate partner violence, but be unaware violence is happening in these families. At least one in 10 women attending general practice will have experienced family violence.
While some men experience family violence, it is women and children who are most affected. Often people in a violent or abusive relationship want to talk about the issue but are unsure who to tell, what to say or how to bring it up.
Learn more about our family violence work.
About the project
North Western Melbourne Primary Health Network (NWMPHN) is partnering with Professor Kelsey Hegarty from the University of Melbourne Safer Families Centre to offer practices an opportunity to participate in a fully supported five-month quality improvement activity.
The approach is to build and sustain greater internal capacity within primary care providers to respond to the high prevalence of family violence-related presentations in primary care. The project team will deliver a comprehensive, practice-based education program tailored to overcome challenges affecting your capacity to respond to family violence.
This opportunity is open to the whole NWMPHN catchment. Project waves will continue to commence throughout 2021.
What's involved?
Support throughout the project from the NWMPHN project lead and a family violence support worker from a local service.
Three in-practice education sessions delivered by clinical GPs from the Safer Families Centre and a family violence support worker from Northern Specialist Family Violence Services.
Two virtual workshops with other participating practices to provide an understanding of quality improvement methodology, and to support sustainability of practice improvements.
Secondary consult/mentoring support from the Safer Families Centre's family violence support worker.
Monthly visits from the NWMPHN project lead to support your practice's selected quality improvement activities.
Benefits for general practices
Incentive payment of $3,000 (+GST) for participating practices that complete the program.
RACGP-accredited CPD activity opportunity (previously 40 Category 1 points).
Facilitated learning workshops with subject matter experts.
Dedicated support from the NWMPHN project lead and a local family violence support worker to help you complete this quality improvement activity.
Opportunity to share, network and connect with other practices involved in the project.
Participation in this facilitated quality improvement project will help to meet the requirements for the Practice Incentives Program Quality Improvement Incentive.
What practitioners are saying about this project
About the whole team approach:
"Having the nurses there doing the training is excellent because they're often the people that patients tend to talk to."
About the need for family violence training:
"It's a very hidden problem in the population that I see, with lots of taboo and stigma, and it's often quite challenging to ascertain what's going on and to find an approach that culturally translates."
About project outcomes:
"We've got the resources now that we never had before."

"[We're] more confident to assess and support a patient who is being abused."

"[We're] more ready to be involved."
How to apply
Visit our EOI and Tenders page to download the application form and to apply.
Please direct all queries to:
Irina Basanko
IQI Project Lead – Family Violence
North Western Melbourne Primary Health Network
Phone: (03) 9347 1188
Email: Irina.Basanko@nwmphn.org.au
https://www.youtube.com/watch?v=yqMabop5NAs
Responding to the shadow pandemic of family violence – the critical role of general practice.