​Family violence: supporting the clinical response
In Victoria, intimate partner violence is the leading contributor to death, disability and illness in women aged 15 to 44. Research reveals there is a spike in family violence during major crises.
Now more than ever, general practice plays a vital role in caring for people experiencing family violence. General practitioners and other primary health services are well placed to respond to family violence because they see victim-survivors, perpetrators, children and intergenerational groups. Studies indicate that women are twice as likely to disclose family violence if asked by their GP.
On this page you will find information, training, quality improvement activities, resources, and local services to help you and your practice gain the confidence, to ask questions about family violence, and how to find local and clinical support for your patients.
How GPs and health professionals can start the conversation about family violence
Some men experience family violence, it is women and children who are most affected. Often people in violent or abusive relationships want to talk about the issue but are unsure who to tell, what to say or how to bring it up.
Starting the conversation can be challenging, but health professionals are well-placed to do so. With the right tools and supports, you can help empower victims to break their silence and seek safety.
https://www.youtube.com/watch?v=IloMFmHz9Wg
How to start the conversation about family violence
Asking is the first step
Let your patient know they can speak openly to you about their concerns, and that they are in a safe and confidential environment.
Questions could include:
Is there anything else going on in your life that you'd like to talk about?
Are your friends and family aware of what's going on?
Are you feeling frightened?
Are you worried about your children's safety?
Take any opportunity to raise the subject and ask questions. Try to ensure patients feel comfortable and safe talking to you. Perhaps they might feel more comfortable talking to a different staff member.
Family Violence Quality Improvement (QI)
International researchers estimate that a fulltime GP sees up to five women per week experiencing underlying intimate partner violence. This may or may not be identified by the GP.
As one of 6 PHNs in the national Primary Care Pathways to Safety Program, NWMPHN supports and encourages general practices to undertake self-directed quality improvement related to family violence.
2 quality improvement activity templates have been developed to support the whole practice to better identify, respond and refer for family violence. They are based on the Intensive Family Violence Quality Improvement 2021–22 activities, which involved 26 local practices.
The video shows participants from practices discussing what they found out while doing it.
The self-directed templates make it quick and easy for you to drive and record sustainable improvements in your practice.
The QI activities are:
Find out more about our Family violence self-directed QI activities or visit our QI activities page to download these and other QI templates.
Click here to see case studies.
IPC Health – Steps to identify and support patients experiencing family violence
https://www.youtube.com/watch?v=_qsUb2iJrmc
IPC Health – Steps to identify and support patients experiencing family violence
Lessons from our Intensive Family Violence QI
Dr Kirsty Tamis from Forsyth Park Medical Centre participated in our Intensive Family Violence Quality Improvement Project. Read what she thought about the experience. Nicole Cross, a senior nurse at Sun Crescent Medical, also spoke to us about the outcomes that her practice team achieved through their Family Violence QI training.
IPC Health Deer Park team incorporated a few activities into their everyday routines and shared their insight in this video.
Read more about the outcomes of the Family Violence QI program or read our case studies.
Looking after your practice team
It important to make sure your team is well supported when dealing with family violence cases. Read more:  
HealthPathways Melbourne – putting knowledge into practice
HealthPathways Melbourne has family violence information and clinical support for GPs and health professionals, including management and referral options.
Pregnancy and violence  
According to Australian Bureau of Statistics personal safety data, around 25 per cent of women who experienced physical or sexual violence by a known perpetrator did so during pregnancy. Of those, 25 per cent indicated it was the first instance of violence. Additional pathways have been developed to support practitioners identify and refer for family violence, including: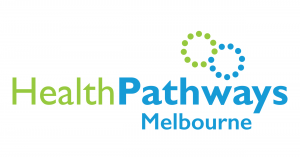 Education and training
Several organisations offer education and training on identifying and responding to family violence. Subscribe to our fortnightly newsletter for information about upcoming sessions.
Community of Practice: Family Violence
Our Family Violence Community of Practice brings together professionals from general practice, mental health organisations, drug and alcohol services, hospitals and the family violence sector. This series of annual events will foster interdisciplinary and cross-sector learning and pathway development. Read more on our website.
Online training
Visit the RACGP website to access online training modules.
1800 RESPECT offers free webinars, with topics including improving cultural understanding in Aboriginal and Torres Strait Islander communities, violence against women and children, and understanding LGBTIQ+ domestic and family violence.
Resources
Resources to help promote referral options

Resources for health professionals
Services
Services for people in our region experiencing family violence

Please note this is not an exhaustive list. GPs and health professionals can refer to HealthPathways Melbourne for more clinical and referral advice.

1800RESPECT
National sexual assault, domestic and family violence counselling service (24-hour, 7-day helpline, information and support).
1800 737 732
1800respect.org.au

Safe Steps
Family violence response centre (24-hour, 7-day crisis line). Usually crisis counselling, referral, support and advocacy, contact point for women's refuges, referral to other short-term crisis accommodation
1800 015 188
 safesteps.org.au

The Orange Door
The Orange Door welcomes everyone, regardless of migration status. You can seek help or support if you are a migrant or a refugee or do not have permanent residency.
1800 319 355
 orangedoor.vic.gov.au

InTouch
Services, programs and responses to issues of family violence in culturally and linguistically diverse communities. inTouch develop and implement a number of culturally sensitive and holistic models for the provision of services to both victims and perpetrators of family violence.
1800 755 988
 intouch.org.au 

Djirra (formerly Aboriginal Family Violence Legal Service)
Provides culturally safe and accessible services to Aboriginal and Torres Strait Islander people seeking support.
1800 105 303
 djirra.org.au 

Elizabeth Morgan House Aboriginal Women's Service
Provides specialist family violence support to Aboriginal and Torres Strait Islander women and their children who are currently experiencing or have experienced family violence.
(03) 9482 5744
 emhaws.org.au 

Perinatal Anxiety & Depression Australia (PANDA)
Supports women, men and families across Australia affected by anxiety and depression during pregnancy and in the first year of parenthood.
1300 726 306
 panda.org.au

CAREinMIND™ services
GPs, psychiatrists and paediatricians can refer eligible people including children and teenagers to North Western Melbourne Primary Health Network's free CAREinMIND mental health services. Referrals are assessed and triaged, based on a person's clinical needs, then allocated to an appropriate, experienced mental health practitioner.
 nwmphn.org.au/careinmind

Northern Integrated Family Violence Services Partnership (NIFVS)
NIFVS provide workers with an understanding of the family violence system in the northern metropolitan region. It offers an introduction presentation, interviews with service providers and links to resources to help improve responses to family violence.
 nifvs.org.au 

No to Violence (men's referral service)
No to Violence work with men who use family violence, and the sector that supports them to change their abusive and violent behaviour.
1300 766 491
 ntv.org.au


Relationships Australia
Relationships Australia is a leading provider of relationship support services for individuals, families and communities.
1300 364 277
 relationships.org.au

Seniors Rights Victoria
A free and confidential telephone and advisory service aimed to help prevent elder abuse and safeguard the rights, dignity and independence of senior Victorians.
1300 368 821
 seniorsrights.org.au

Switchboard – Rainbow Door
A free specialist LGBTIQA+ (Lesbian, Gay, Bisexual, Transgender and Gender Diverse, Intersex, Queer, Asexual, BrotherBoys, SisterGirls) helpline providing information, support, and referral to all LGBTIQA+ Victorians, their friends and family.
1800 729 367
 switchboard.org.au

Kids Help Line
Telephone counselling for children and young people.
1800 551 800
 kidshelpline.com.au

Australian Psychological Society
Private counsellors and psychologists.
 psychology.org.au

Lifeline
Provides all Australians experiencing emotional distress with access to 24-hour crisis support and suicide prevention services.
 13 11 14
 lifeline.org.au

HeadtoHealth
Mental health support for all Victorians. Can help GPs find the most suitable mental health support for their patients.
 1800 595 212
 headtohealthvic.org.au